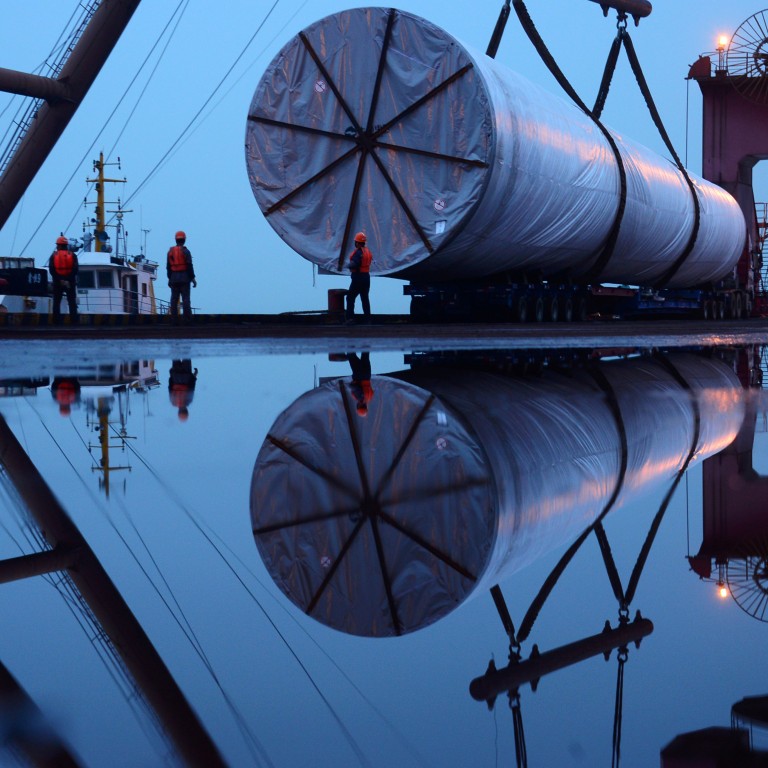 Climate change: How Chinese shipbuilding giant CSSC's floating wind turbine will help advance the country's decarbonisation drive
The Fuyao turbine, weighing 4,000 tonnes, will be deployed to a site deeper than 50 metres near Luodousha island in southwestern Guangdong
Some 80 per cent of global offshore wind resources are found in water deeper than 60 metres, where floating turbines are required
The success of China State Shipbuilding Corp (CSSC) in designing, fabricating and assembling China's largest floating wind turbine has marked a major step towards commercialising a key technology for climate change mitigation.
The world's largest shipbuilder said its subsidiary, CSSC Haizhuang Wind Power, has broken the "foreign technology stranglehold" in so-called floating foundation wind turbines, as 90 per cent of its maiden product's key components can be sourced domestically.
The Fuyao turbine will be deployed to a site deeper than 50 metres near Luodousha island in southwestern Guangdong, just north of the typhoon-prone Hainan Island, for pilot operation.
"This marked a key milestone for the Chinese industry's foray into the far and deep seas, and has major significance for aiding the nation's effort to achieve its goals to peak carbon emission before 2030 and become carbon neutral by 2060," CCSC said in a statement issued May 27.
Some 80 per cent of global offshore wind resources are found in water deeper than 60 metres, where floating turbines are required, according to a report published in March by Brussels-based industry association Global Wind Energy Council (GWEC).
It is seen as one of the clean energy solutions the world must adopt to replace fossil energy, to achieve net zero carbon emissions by mid-century, and avert disastrous climate change consequences.
Fuyao, weighing 4,000 tonnes, features a 78-metre tower and a 6.2 mega-watt typhoon-resistant turbine with a rotor diameter of 152 metres. It can withstand sea currents of 3.5 metres per second and once-in-a century-storm sea conditions.
"CSSC's ability to design and fabricate a floating foundation, and fit it with a turbine model that is also developed in-house … should allow them to provide a highly competitive package," said Finlay Clark, a research analyst at energy and commodities consultancy Wood Mackenzie.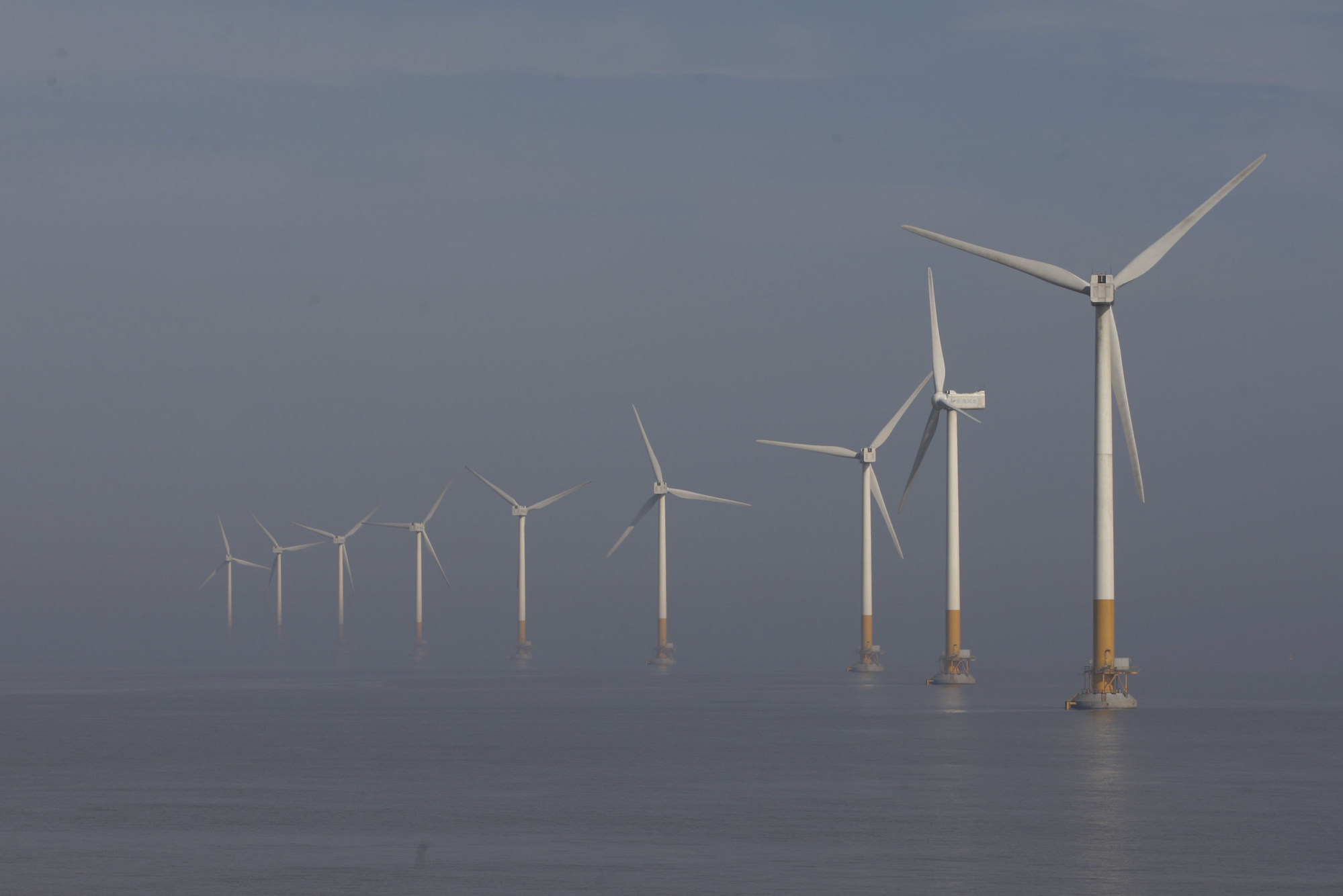 Fuyao's generating capacity and rotor diameter ratings are lower than the latest demonstration projects in Europe, such as the 10MW turbines of Spanish utility Iberdrola's Flagship project in Spain, and Madrid-based Ocean Wind's Leucate project in southern France, he noted.
"China is however extremely well-poised to develop concepts at scale, due to its expertise in large scale steel fabrication and the capabilities of its port infrastructure," Clark said.
While ports and yards in Europe need huge investments to upgrade their quayside facilities to cater for the anticipated 1,000MW-scale projects, China already has such facilities – and steel plates sourced there cost one third to one half of those from Europe, he added.
The full investment cost of Chinese offshore wind projects – primarily turbines with fixed foundations – has dropped to between 10 million and 16 million yuan (US$1.5 million/US$2.4 million) per MW, half that of other markets, said Wang Yufan, a Wood Mackenzie consultant.
China's projected wind power installations (2021-2026)
| | | | | | | |
| --- | --- | --- | --- | --- | --- | --- |
| Giga-watt (GW) |   |   |   |   |   |   |
|   | 2021 | 2022 | 2023 | 2024 | 2025 | 2026 |
| Onshore  | 30.7 | 46 | 50 | 50 | 50 | 53 |
| Offshore | 16.9 | 4 | 5 | 8 | 10 | 12 |
Source: Global Wind Energy Council 
Fuyao is not the first floating wind turbine in China. Shanghai-listed wind turbine maker Ming Yang Smart Energy completed a 5.5MW turbine last year, featuring a semi-submersible foundation built by Shanghai-based Wison Offshore & Marine.
Floating foundation wind turbines, anchored by mooring lines to the seabed, are designed to withstand strong winds and waves and can operate stably in 60 metres or deeper waters.
Currently, most installed offshore turbines have fixed foundations with a large steel tubular pile, and operate in shallower waters.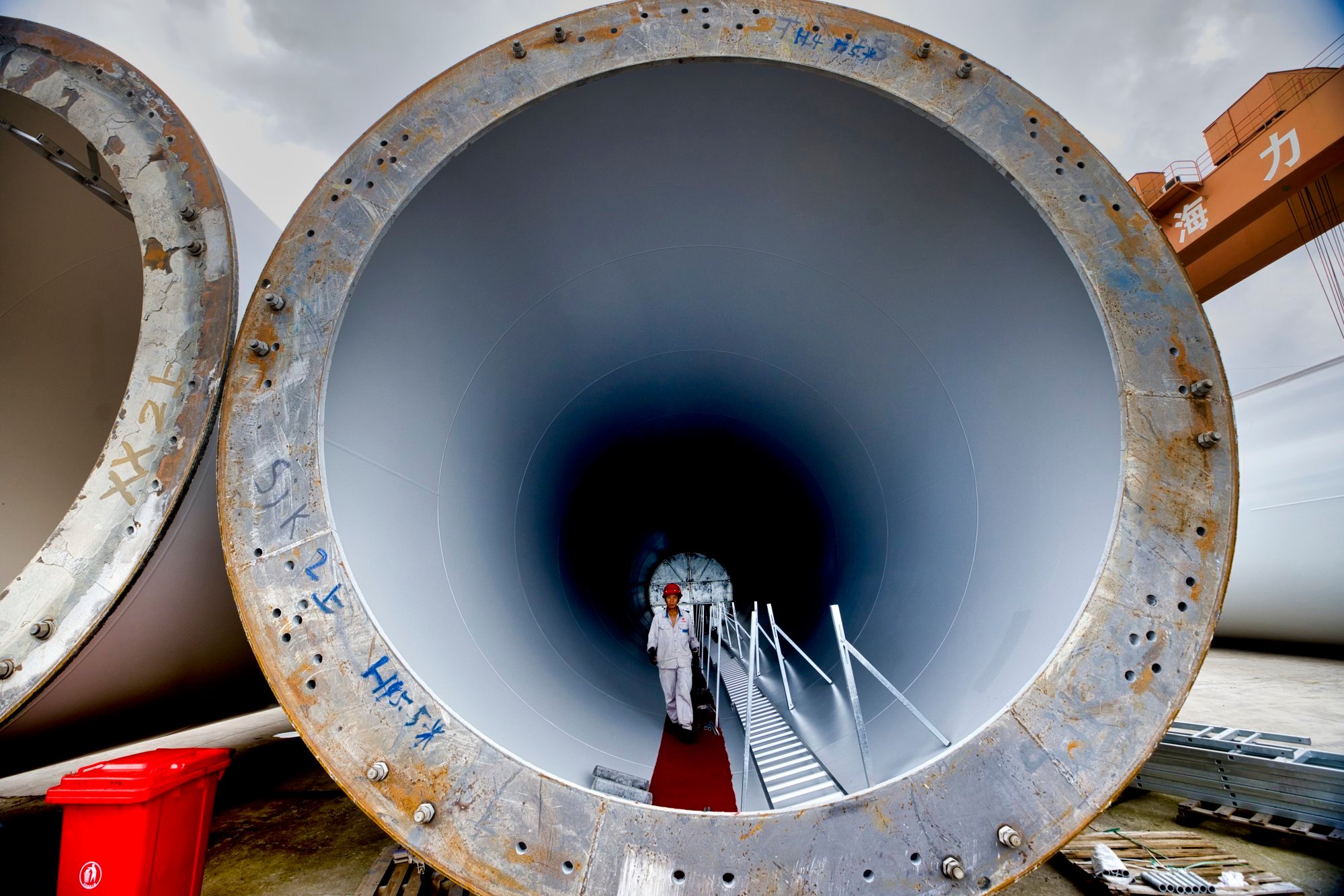 "The biggest [issue] now is that we have over 40 different kinds of floaters based on five main designs, but none of them is economically [viable]," said Zhao Feng, head of strategy and market intelligence of GWEC. "They are too expensive."
He expected the floating segment to enter commercialisation from 2026.
China has 10 of the world's 16 offshore wind turbine manufacturers, Zhou said, adding that floating turbines have only been installed in a handful of markets, including the UK, Portugal, Norway, China, Japan and France.
Opportunities for foreign firms in China's offshore wind market are mostly limited to floating solutions designs and the supply of certain key components such as bearings, he noted.