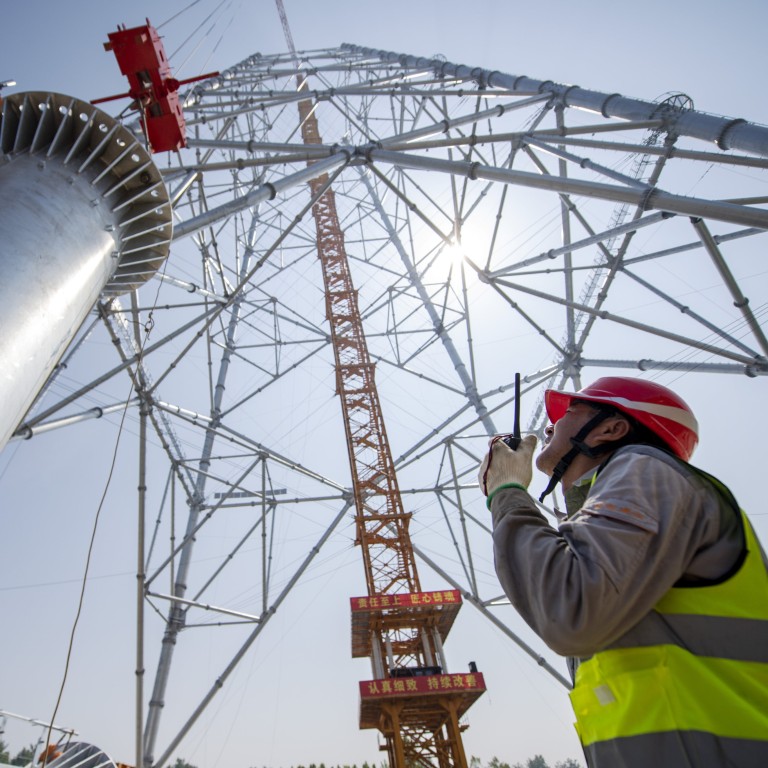 China's 30/60 goals: Beijing unveils 'transition bonds' for eight dirty industries, to meet carbon reduction targets
China to allow a new type of bond financing, specifically widening access for eight 'dirty industries' to help drive decarbonisation targets
Plan to augment the broader US$169 billion domestic green bond market, the second-largest after the US
China plans to introduce a new type of bond financing to help
eight carbon-intensive industries
reduce pollution, widening their access to capital markets as part of the nation's drive to achieve long-term peak-emissions and net-zero goals.
The instruments, known as low-carbon transition bonds, will offer a crucial funding lifeline for companies in the power, construction materials, non-ferrous metals, steel, petrochemicals, chemicals, paper and aviation industries, according to the National Association of Financial Market Institutional Investors.
These so-called dirty industries are currently shut out of the broader green bond financing market because of their environmentally unfriendly projects. The association did not disclose a definitive timeline for the pilot issue under the new programme in a statement late on Monday.
The new financing measure will add to efforts to drive China's commitments to its goal of peak emissions by 2030 and carbon neutrality by 2060. While these industries have powered China's economic growth over the past two decades, they have also made the nation the largest carbon dioxide emitter by contributing 30 per cent to global emissions.
"Finding a low-carbon transition pathway for high-emitting sectors will be critical to achieve China's climate targets," said Nneka Chike-Obi and Jia Jingwei, analysts at Sustainable Fitch. Coupons on one type of green debt, sustainability-linked bonds, are tied to emissions performance to incentivise issuers to deliver on greenhouse gas abatement promises, they added.
China's green bond market, which has grown to a value of 1.13 trillion yuan (US$169 billion), is the largest outside the US, benefitting projects such as waste treatment, recycling, climate-change adaptation and decarbonisation. The
Agricultural Bank of China blazed the trail
with a dual-currency offering in October 2015.
"Under the guidance of the People's Bank of China, NAFMII will implement the transition concept by rolling out the new type of bond to support traditional industries' decarbonisation," the association said.
The eight "dirty industries" are the same carbon-intensive sectors designated by Chinese authorities for mandatory participation in the national carbon emission permits trading scheme. Only power generators have so far been required to trade those permits.
Transition bond issuers must disclose the action plans of their transition projects, NAFMII said in its circular. These include their projected reductions in carbon, and whether they are aligned with the nation's climate goals and development plans for 2021-25, it added.
The association recommended that such details, together with the usage of proceeds, be scrutinised by a third party according to international standards, followed by the issuance of a verification report. Bond issuers also need to publish periodic reports, including progress on carbon-reduction levels.
The association has been tasked with cross-checking that the proceeds are deployed according to the issuers' plan. Failure to comply will be censured and issuers subjected to disciplinary action.
China's latest effort comes even as "transition finance" – bonds and loans that help companies shift from carbon-intensive operations to a climate-neutral setup – has failed to become mainstream globally despite its growing application in recent years.
Difficulty in defining and standardising the hurdles that decarbonisation projects need to overcome is among the reasons. Investors have also raised concerns that backing such projects could risk locking in decades of high carbon-emitting activities, unless project owners commit to credible and strict emission caps.
Aligning corporate actions with the Paris Agreement's aim of containing
global warming
well below two degrees Celsius by 2100 is not a straightforward matter, especially for sectors such as aviation and cement, where carbon-abatement technology is still a work in progress.