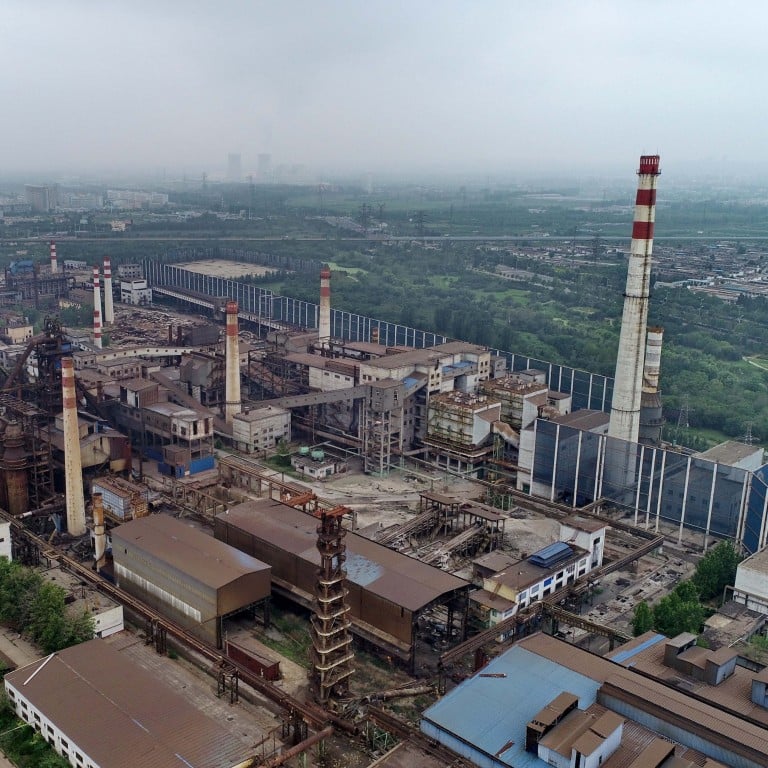 Almost all of Chinese mainland on board with hydrogen development, as Beijing banks on clean fuel for carbon-neutrality drive
Tangshan, the world's biggest steel-producing city, is the latest Chinese city to introduce policies to develop a local hydrogen industry
The clean fuel is expected to play a much larger role after China introduced its first-ever national hydrogen strategy in March
Almost all of mainland China's provincial-level administrative divisions, except Tibet, have introduced policies to develop hydrogen industries, after the clean fuel gained prominence in China's latest five-year plan (FYP) and other national policies driving the country
towards carbon neutrality
.
Last week, the government of heavy-industry hub
Tangshan
, the world's biggest steel-producing city, released its first hydrogen industry development plan. The city aims to build 30 hydrogen refuelling stations and have at least 2,500 hydrogen fuel-cell vehicles on the road by 2025.
It also aims to introduce more leading domestic hydrogen enterprises to the city and develop more leading domestic hydrogen enterprises and a local hydrogen economy that will generate an annual income of 20 billion yuan (US$2.9 billion) by 2025, according to the plan.
"It's gladdening to see that China is now building its own supply chain in hydrogen technologies, ranging from hydrogen production, transport and storage to consumption," said Shao Minhua, a chemical and biological engineering professor at the Hong Kong University of Science and Technology. The country has made significant progress in some hydrogen technologies, such as membrane electrode assemblies and fuel-cell stacks, he added.
Hydrogen is prominent in China's 2060
carbon-neutrality
plan after the central government said in its national 14th FYP last March that the hydrogen industry was a frontier area and one of six industries of the future.
The clean fuel is expected to play a much larger role after China introduced its first-ever national hydrogen strategy – a medium and long-term plan for the development of the hydrogen energy industry between 2021 and 2035 – in March. Under the plan, China would have at least 50,000 hydrogen fuel-cell electric vehicles on the road and produce 100,000 to 200,000 tonnes of "green hydrogen" annually by 2025.
Tangshan is just the latest Chinese city to introduce policies to develop a local hydrogen industry. As of Friday, 30 out of 31 mainland Chinese provinces, municipalities and autonomous regions had issued documents that include policies on developing or exploring hydrogen energy, according to the Post's calculation.
For example, Beijing aims to replace around 4,400 fossil-fuel vehicles with hydrogen fuel-cell cars by 2025, the city's government said in April, in its latest FYP for the energy sector between 2021 and 2025. Shanghai, China's financial and commercial hub, announced its FYP in May and said that it will accelerate technological breakthroughs in hydrogen energy, including hydrogen fuel-cell stacks and liquid hydrogen storage.
Guangdong province said in its FYP for the energy sector that it will build a leading industry for hydrogen that spans from supply to application. The province will also form an industrial cluster in cities such as Guangzhou, Shenzhen and Foshan for the development of hydrogen fuel-cell stacks.
Another national FYP for renewable energy development released on June 1 also highlights the importance of hydrogen. The plan calls for developing
green hydrogen
production bases in regions with mature technology and low renewable energy costs. It also calls for promoting the use of green hydrogen in the heavy-emitting chemical and transport sectors.
China is the world's largest hydrogen producer with an annual output of 33 million tonnes. Around 80 per cent is generated using coal and natural gas, and the rest as a by-product of industrial production, with green hydrogen – carbon-neutral hydrogen produced by using clean energy such as solar or wind power to split water by electrolysis – only accounting for a fraction, according to the National Development and Reform Commission, China's central economic planner.
According to China Hydrogen Alliance, China's domestic hydrogen demand is currently estimated at 20 million tonnes annually, and is on a track to reach 35 million tonnes by 2030 and 60 million tonnes by 2050.
"The increased attention from the central government and the continuous introduction of policy support will become a strong driving force for the development of the hydrogen industry," analysts at Shanghai-based Topsperity Securities said in a report published last month.