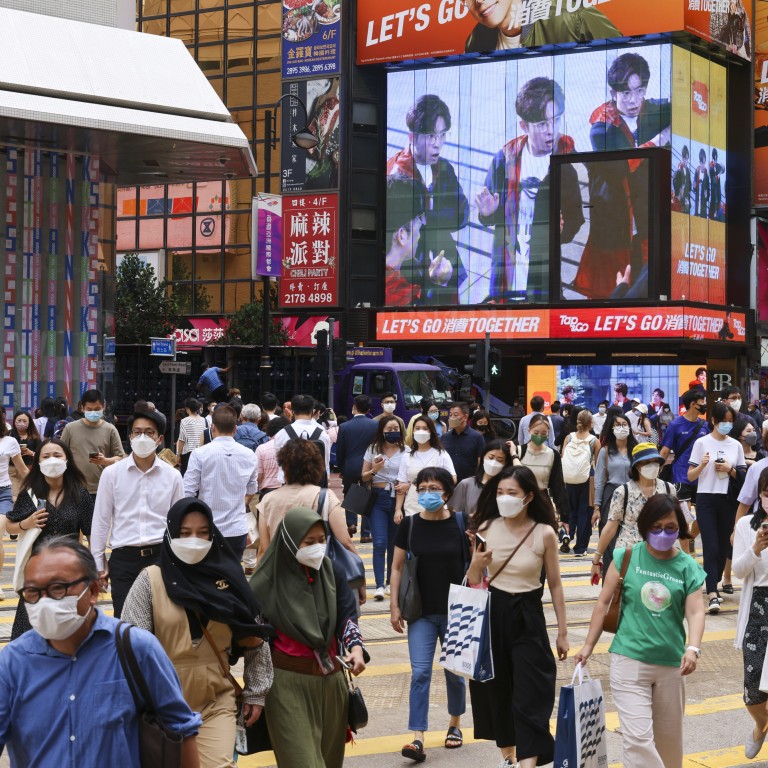 Hong Kong malls, retailers tap into AI analytics to get smarter after losing US$16 billion of sales in post-2018 industry slump
Artificial intelligence or AI is increasingly being viewed as a necessity to improve efficiency, revenue and user experience, EternityX says
More than US$16 billion of retail sales have been lost since 2018 due to anti-government protests and ongoing Covid-19 outbreaks
Hong Kong mall owners and retailers are increasingly using artificial intelligence (AI) analytics to find out more about shopping habits and preferences of their customers, a tool that is likely to help them revive sales after years of industry slump.
Mall operators have struggled in the downturn through anti-government protests and the onset of Covid-19 pandemic, as physical traffic dwindled and consumers turned to online shopping for daily needs and luxury purchases.
Many have found AI a necessity to elevate user experience, according to Charlene Ree, chief executive officer of EternityX.
"We have observed numerous cases of retailers leveraging AI analytics for CRM (customer relationship management)," said Ree, founder of the marketing technology platform that uses AI to connect regional and international brands with the Chinese market. "AI technology allows us to know our audience better than ever before."
Hong Kong's economy contracted by a larger-than-expected 4 per cent in the first quarter. Border controls have reduced mainland
Chinese tourists
to a trickle, shrinking more than
HK$132 billion (US$16.8 billion) of retail sales
since 2018, according to government data. More than 800 coronavirus cases daily this week have continued to dim the outlook.
AI analytics provide valuable data for shopping mall operators and retailers to shore up sales and improve their operations. They can use location-based service companies to understand client preferences and monitor competitor brands.
Dayta AI, a start-up based in Hong Kong, has been providing these services to more than 1,000 subscribers, including local malls and retail shops, for a monthly fee ranging from US$46 to US$166. Its Cyclops software allows retailers and shopping malls to use their existing security cameras to develop analytics solutions.
The platform helped a client adjust its retail strategy after offline information collected by Dayta AI contradicted with the retailer's internal CRM databases on its customer demographic profile, founder and CEO Patrick Tu said. Revenue improved after the intervention.
"Our client realised that online data collection may be fragmented, if not misleading, as it cannot interpret all information," said Tu, who is planning to expand its services into Vietnam, Thailand and Indonesia. "It was an interesting insight. If we ignore the importance of data obtained from offline spaces, it could be a huge miss."
One way AI can be used to aid Hong Kong's retail sector is by providing end-users with even more personalised experiences, according to EternityX. Retailers can use AI technology to tailor detailed segmentations of customer incentive and CRM programmes, based on their demographics, spending behaviours and interests, it added.
Some retailers have adopted this in their business, including Chow Tai Fook Enterprises. The jewellery company uses jewellery trays embedded with radio frequency identifications (RFID) tracking technology to generate data to boost sales efficiency.
The smart trays convey timely insights into customer's preferences, EternityX's Ree said, allowing sales representatives to adjust their product selections accordingly when advising in-store customers.
International property consultancy JLL launched its own AI Smart Eye in 2020 to help building owners and operations teams identify security risks, improve efficiency and reduce costs. Many are learning that machine vision AI has wider capabilities beyond hardware that is designed to perform similar functions, it said.
"For instance, people counting sensors can only count people but machine vision AI can not only count people in space but also understand their behaviours," said Jordan Kastelac, director of proptech at JLL. "Machine vision just has exponentially more possibilities and is able to get smarter as it is in operations."
Beyond boosting sales, AI also improves operational efficiency of developers, according to Swire Properties, which uses the technology to manage construction work and safety.
The developer said it has trialled AI-powered drones to aid with lift shaft inspections in Two Taikoo Place in Hong Kong, as well as AI-powered close-circuit cameras for facade inspections at Taikoo Hui project in Guangzhou to reduce the risk of incidents and manual glasses inspection costs.
"Originality and innovation are the key cornerstones of our development strategy," a Swire Properties spokesman said. "To enhance the company's competitive edge, we constantly explore new technologies in order to keep the company abreast of the latest technological developments and trends."