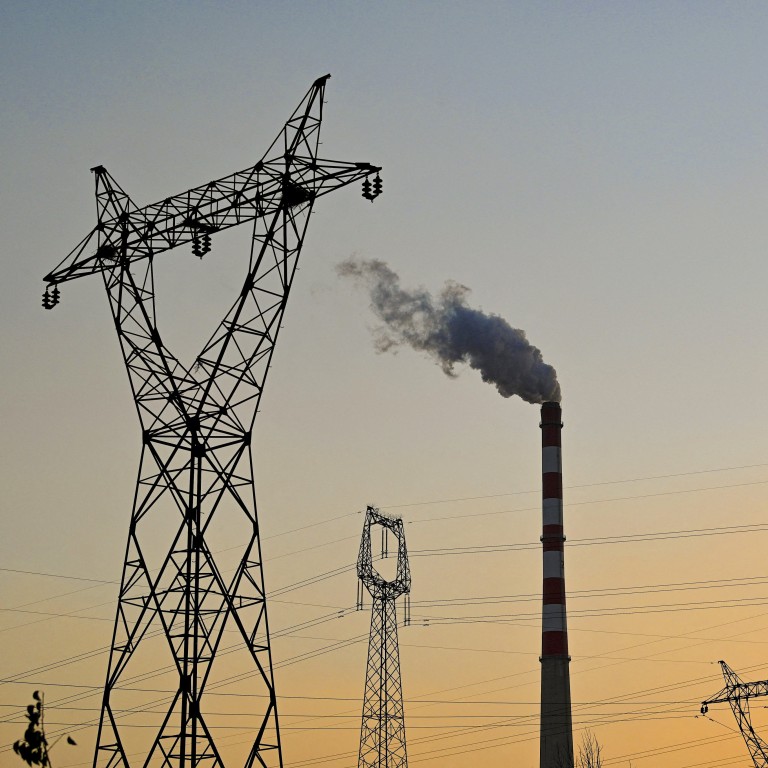 Climate Change: China's firms lag behind Asia, North America, Europe in net-zero targets with only 4 per cent adherence, study finds
Only 11 out of 265 companies have set net zero targets and deadlines, according to a study of more than 4,000 entities tracked by researchers
The 4 per cent adherence rate compares with 20 per cent among firms in East Asia, 36 per cent in North America and 58 per cent in Europe
Chinese listed companies are lagging behind their regional and global counterparts in setting net-zero emission targets, showing a lack of urgency almost two years after the country pledged to achieve carbon neutrality status by 2060.
Only 11 out of 265 companies have set net zero targets and deadlines, according to a study of more than 4,000 entities tracked by researchers at NewClimate Institute, Oxford Net Zero, Energy & Climate Intelligence Unit and Data-Driven EnviroLab. The 4 per cent adherence rate compares with 20 per cent among firms in East Asia, 36 per cent in North America and 58 per cent in Europe.
"Overall, the transparency and integrity of existing net zero pledges are far from sufficient to ensure a timely transition to global net zero greenhouse gas emissions by mid-century," they said in a report published on Monday. "The focus needs to be on better targets and identifying the ones that are not credible."
Net zero target disclosure requirements are either mandatory or being phased in Europe, UK, and Japan. They have also been proposed in the US and China, the report noted. These targets have gained significance as global fund managers under Climate Action 100+ grouping have begun to vote with their US$68 trillion of assets to persuade companies to embrace the climate change agenda.
The latest study by the four think tanks covered more than 4,000 entities, cities, regions and governments worldwide. They included 2,000 of the biggest listed companies ranked by Forbes on sales, profits, assets and market value. Some 1,180 or 30 per cent of them have established a net zero target, the study showed.
The number of companies within the Forbes list has increased in respect to setting the net zero targets, with the pool rising to 35 per cent from 20 per cent in 2020, the researchers said.
Failure to set net zero targets with clear interim performance levels could give rise to greenwashing concerns, the study showed. The term refers to sustainability benefit claims without clear or agreed definitions on sustainable investment, or misrepresentation on overall environmental benefits.
Despite inroads, some two-thirds of 702 listed firms that have published their net zero targets still failed to meet the "minimum procedural standards" for target setting, the researchers said in their report. Only around half of them have disclosed interim targets.
"Given the scientific imperative of roughly halving global emissions by 2030 to give a reasonable chance of holding global warming to 1.5 degrees Celsius, this is unacceptably low," it said. "It is clear that regulation will ultimately be needed to ensure near-term targets are put in place."
In Hong Kong, listed firms are required to set greenhouse gases emission targets. Net zero targets are encouraged but not mandatory until 2025, when the Task Force on Climate-Related Financial Disclosures (TFCD), is adopted.
"You can imagine that the big sticks of the regulators are coming, but [in the meantime] more education and learning also need to happen before people can really embed it into their [disclosure] processes," said Helene Li, CEO of GoImpact Capital Partners, a sustainable finance start-up which provides online education on sustainability reporting.
The fact that current regulations are guidelines instead of legally-enforceable requirements partly explains the low level of net zero and interim targets setting in Asia, she added. This will change as TCFD requirements come into force, she added.
The findings resonate with corporate climate-change targets by companies under the investment radar of Legal & General Investment Management, a UK fund manager with US$1.9 trillion of client assets.
The money manager has put 80 of about 1,000 firms listed firms it assesses annually in global markets under voting sanctions for not meeting LGIM's minimum climate-change disclosure standards. The sanctioned list has dwindled from 130 last year, the fund said on Tuesday.
Among 59 firms identified for deeper engagement due to their influence in their sectors, 31 have now set net-zero targets, more than doubling from last year, LGIM added. Hong Kong-listed China Resources Cement was an exception, and LGIM has since removed the stock from funds under its management.
"While we continue to be encouraged by the rapid growth in the number of companies with climate commitments, we are observing a lack of detailed net-zero transition plans to support these targets," said Catherine Ogden, who manages LGIM's sustainable and responsible investment.