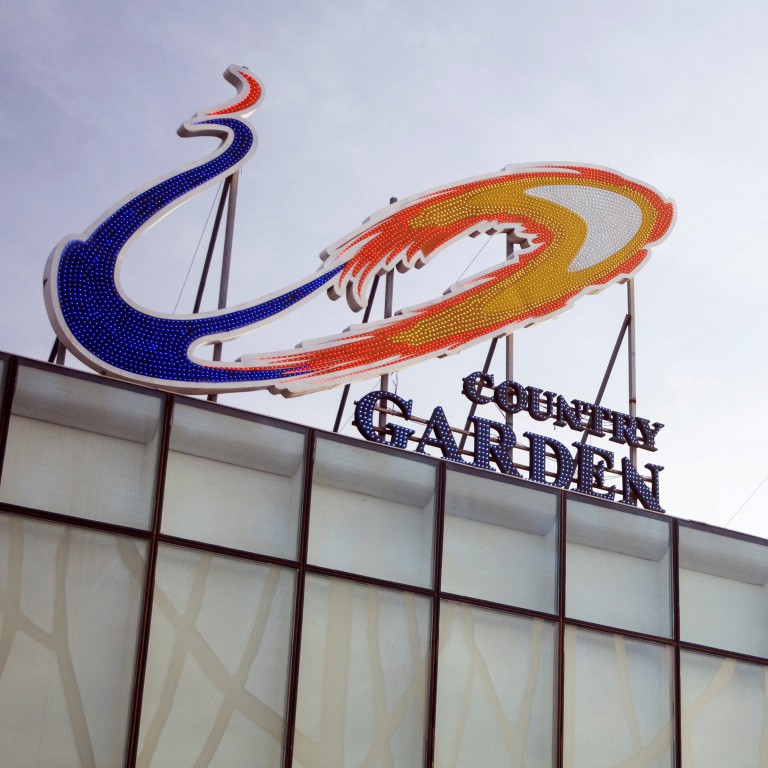 Top Chinese developer Country Garden offers to buy back US$683 million bond in show of financial strength amid sector's protracted debt woes
Shenzhen firm intends to finance the offer with internal funds and bondholders have until June 22 to accept the offer
Offer 'illustrates Country Garden's healthy balance sheet and financial position', analyst says
Country Garden Holdings, China's largest
property developer
by sales, has offered to repurchase a US$683 million bond just over a month ahead of maturity, in a move seen to dispel speculation about its financial health.
The Shenzhen-based company has offered to purchase for cash all of the bond carrying 4.75 per cent of interest and due on July 25 at par, or 100 cents on the dollar, and accrued semi-annual interest, it said in a filing to Hong Kong's bourse on Wednesday.
The company is making an offer to purchase for cash "any and all of its outstanding notes at a purchase price of US$1,000 per US$1,000 principal amount of the notes", Country Garden said in its filing. It intends to finance the offer with internal funds and bondholders have until June 22 to accept the offer.
"Given the offer is made just over a month in advance of the maturity date, it appears a move to demonstrate its financial capability and to dispel speculation that it may have liquidity issues amid incessant negative news about the industry's debt troubles," said Raymond Cheng, head of China and Hong Kong research at CGS-CIMB Securities International.
The repurchase offer should give investors the confidence that Country Garden will not have trouble repaying debt in the next six to 12 months, Cheng said. Other privately-controlled mainland Chinese developers, however, may not necessarily be in the position to do the same, he added. "It really depends on the circumstances of the individual companies," he said. "This offer illustrates Country Garden's healthy balance sheet and financial position."
Wang Qi, a co-founder of MegaTrust Investment (Hong Kong), a boutique China asset manager, concurred. "This is perhaps one of the few cases where a Chinese real estate developer is willing and able to defend its credit. However, this is company specific. Global investor confidence in Chinese real estate is long gone," he said.
Country Garden carried a total debt of 317.92 billion yuan (US$47.3 billion) as of the end of last year, a decrease from 326.5 billion yuan a year earlier.
It is currently tagged yellow under the central government's "three red lines" leveraging metrics, among the second-most constrained type of borrowers. The company had 181.3 billion yuan in cash as of late March.
The three red lines, outlined by Beijing in August 2020, are: a liability-to-asset ratio excluding advance receipts of less than 70 per cent; a net debt-to-equity ratio of less than 100 per cent; and a cash to short-term debt ratio of one. Country Garden's liability-to-asset ratio excluding advance receipts stood at 70 per cent by the end of last year, according to company filings.
Country Garden is not the first mainland developer to launch early bond repurchases close to maturity dates. CIFI Holdings (Group) made several offers to repurchase portions of a 16 million yuan bond in the three months ahead of its maturity in April, and various offers to buy back chunks of a US$585 million bond in the two months leading up to its maturity in January.