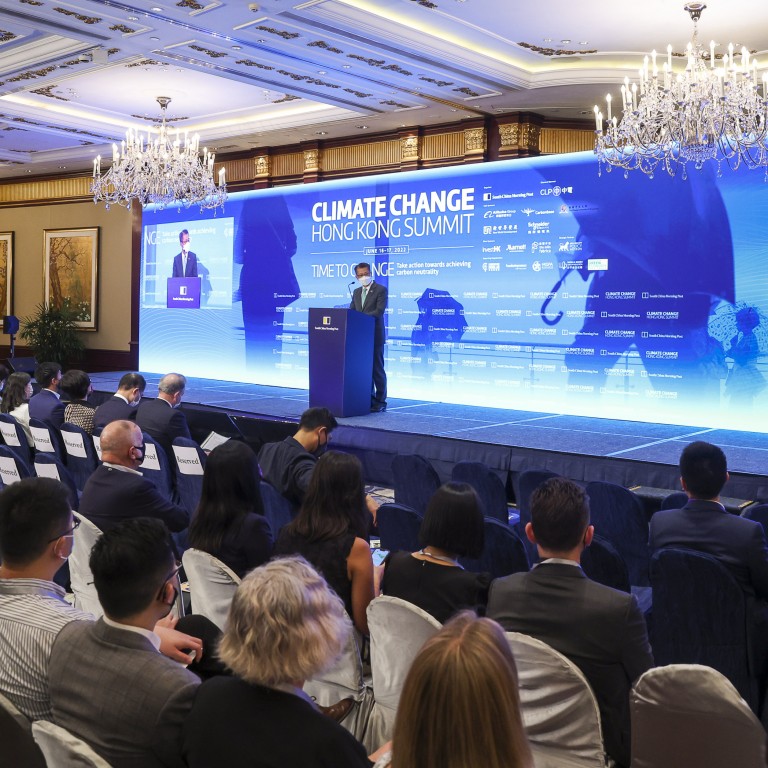 Climate Change: Greater Bay Area holds the key to Hong Kong's climate goals, delegates say at SCMP's inaugural environmental summit
Because various provincial and municipal governments in China are competing for low carbon energy resources, we need the Hong Kong government's support, CLP executive says
City can also take advantage of the engineering and project management capabilities of mainland companies to reduce costs
Hong Kong's government and businesses should proactively engage in dialogue with their counterparts in mainland China to ensure the city's access to secure, clean and affordable energy to meet its 2050 carbon-neutrality goal, experts said.
Hong Kong has limited renewable energy and land resources, while Guangdong province across the border has ample land and offshore areas for wind farms and nuclear power stations, they told a panel discussion at SCMP's inaugural
Climate Change Hong Kong Summit
on Thursday.
Leadership and coordination by the government would be vital to mediate the competing needs for these resources between Hong Kong and mainland China, where carbon emissions have been pledged to peak before 2030, en route to net-zero emissions by 2060.
"The fact that [various] provincial and municipal governments [in Guangdong] are competing for low carbon energy resources in the region … is something where we need the Hong Kong government's support," said Chiang Tung-keung, managing director of CLP Power Hong Kong, the city's biggest power supplier. "If we elevate this to a government-to-government discussion, and if we can have more support from the central government, that will be much easier for Hong Kong and it will take a shorter time for [us] to secure these resources."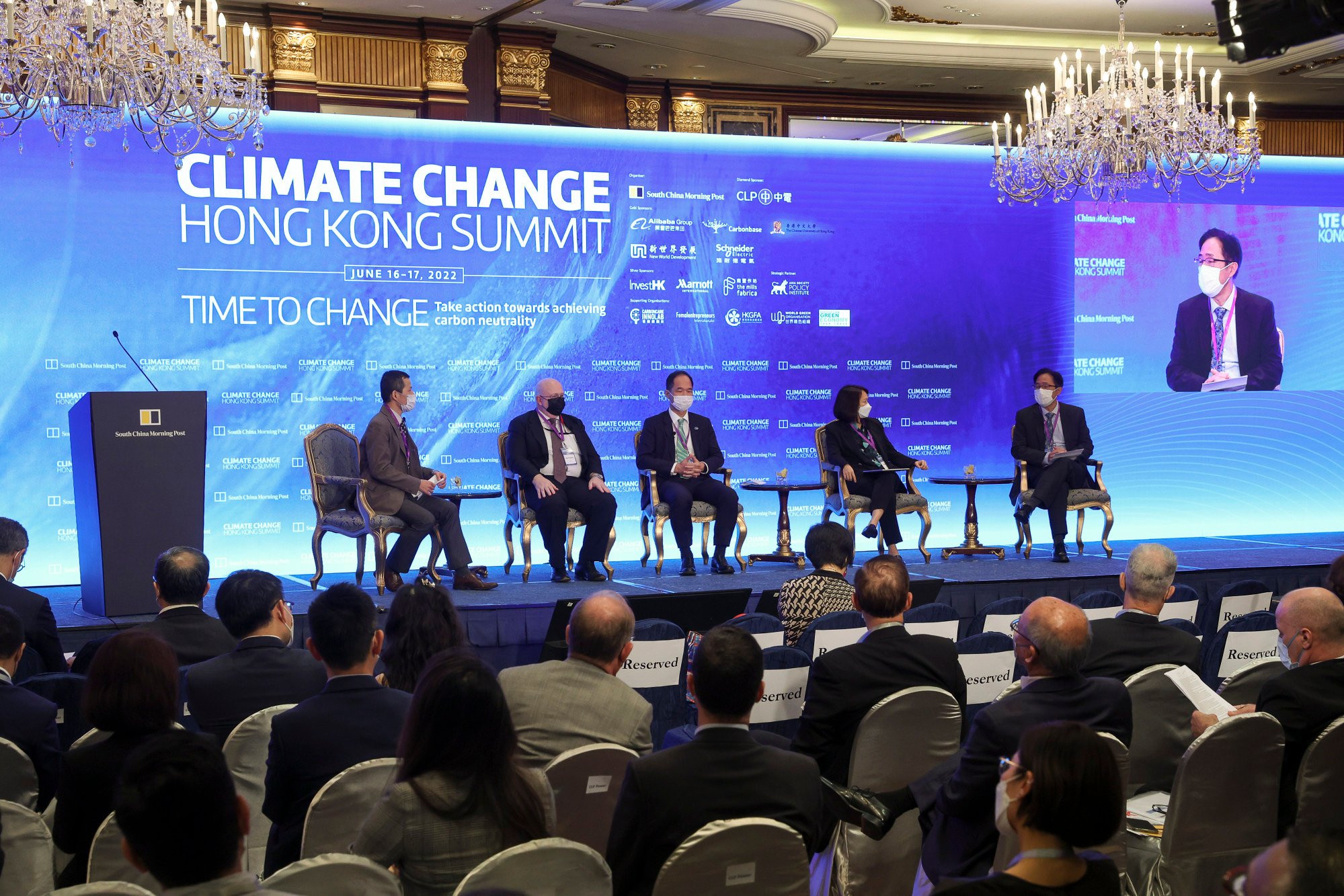 Besides resources, the city can also take advantage of the engineering and project management capabilities of mainland China's companies to reduce costs.
China's contractors "have very good technical capabilities" and are "very cost competitive," Chiang said. "So when we build infrastructure projects in Hong Kong, we can tap their capabilities, which will help reduce our costs."
The importance of closer cooperation between Hong Kong and the mainland on decarbonisation was highlighted at the conference, amid geopolitical tensions and economic uncertainties.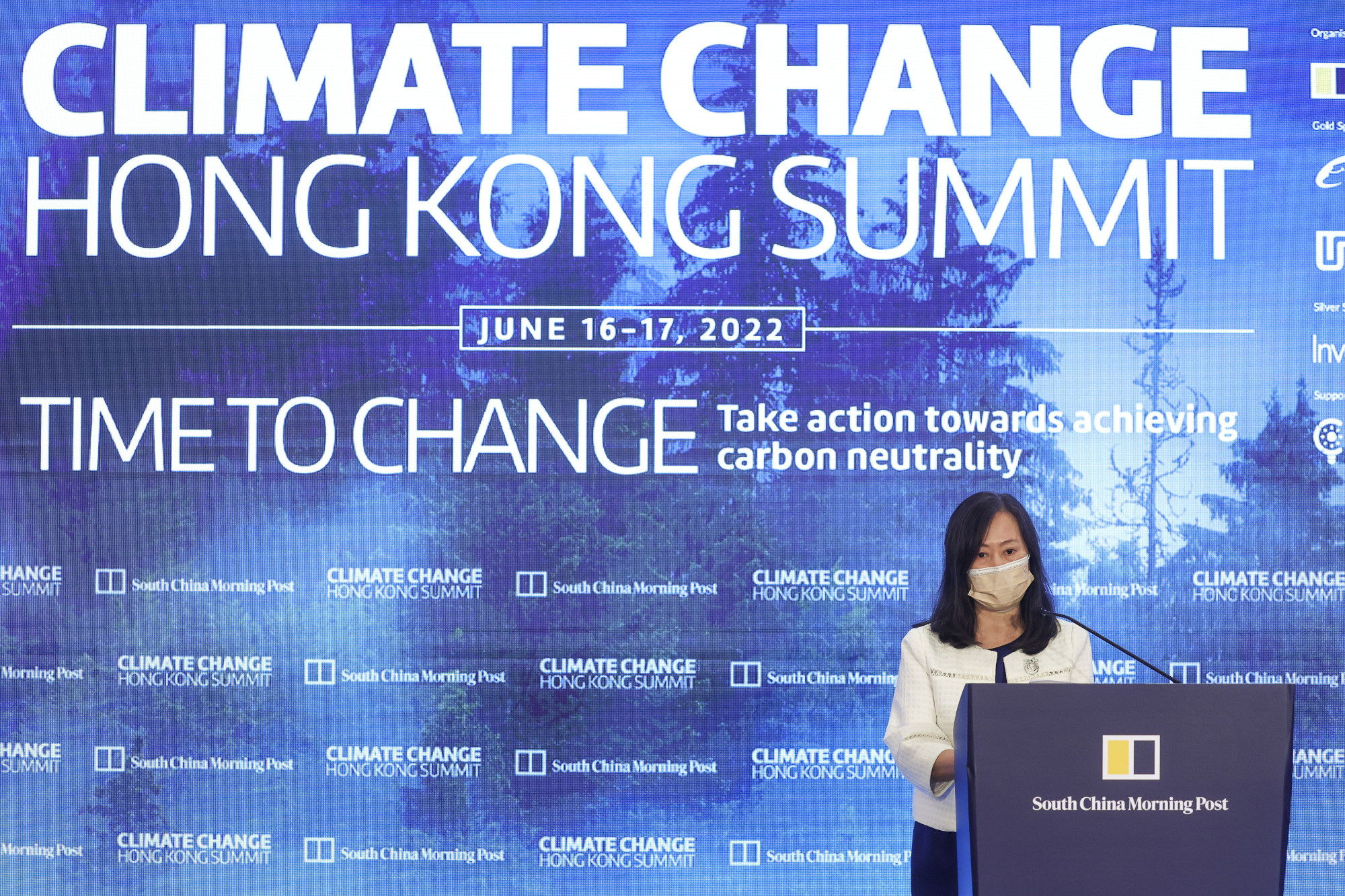 "
Climate change
remains the principal threat to human civilisation and our prospects for survival and prosperity," said
Tammy Tam
, the
South China Morning Post
's editor-in-chief. "Climate action has to be central to any solution that would restore a favourable course."
The Post is "committed to provide trustworthy information about this urgent issue that defines our lifetime," Tam said. "Informing our readers about climate change is the first step towards driving a conversation that creates an engaged public that takes action. We hope our coverage will help inform the decisions and actions that Hong Kong and the world now desperately needs."
Kevin Rudd, president of Asia Society Policy Institute and Australia's former Prime Minister, voiced his concern about China's trajectory on energy transition, given a raft of new coal power projects have been approved.
"China has suffered a recent setback in its decision to ratchet back the quantum of its renewable energy transformation [and slowed its coal phase-down], in response to what it perceives to be its own economic slowdown and its anxiety about its energy security," he said in a panel discussion via a teleconference link.
However, Chai Qimin, the director of strategy and planning at the state-run think tank the National Center for Climate Change Strategy and International Cooperation, said China is still making progress towards boosting renewable energy from 16 per cent of consumption in 2020 to 20 per cent by 2025 and 25 per cent by 2030. It is supported by rapid development of solar and wind farms besides energy storage projects.
By setting a goal to become
carbon neutral by 2060
, China – which accounted for around 30 per cent of global carbon emission – has set a path consistent with global efforts to limit temperature rising to 1.5 degrees, he said.
To support cooperation on decarbonisation within the
Greater Bay Area
, the central government will continue to encourage companies and financial institutions to issue
green bonds
and loans in Hong Kong that are backed by projects in China, said Financial Secretary Paul Chan.
Progress was already under way, when Shenzhen's government issued a 3.9 billion yuan (US$581 million) green bond in Hong Kong, the first Chinese municipal authority to do so, in a landmark deal that helped lift Hong Kong's role as the centre for
green finance
in the GBA.
"By participating in green finance, our local residents not only could directly contribute to greening Hong Kong, but also share the fruits of our sustainable development,"
Chan said
in his keynote address at the Climate Change Summit.
There are plenty of clean energy resources in the region waiting to be exploited by companies, said Peter Thompson, director of infrastructure and East Asia energy business leader at Arup, a London-based infrastructure design, engineering and advisory firm.
The offshore areas of Guangdong are estimated to have 40 gigawatts of planned offshore wind power projects over the next two decades, he noted. This is roughly four times Hong Kong's current total power generating capacity.
The Hong Kong government has a role to play as far as nuclear power development goes, by facilitating more investment and power purchase agreements with mainland nuclear project developers, said Luk Bing-lam, chairman of the Hong Kong Nuclear Society.
"The Hong Kong government needs to talk to the central government [to help companies] get access to as much nuclear power as possible," he said.
Nuclear power, a zero-emission energy source, can also power the production of so-called green hydrogen, another zero-emission energy source with potential widespread decarbonisation applications in road, sea and air transport, as well as heavy industries, Luk said.
Hong Kong companies and investment institutions can also chip in by deploying their capital in green energy projects in the Greater Bay Area, to help accelerate their commercialisation, said Grace Kwok, chairman of Allied Sustainability and Environmental Consultants Group.