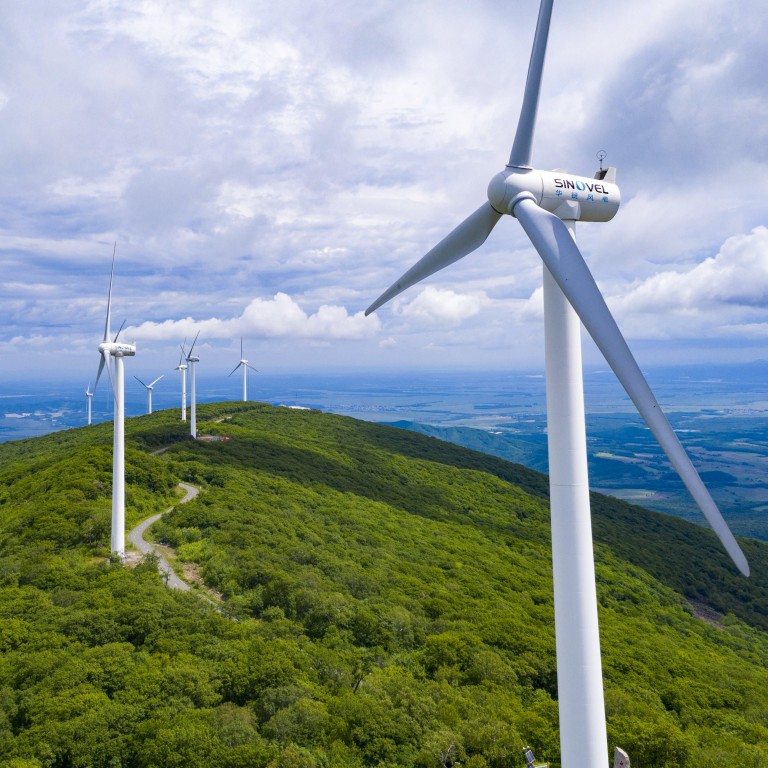 China's climate policies are forcing renewable energy developers to incorporate costly storage facilities into new solar and wind projects
Some 4GW of new Chinese wind and solar farms worth US$9.9 billion are bundled with storage and other energy facilities, according to reports
Most Chinese provincial governments require a bundling of 10 to 30 per cent of energy storage capacity for new large solar and wind projects, consultant says
More Chinese
renewable energy
developers are incorporating storage facilities in their projects to comply with state policies, helping increase the national grid's flexibility to meet peak demand and absorb clean but intermittent power.
More than 4 gigawatts (GW) of wind and solar farms bundled with storage and other energy facilities worth a combined 66 billion yuan (US$9.9 billion) have been signed in the past week, according to official announcements and mainland Chinese news reports. They include one mooted by China Huaneng Group, one of the nation's biggest power producers.
Most Chinese provincial governments require a bundling of 10 to 30 per cent of energy storage capacity for new large solar and wind projects, relative to their generating capacity, according to Lucas Zhang Liutong, director of Hong Kong-based consultancy WaterRock Energy Economics.
"Basically, they are forcing the renewable developers to use [profit] margins from the solar and wind projects to partially pay for the energy storage capacity," he said. "Under the current market design, energy storage capacity is still not economical, [hence] the mandatory requirement to bundle."
China Huaneng Group is building a 36.5 billion yuan wind-solar-hydrogen-pumped storage project in Qingyuan in northern Guangdong province. Shenzhen-listed software developer Runjian is working on a 3.4 billion yuan wind-solar-battery project in Nanning in western Guangxi Zhuang autonomous region.
State-owned China Energy Investment is planning a 16 billion yuan wind-solar-pumped storage project in Suizhong, a county in Liaoning province located about 370 kilometres east of Beijing. Industrial chemicals firm CNNC Hua Yuan Titanium Dioxide is doing a 10 billion yuan wind-solar-battery project in central Gansu province.
While storage systems are expensive to deploy, they are essential for the proliferation of
renewable energy
, a key power sector decarbonisation solution. They are also a good energy source for meeting peak demand, especially during hot summers and cold winters.
"New energy storage solutions are good at offering quick and flexible responses when demand surges, and have a short construction lead time," the National Development and Reform Commission (NDRC) said in a policy circular on June 7. "They can also help meet and shave peak demand."
While the annual output of the project in Suizhong is just 70 per cent that of a 1GW coal power plant, the capital outlay is about five times higher due to the expensive storage facilities, said Alex Whitworth, head of Asia-Pacific power and renewables research at Wood Mackenzie.
"With limited fuel costs, the project could still do well, given the sky-high coal prices we see in global markets today," he said. "This kind of integrated project is a potential solution to overcoming the problem of renewables intermittency."
The NDRC has called for the establishment of a system to regulate and encourage the sale of electricity captured in batteries or pumped hydro storage facilities in the open market.
Pumped storage involves storing energy by pumping water from a reservoir to another one at a higher elevation, using excess power from solar and wind farms. The water in the higher reservoir is later released to generate hydropower when electricity supply is short.
China has set a goal for total wind and solar capacity to reach 1,200GW by 2030, almost double the 635GW capacity in place at the end of last year. This is expected to help with the nation's twin climate goals of peak emissions before 2030 and carbon neutrality by 2060.
Until reforms to further liberalise the domestic power market are implemented, storage facilities bundled with solar, hydro, wind and coal-fired plants are not yet expected to become an independent backup power source. Instead, their excess power can be sold to the grid as needed, the NDRC said.
To incentivise such power trading, the commission has urged local power grids to increase the wholesale price premiums at which they buy from clean-energy generators during peak demand hours.
In the long term, these storage systems will be able to fully participate and sell their output independently in the market. By then, they should be equipped with devices connected to the grid system so that their energy can be dispatched and measured digitally, the NDRC added.