HKEX
Get more with myNEWS
A personalised news feed of stories that matter to you
Learn more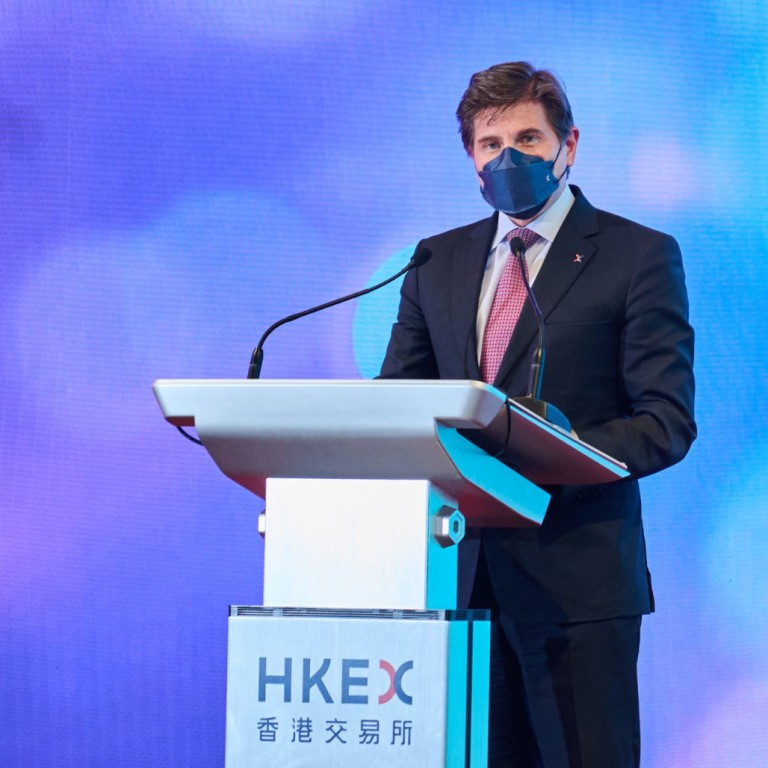 As it turns 22, CEO says HKEX must learn from tech firms to deliver new products and services at low cost
We do not just compete with other exchanges, we compete with fintech companies, digital asset platforms and other start-ups, Nicolas Aguzin says
Confident that more firms will come to list in Hong Kong in the next 22 years and beyond, chairwoman Laura Cha says at ceremony to mark anniversary
Bourse operator Hong Kong Exchanges and Clearing (
HKEX
) must learn from technology-driven companies to deliver new products and services at low costs, CEO Nicolas Aguzin said on the eve of its 22nd anniversary as a listed company.
"To truly innovate and be a company of tomorrow, we need to act like a company of tomorrow," he said in a blog post on Tuesday. "We do not just compete with other exchanges. We now compete with fintech companies, digital asset platforms and other start-ups."
The company, which runs Asia's third-largest stock market, will mark 22 years as a listed firm on June 27. Carrie Lam Cheng Yuet-ngor, Hong Kong's outgoing leader, was the guest of honour at a ceremony hosted by Aguzin and
Laura Cha Shih May-lung
, HKEX's chairwoman, on Tuesday to mark the occasion.
Lam and Cha sounded the ceremonial gong in the newly renovated Connect Hall, which functioned as the exchange's trading hall before 2017. Media participation was limited to watching the ceremony online only, because of Covid-19 restrictions.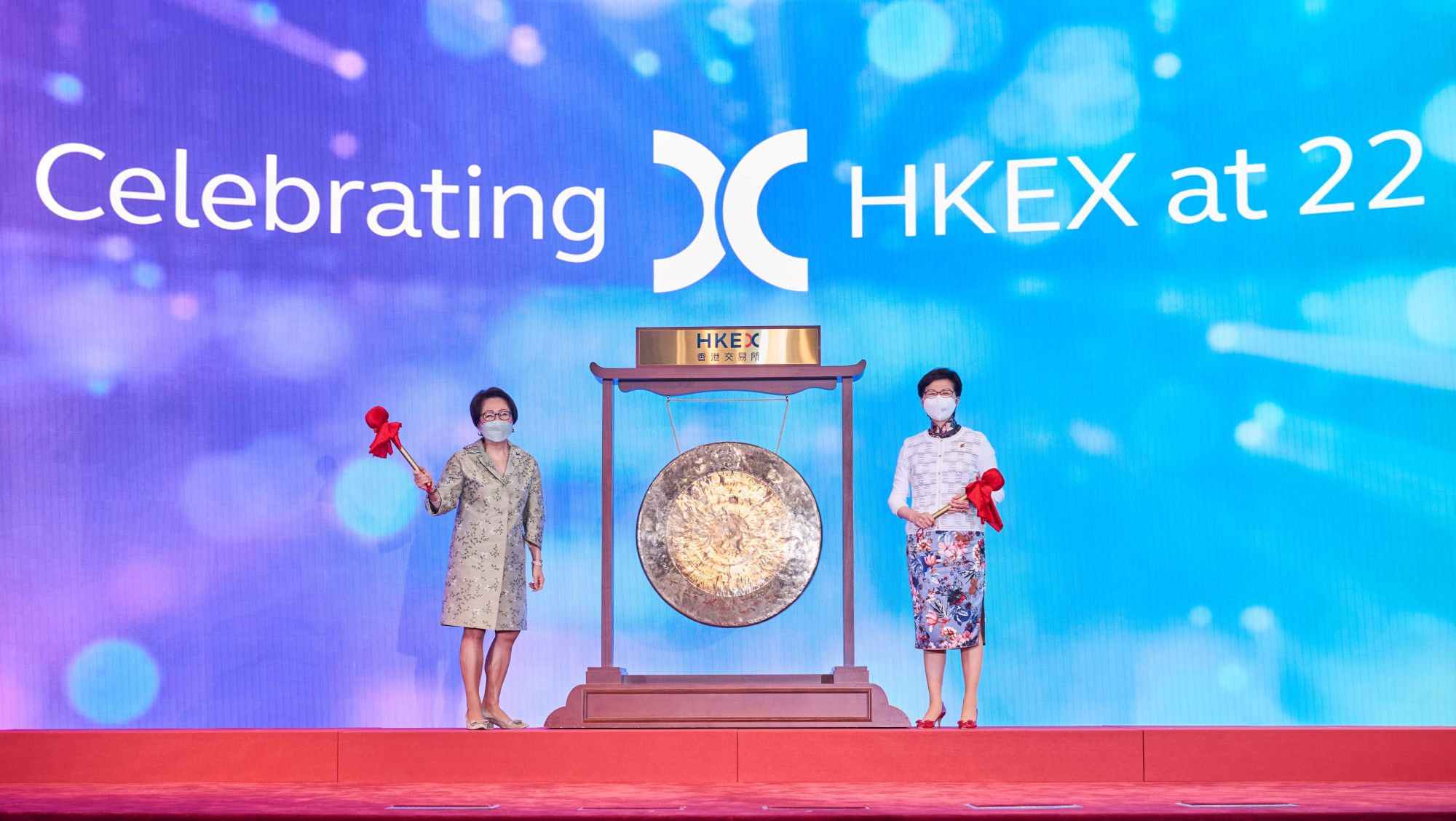 Aguzin, who took over as HKEX's
first non-Chinese CEO
last year, plans to diversify the Hong Kong stock exchange's business, as investors demand new asset classes such as digital assets and environmental, social and governance (ESG) investments. In a blueprint announced in March, he said the exchange will introduce a new platform called Diamond this year to initially trade ESG products.
In an interview with the
Post
last week, Aguzin said HKEX will open offices
in New York and Europe
to reach international investors who now represent 43 per cent of the Hong Kong exchange's turnover. The new offices will also aim to attract more international listings to the city.
HKEX has come a long way since its formation in March 2000. It was formed with the amalgamation of the stock exchange, the futures exchange and three clearing houses. It was listed in Hong Kong on June 27, 2000, at HK$3.88 a share. As of Tuesday morning, its stock stood at HK$364.2. One thousand shares bought at the time for HK$3,880 (US$500) would be worth HK$364,200 now.
The number of companies listed on the exchange it runs has risen as well, from 790 at the time to the current 2,565, while the total market capitalisation has risen eightfold to HK$37.9 trillion. The exchange's average daily market turnover has risen 10 times in the 22 years to HK$135.6 billion in the first five months of this year, while the average daily derivatives trading has increased by 35 times to 1.3 million contracts per day as of May.
The Hong Kong exchange has also been the top initial public offering market worldwide eight times over the past 13 years.
Listing reforms introduced in April 2018, which allowed companies with multiple classes of voting rights and biotechnology companies without revenue to list in Hong Kong, gave a boost to the exchange. Since then 198 new economy companies have listed on the exchange and raised a total of HK$853 billion. These firms currently represent 26 per cent of its daily turnover.
The reforms also made it easier for technology companies listed in the US or the United Kingdom to have secondary listings in the city, paving the way for Alibaba Group Holding, Baidu and NetEase to list in Hong Kong.
Moreover, the Hong Kong stock exchange has become the world's second-largest biotechnology fundraising hub with 93 IPOs that have raised a total of HK$258.5 billion since the reforms in 2018, the exchange data shows.
"HKEX has been the IPO destination for new economy companies and biotech firms," Cha said at the ceremony on Tuesday. "I am confident that more companies will come to list in Hong Kong in the next 22 years and beyond."
Alibaba owns the South China Morning Post.