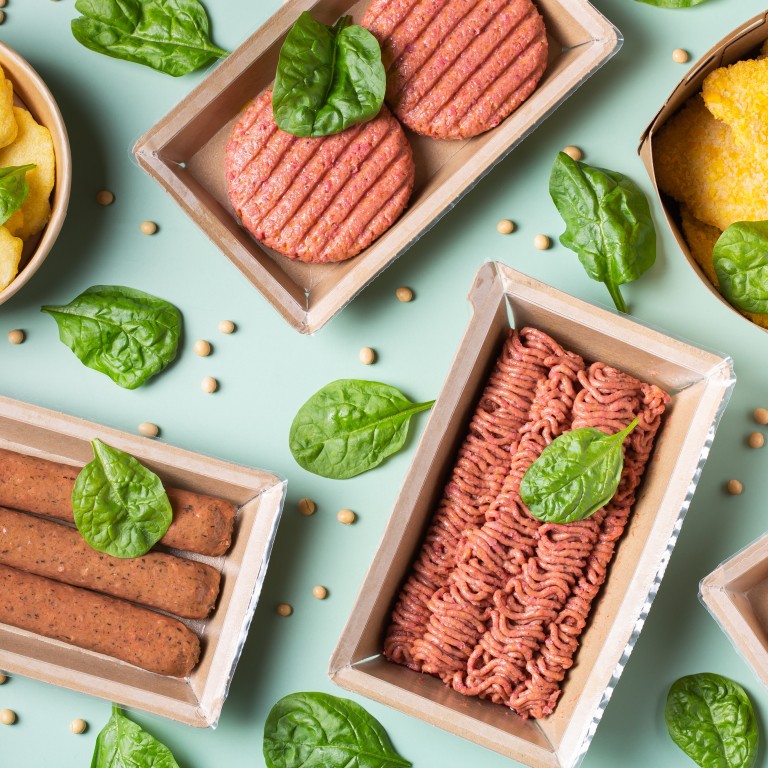 China's appetite for protein developed through fermentation grows, amid drive to boost demand for meat alternatives, net-zero goal
Investors' interest in alternative protein has extended to fermentation and cell-based protein technologies, which are more suitable for long-term deployment, think tank says
At a meeting in March, Chinese President Xi Jinping said that it was necessary for China to develop proteins from plants and microorganisms or fermentation
Chinese investors and policymakers are showing a growing interest in fermentation and cell-based protein technologies, with the expectation that they can diversify China's protein supply, reduce food-related carbon emissions and overcome the challenges of current plant-based meat products.
The country's fermentation alternative proteins sector has recorded eight investment deals since 2020, with total financing of more than 80 million yuan (US$11.9 million), according to GFI Consultancy, the Shanghai-based strategic partner of Good Food Institute Asia-Pacific (GFI APAC), Asia's leading alternative protein think tank.
Fermentation-enabled and cell-based proteins are expected to play an integral role in a more self-sufficient food system in China. The country's "alternative protein industry has ushered in a critical transition period, from rapid expansion to quality development", the consultancy said in a report published on Wednesday.
"Investors' interest in alternative protein has extended to fermentation and cell-based protein technologies, which are more suitable for long-term deployment," it added.
Industry studies show that interest in plant-based meat and other alternative proteins is on the rise. China's plant-based meat market has been continuously growing in the past few years, reaching 748 million yuan in market size in 2020, up 10.6 per cent from 2019, according to the latest research released by market research firm Euromonitor International last year.
The plant-based meat sector, however, faces several key hurdles in the Asia-Pacific region. According to a consumer survey conducted by leading global food company Kerry Group last year, consumers in the region believe current plant-based meat products still have much room to improve, especially in terms of taste, texture and nutrition.
As far as China is concerned, a transition to diversified protein sources is crucial, as the country has pledged to reduce carbon emissions in all sectors, including animal agriculture, to reach carbon neutrality by 2060. The country could also face a total meat deficit of more than 53 million tonnes in the 10-year period from 2021 to 2030, according to GFI Consultancy.
"With adequate investment and support, fermentation-enabled proteins could almost single-handedly resolve the global protein deficit, while simultaneously mitigating ecological degradation and delivering the familiar tastes and flavours that Chinese consumers crave," said Mirte Gosker, acting managing director of GFI APAC.
Fermentation uses microbes to break down compounds and create proteins. It can also be used to fix the shortcomings of plant-based meat products, for example, to add nutritional value and enhance texture and flavour, according to GFI APAC.
According to a 2019 report by global consultancy AT Kearney, by 2040, up to 60 per cent of meat will be alternative proteins, with cultivated meat comprising 35 per cent and plant-based meat reaching 25 per cent. Plant-based proteins will take the market share in the short term, but cell-cultivated and fermented technologies will dominate the market in the long term.
Last month, China released its latest five-year plan for bio-economy development, which included a particular call to expand the production of "synthetic proteins" to "reduce the pressure on environmental resources brought about by conventional animal agriculture" from 2021 to 2025.
At a joint meeting in March with agriculture, social security and social welfare advisers, Chinese President Xi Jinping also said that it was necessary for China to develop proteins from plants and microorganisms or fermentation.
Building a thriving research and manufacturing landscape for fermentation-enabled proteins can help China diversify its protein supply and reduce its reliance on overseas imports of soybeans, corn and other crops traditionally fed to farmed animals raised for meat, according to GFI APAC.
"It allows the nation to produce more food with fewer resources – the quintessential win-win," said GFI APAC's Gosker.