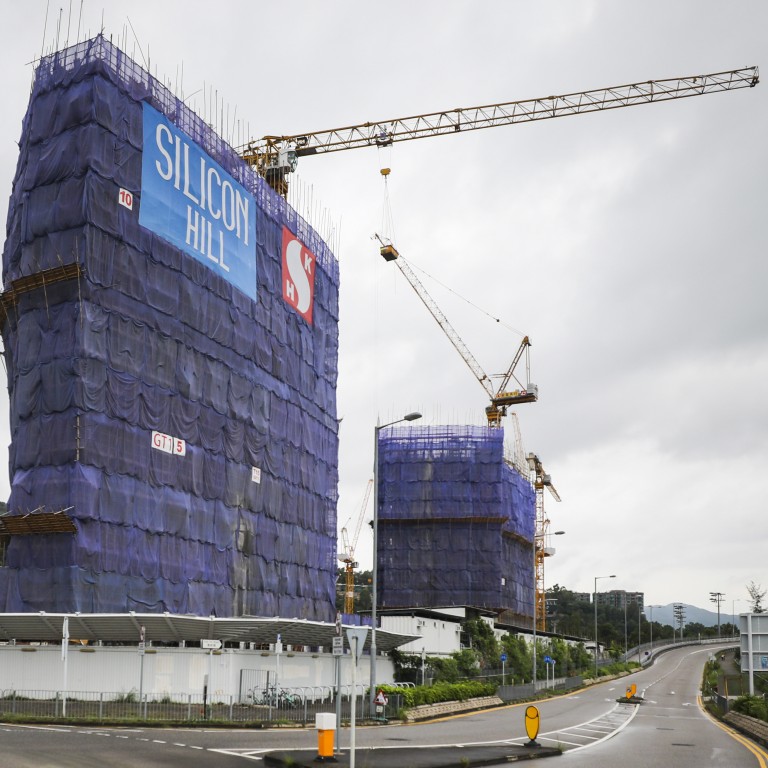 Sun Hung Kai Properties sells about 90 per cent of last units at Silicon Hill's phase one amid strong buying interest
The sales result bodes well for the new homes market, Midland executive says
By 9pm on Friday, homebuyers had snapped up 62 out of the last 72 units on sale in the first phase of the project
Hong Kong's primary housing market maintained strong momentum on Friday, with a project in Tai Po selling nearly 90 per cent of units on offer amid strong buying interest.
By 9pm on Friday, homebuyers – undeterred by the prospects of rising mortgage rates – had snapped up 62 out of the last 72 units on sale in the first phase of Silicon Hill, which are being offered by
Sun Hung Kai Properties
(SHKP).
"Buyers showed keen interest in the flats," said Sammy Po, Midland Realty's Hong Kong and Macau residential division CEO. "The encouraging sales result bodes well for the new homes market."
Developers are now offering new flats
at lower starting prices
to bolster sales as higher mortgage rates weigh on local homebuyers. Hong Kong's commercial banks have kept their prime rates unchanged after the Hong Kong Monetary Authority's (HKMA) most recent rate hike, which has kept the interest rate on prime-based mortgages unchanged. Hence people are snapping up property before the banks eventually do raise these rates.
SHKP
started sales at 5pm, offering an entry price of HK$3.85 million (US$490,492) for a 217 sq ft flat, or HK$17,732 per square foot. This price was lower than the starting price of HK$4.97 million the developer asked for a 291 sq ft flat in the first round of sales on June 3.
In the previous three rounds of sales at Silicon Hill, more than 480 flats have found buyers. The homes are expected to be delivered in late February 2024.
Friday's sale comes ahead of the sale of 138 units at Grand Jete in Tuen Mun on Saturday, which has been jointly developed by CK Asset Holdings and SHKP.
As of June 20, the new home market had recorded 3,313 transactions in the second quarter of this year, a jump of 242 per cent from the 969 deals recorded in the previous three months from January to March, according to Centaline Property Agency. After the significant rebound in transactions, the property market is expected to continue to be dominated by new projects in the second half of this year.
The first two phases at Grand Mayfair near Yuen Long raked in HK$8.8 billion in sales from April 21 – when social distancing restrictions were relaxed in Hong Kong – to early June, according to Dataelements, a data provider that tracks new residential properties in the city. It accounted for more than half of the total HK$16.6 billion in new home sales recorded in the same period.
Lived-in home prices have also starting falling on interest rate concerns. The HKMA, the city's de facto central bank, has raised rates in tune with the US Federal Reserve. Based on the current Hibor, or the Hong Kong Interbank Offered Rate, the actual mortgage interest rate has risen to more than 2.1 per cent, a new high in more than two years.
Separately, the tender for a land parcel on Hospital Road in Mid-Levels started on Friday. The plot is rare and the scale is small so it is suitable for building 40 to 60 small and medium-sized flats, according to Centaline Surveyors. The land may fetch about HK$16,000 per square foot, or about HK$690 million, it added.
Elsewhere, politician and businessman Lam Tai-fai bought a luxury flat at Mont Rouge in Kowloon for HK$227.5 million this month. The 3,017 sq ft flat comes with a rooftop and terrace.