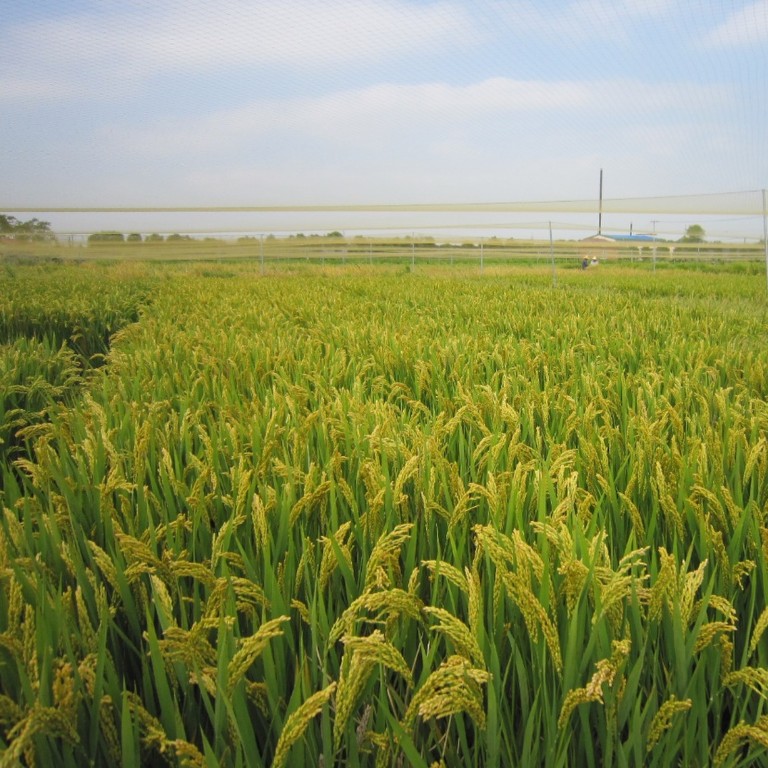 Climate change, ozone pollution to reduce global crop yields by a fifth, with South Asia most at risk, study shows
A study by researchers from CUHK and University of Exeter showed that yields of maize, soybeans, wheat and rice could fall by up to 22 per cent by 2050
The FAO's rice index, which tracks global rice prices, rose to a one-year high in May, gaining 6.5 per cent since Russia's invasion of Ukraine
Global food crop yields could fall by a fifth by 2050 due to ground-level ozone pollution and climate change, a new study has found. South Asia is likely to bear the brunt of the impact, producing up to 40 per cent less rice by the end of the century.
The study led by researchers from the Chinese University of Hong Kong (CUHK) and the University of Exeter's Joint Centre for Environmental Sustainability and Resilience, quantified and estimated the overall impact of ozone pollution, carbon dioxide emissions and climate change year to year until the end of this century on the yields of four staple food crops – maize, soybeans, wheat and rice.
The projections showed an obvious declining trend for all crop yields due to ozone pollution and extreme weather events. By 2050, the yields of the four crops could fall by as much as 22 per cent.
South Asian countries – some of which are among the world's largest rice producers, could experience a 10 to 18 per cent reduction in crop yields by 2050, and as much as 40 per cent by 2100.
"This study demonstrates that the adverse effects of climate change are the single largest factor that contributes to crop yield reduction in the tropical region, especially in rice-producing countries, while ground-level ozone pollution also offsets the carbon dioxide fertilisation effect," said Dr Felix Leung, project leader and first author of the paper, in a statement on Tuesday.
Ground-level ozone is primarily produced by chemical reactions between oxides of nitrogen and volatile organic compounds. This happens when pollutants produced by vehicles, power plants, and industrial emissions react, which could accelerate environmental degradation with serious consequences on human health.
Food security globally has already become fragile due to international conflicts, Covid-19 pandemic and rising inflation. The study showed that climate change and air pollution will make global food production more unstable, and push the world away from the United Nations' Sustainable Development Goal of Zero Hunger by 2030.
According to the latest report published last November during the United Nations COP26 climate change summit, even if all nations meet their National Determined Contributions 2030 objectives under the Paris Agreement, the globe is on course for 2.4 degrees Celsius of warming by 2100, and carbon dioxide emissions and ground-level ozone concentrations are expected to climb further.
The study also focused on major crop-producing regions such as China, the United States, Brazil, Argentina, India and Europe. For example, soybean yields could be reduced by 22 per cent in China and 42 per cent in the US by 2100.
Around 90 per cent of the world's rice is produced and consumed in Asia. India, the world's biggest rice exporter, has cut its estimate for the whole year's wheat harvest by 4.4 per cent in May and banned wheat exports due to crop failures from a prolonged and earlier-than-usual heatwave in March and April.
The Food and Agriculture Organisation's rice index, which tracks global rice prices, rose to a one-year high in May. It jumped 6.5 per cent to 109.2 in May from February when the war in Ukraine broke out.
The FAO forecast this month that this year's global rice output will be just short of last year's all-time high, on the back of another abundant Asian harvest. Larger harvests in Africa and Australia will also help to offset shortfalls elsewhere.
The researchers warned that immediate actions are needed to stop the global food crisis from worsening. Climate mitigation and clean air should combine with technological advancements in crop science in the long run, the researchers suggested. Continued development of crop cultivars that are heat and ozone-tolerant, and supplemented with nutrients, will also help improve food security and human nutrition as the population grows.
"We believe this study will contribute to sustainable solutions to end hunger, achieve food security and improve nutrition," said Leung.