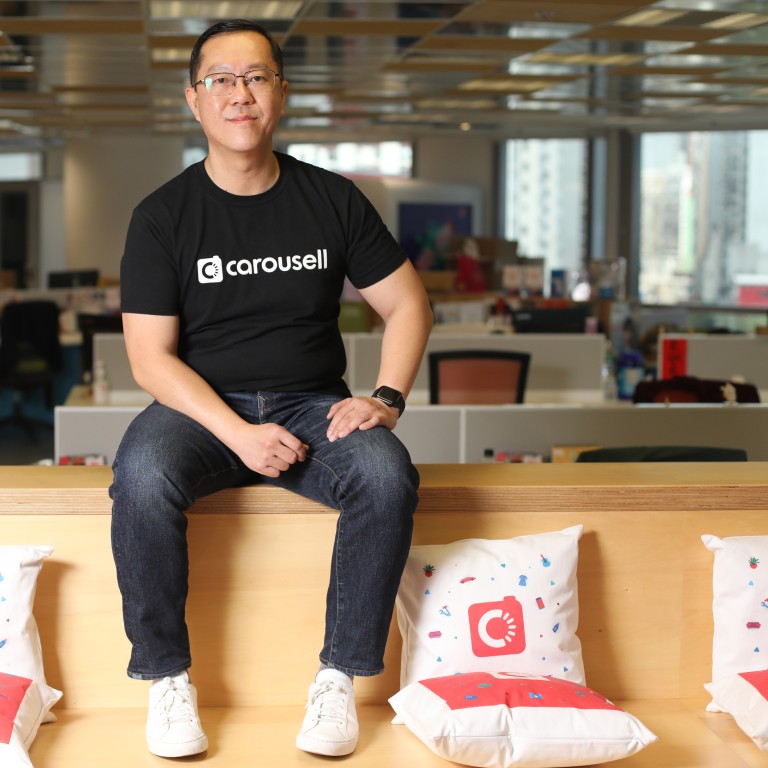 Carousell rides sustainability trend in Hong Kong, aims to make buying and selling of second-hand items 'as frictionless as possible'
Hongkongers are becoming much more conscious about being environmentally friendly and sustainable, says platform's managing director for the city
Second-hand furniture has grown in popularity, thanks to Carousell, seller says
Singapore-based online marketplace
Carousell
is riding a
sustainability
trend in Hong Kong, which has seen consumers embrace second-hand goods and keep products away from landfills. It is helping to grow the market for second-hand items in the city.
Hongkonger's growing awareness of sustainability was a bright spot in the Southeast Asia region and has helped the classifieds firm grow its second-hand listings in the city, a trend which was expected to continue even after Covid-19 recedes, Kevin Huang, the managing director of Carousell Hong Kong, said in an interview.
"Sustainability is the reason why we started, and this continues to be the reason why we're here today. Our goal is to make buying and selling second-hand products … as frictionless as possible," Huang said.
"Hongkongers are becoming much more conscious about being environmentally friendly and sustainable," he said, adding that it had become the number one reason for people in the city to buy second-hand or used items, compared to cheaper prices.
Most respondents shopping on Carousell did so for sustainability reasons, rather than to save money, according to a survey of more than 23,000 Hong Kong consumers in February conducted by Carousell Media Group and digital advertising body IAB SEA+India.
Almost half of Hongkongers who have bought second-hand items before do so for environmental reasons, ranking first among the eight markets in Southeast Asia that Carousell operates in, including Singapore and Taiwan, according to its Recommerce Index Report in November.
The number of searches for used items grew by more than 45 per cent in all age groups from 2020 to 2021, implying a societal shift towards greater
sustainability
, Carousell said in April. The number of second-hand listings on its platform in Hong Kong also increased, by nearly 60 per cent, between 2019 and 2021.
Around one in five people in Hong Kong use Carousell, and 85 per cent of users in the city have made at least one second-hand purchase on the platform, according to the company.
Merchants, such as sellers of furniture, which ranked among the platform's top five categories with the most searches in Hong Kong, have been tapping Carousell's userbase with its preference for second-hand goods.
Happyshop.hk, which sells second-hand furniture, has seen as much as a 30 per cent increase in demand for used office desks and chairs over the past two years since the outbreak of the pandemic. Carousell's platform has helped it find two to three new buyers daily over the period, according to owner Eve Ng.
"In the past, not too many people knew about second-hand shops in Hong Kong, and many would ask their friends [for old furniture]. Second-hand furniture has grown in popularity, as more people have become aware about its environmental impact and for its cheaper price," Ng said, adding that Carousell had provided the firm with a good avenue to reach its target audience of second-hand furniture buyers.
Furn.outlet, a furniture wholesaler, has also tapped Carousell to sell items that had been put on display or lightly damaged, products which might not have been sold and would otherwise have ended up in landfills, said business owner Gary Lui.
The sales of desks on Carousell have grown 20 to 30 per cent since the outbreak of Covid-19, helping the company more than triple its sales of the product across all platforms, Lui said.