IPO
Get more with myNEWS
A personalised news feed of stories that matter to you
Learn more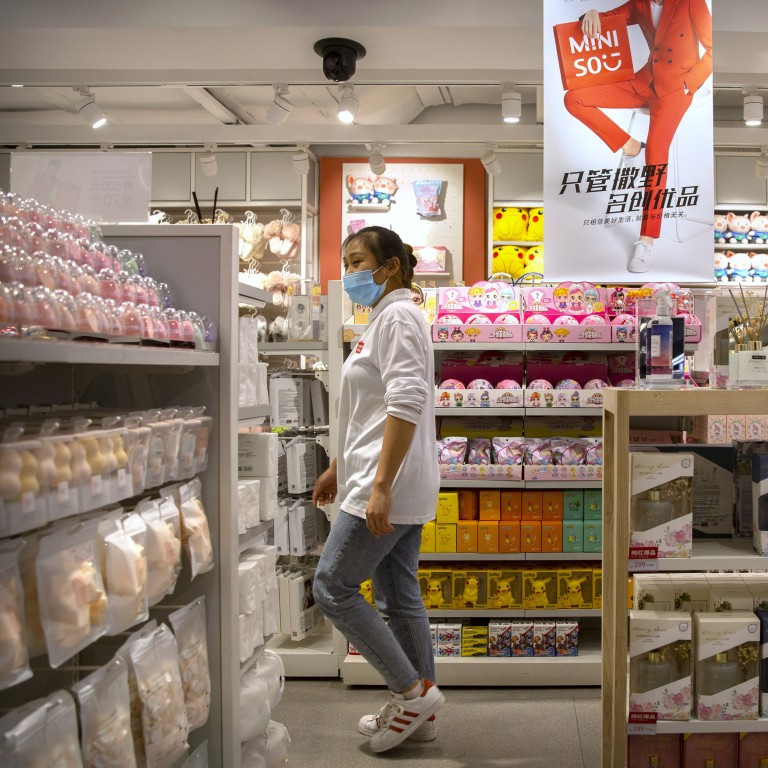 NYSE-listed Chinese low-cost retailer Miniso targets US$116 million in secondary Hong Kong float
The maximum offer price represents a 29.2 per cent premium on the closing price of its American depository shares on Tuesday
Trading under the stock code 9896 is slated to start on July 13
Miniso
, the Chinese low-cost retailer listed in New York, is selling 41.1 million shares at a maximum of HK$22.1 each in a secondary Hong Kong listing, which will allow it to raise HK$908.3 million (US$115.7 million), as more US-listed Chinese issuers seek listings closer to home.
The maximum offer price represents a 29.2 per cent premium on the US$8.72 closing price of its American depository shares (ADSs) on Tuesday, according to a term sheet seen by the Post. Bank of America, Haitong International and UBS, the listing sponsors, were not immediately available for comment.
Miniso raised US$608 million from an initial public offering on the New York Stock Exchange in October 2020. It is among the latest US-listed Chinese companies that have sought a secondary listing outside America, amid the looming risk of Chinese issuers being kicked out of American capital markets
through delistings
.
Others that will complete
secondary Hong Kong listings
in July include Tuya, an internet-of-things cloud development platform that raised HK$141 million, and OneConnect Financial Technology, the technology services unit of Ping An Insurance (Group), which will list by way of introduction and therefore not raise any capital.
Miniso's listing has an overallotment option to sell up to 6.17 million more shares if there is strong demand. Each ADS represents four ordinary shares to be listed in Hong Kong, and the two are fully fungible.
The
Guangzhou-based company
will start its public offering on Thursday and end it next Wednesday. Trading under the stock code 9896 is slated to start on July 13.
Miniso, which sells items ranging from home decor, small electronics and toys to cosmetics and underwear, runs more than 3,100 stores in China. It also has about 1,900 stores overseas, including in Hong Kong, North America and India.
It operates on a franchise model, and its retail partners open and operate their own stores under its brand name. They share part of in-store sales proceeds with Miniso and are responsible for stores' capital expenditure and operating expenses.
"If we fail to maintain the relationship with our retail partners … or fail to attract new partners to join our store network, our business, results of operations and financial condition could be materially and adversely affected," the low-cost retailer said in its draft prospectus.
This year, more than 120 Chinese issuers have been identified by the US securities watchdog as foreign companies that could be delisted from American exchanges as soon as 2023, if the US audit regulator fails to inspect their audited records in China for three consecutive years, following a new law that was passed in late 2020 under the administration of former US president Donald Trump.
For the six months ended June 2021, its net profit totalled 338.6 million yuan (US$50.5 million), as it turned around from a net loss of 1.7 billion yuan during the same period in 2020. The company's shares have, however, fallen by more than 65 per cent since its listing.
Additional reporting by Enoch Yiu