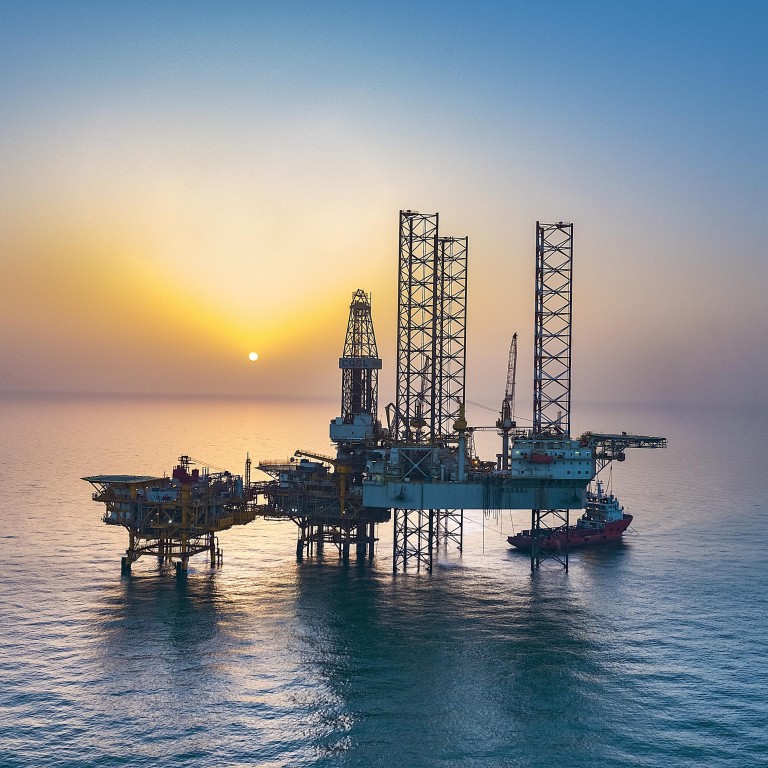 Climate Change: Chinese offshore oil and gas giant eyes major clean energy output expansion to help nation reach environmental goals
China National Offshore Oil said it will aim for non-fossil fuel to make up over half its domestic output by 2050
However, it made no mention of reducing so-called scope 3 emissions from suppliers and customers, which typically make up the bulk of supply-chain emissions
State-owned energy giant China National Offshore Oil has set a target for non-fossil fuel to make up over half its domestic output by 2050 to help the
nation reach its climate goals
.
The Beijing-based integrated energy firm will also aim to reach peak
carbon dioxide emissions
arising from its own operations by 2028 and to become carbon neutral by 2050, according to its climate action plan unveiled late on Wednesday.
The plan is in line with China's goal of achieving peak emissions before 2028 and carbon neutrality by 2060.
However, the company made no mention of any ambitions to reduce so-called "scope 3" emissions from its raw materials suppliers, logistics partners, and particularly its customers. Consumption of the products typically makes up the bulk of an oil and gas company's value-chain emissions.
European energy giants such as BP, Shell and TotalEnergies have 2050 net-zero emissions targets that cover scope 3 emissions, whereas their US rivals, like ExxonMobil and Chevron, do not.
To realise its climate goals, China National Offshore Oil has set itself interim targets. By 2025, it plans to
slash its carbon emissions intensity
– per unit of output – by 10 to 18 per cent, and will aim for natural gas – a less carbon-intensive fuel than oil – to account for a third of its total fossil fuel output.
As its total oil and gas output, including from overseas fields, is expected to rise some 40 per cent in the five years to 2025, its absolute emissions from field operations will still rise even as the intensity falls, said Neil Beveridge, a senior analyst at Sanford Bernstein.
Also on the Chinese energy firm's agenda is a plan to lift its spending on green energy projects to 10-15 per cent of its annual capital expenditure in 2026-2030, up from 5-10 per cent between last year and 2025.
"This is relatively in line with the plans of the
US oil majors
," Beveridge said. "If you look at the European oil majors which are ahead of the pack in terms of spending, you will see higher numbers, more like 15-30 per cent."
Besides a controlling stake in the listed, dominant offshore oil and gas producer CNOOC, China National Offshore Oil also has extensive oil refining, fuel distribution and power generation operations and green energy ventures such as hydrogen and wind power.
To keep emissions down, it harnesses offshore wind energy and uses more electricity from coastal power grids to reduce the burning of diesel, while keeping its oil and gas platforms running. It also captures and uses the natural gas produced at its oilfields rather than flaring it.
China National Offshore Oil has embarked on a project to capture and reinject carbon dioxide emitted from one of its oilfields into a depleted field nearby, and is developing the know-how to produce zero-emission hydrogen.
All major Asia-Pacific-headquartered oil and gas companies monitored by Sanford Bernstein's analysts have now set net zero targets for their own operations by 2050 or earlier. In 2020, only half had done so, Beveridge said.
However, their emissions per unit of output are little changed in the past five years, while their international peers have achieved an 18 per cent reduction, he noted. This exposes the Asian firms to the potential imposition of carbon emission levies.
"Sinopec and PetroChina have the highest exposure to carbon tax, given the higher energy and emissions intensive downstream operations," Beveridge wrote in a report last October.
If a carbon price of US$50 per tonne of emissions is applied to both upstream extraction and downstream refining and chemicals operations, Sinopec could see its operating profit fall by 45 per cent, while PetroChina's may decline by 30 per cent, if no carbon offset deals are done, he estimated.