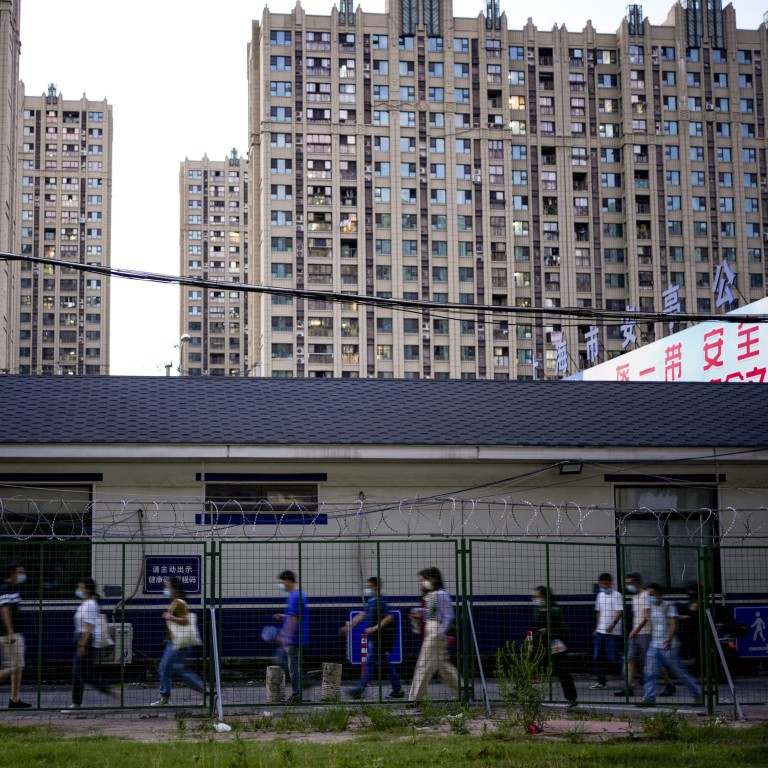 Shanghai's home rental market suffers as owners struggle to replace tenants who fled town and displaced workers during lockdown crisis
Rentals in some of the 16 districts in Shanghai fell by more than 10 per cent in June after the city ended a lockdown
Recovery will be uneven as it takes time to replace tenants in a short time, says a Ziroom property agent in Shanghai
Shanghai's
home rental market
is taking some knocks as owners struggled to find new tenants to replace the horde of professionals who skipped town before the lockdown, and factory workers who lost their jobs when businesses cratered. The recovery may be uneven after a round of price cuts.
Rents in some of the 16 districts in China's main financial hub fell by more than a tenth, even after businesses and daily life in the city of 25 million people returned to normal when the local government declared a victory over the Omicron outbreak and ended the shutdown on June 1.
The highest month-on-month decline was seen in the northern Jiading district, where prices tumbled 10.6 per cent to 69.30 yuan (US$10.35 yuan) per square metre, according to Creprice, an online housing data platform. In southwestern Jinshan district, rentals plunged 8.1 per cent 30.18 yuan. That compares with a 0.7 per cent decline on average across the whole city.
The lockdown was expected to shave 2.5 to 3 per cent of China's national output, according to
one projection
. To repair Shanghai's US$637 billion economy, the municipal government
unveiled a 50-point plan
, including 300 billion yuan of tax breaks and incentives to businesses to fend off job cuts. Landlords were asked to give their retail tenants
rent holidays
.
Louis Liu, who came to Shanghai last June for work, just renewed his contract with a local long-term rental platform at a 13 per cent discount.
"The operator talked to me three times after I said I'd like to move, and every time they offered me more discounts," said the 26-year-old consultant. "Last year, when I hunted for a flat, they were pretty harsh and said I can either accept the offer or keep hunting elsewhere. Now, they really are short of tenants."
Thousands of people fled the nation's most developed metropolis in droves in late May to escape a lockdown as Shanghai faced a wave of Omicron cases. Some have also lost their jobs after the unprecedented movement curbs from May 1 to 30 upended the logistics and supply chains, shuttering many businesses.
"Homeowners are forced to lower rental rates to attract new tenants," said Dou Liangbao, a senior manager with property agency 5I5J in Pudong. "We saw an increasing supply of rental homes since June while demand was flattish."
They will be banking on a recovery this quarter for salvation as businesses regain confidence. The July-September period is also regarded as a peak season as some 230,000 graduates are expected to enter the workforce while Shanghai eases its residency rules to attract talent.
University graduates typically target Shanghai as their top priority job market, according to Hu Jinghui, the founder of Jinghui Think Tank. Thus, the graduation season would be a boost for the home leasing market, he added.
"People come and go," said Jiang Liangfang, a manager with property agency Pacific Rehouse. "Some fresh college graduates and skilled workers from other parts of China will soon usher in strong demand for rental homes."
Skilled workers such as chefs, electricians and carpenters will be in high demand in the coming months as businesses seek to rev up production to make up for lost ground during the lockdown, said Hong Lingyun, a senior executive with recruitment services firm Joinlink Consulting.
"A fully recovered Shanghai economy will abound with thousands of new vacancies," she said. "Some people will return to Shanghai soon when they are convinced that the virus outbreak has been entirely contained."
Indeed, some small rises of rentals were recorded in the central districts. In Huangpu, rents climbed 0.8 per cent to 145 yuan per square metre in June on top of a 15 per cent gain in May.
So far this month, rents of two-room flats have risen by about 2 per cent to 5,612 yuan per month on average, according to Anjuke, an online property services company. Units with five or more rooms suffered, as rents slipped by 6.6 per cent from a month ago.
In Minhang district, south of the city centre, tenants like architect Hai Dinghui have not enjoyed the benefits of a 4.2 per cent decline in average rents there. Ziroom, the rental company, has only offered to cut the rental fees by 20 per cent for the flat she shares with some friends, she added.
Liu Mingjun, a Ziroom agent based in Shanghai, said rents have weakened even after the lockdown was lifted. Any recovery is likely to take time.
"A lot of tenants have left Shanghai," she said. "It's hard to fill the void in a short time."