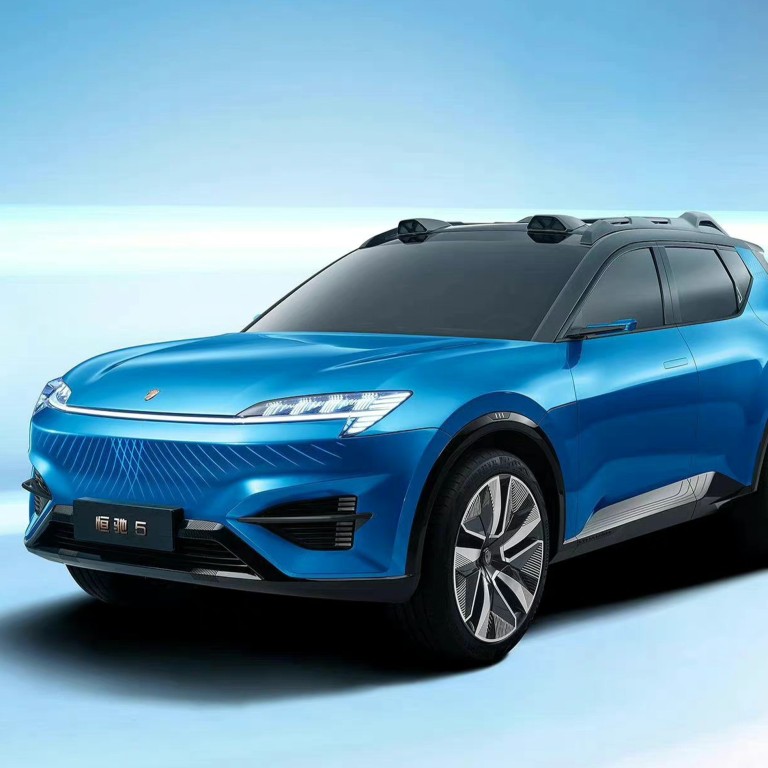 China Evergrande's EV unit to start taking orders for Hengchi SUV just over a week after embattled developer receives wind-up petition
China Evergrande New Energy Vehicle Group, the developer's listed EV unit, will start taking orders for the Hengchi 5 SUV on Wednesday
Henghchi 5's price tag is hugely discounted as Hui Ka-yan wants to ensure the firm's first EV is a hit, sources say
China Evergrande New Energy Vehicle Group, the developer's listed EV unit, will start taking orders for the Hengchi 5, an all-electric sport utility vehicle (SUV) that can go 700 kilometres (435 miles) on a single charge, on Wednesday, it said in a filing to the Hong Kong stock exchange on Tuesday.
Although pricing and sales details will not be announced before an online launch ceremony at 8pm on Wednesday, people familiar with the matter said the vehicle could sell for between 160,000 yuan (US$23,878) and 200,000 yuan, cheaper than Tesla's Shanghai-made Model 3, Xpeng's P7 and Nio's ET7.
In August 2020, the group unveiled a line-up of six Hengchi models and added three more to the line-up in February 2021. Plans were afoot for mass production at its mainland Chinese factories in the second half of 2021. Hengchi 5 is now scheduled for mass production
in September this year
.
"Hengchi 5 is targeting middle-class consumers who are aware of climate change and are budget sensitive," said Phate Zhang, founder of Shanghai-based technology portal CnEVpost. "As newcomers, Hengchi branded vehicles need to be competitive in pricing, and they need to convince drivers of their performance."
China Evergrande, founded in 1996 by Chinese billionaire Hui Ka-yan, has struggled to repay debt since mid last year. It has missed payments on its high-yield wealth management products, to its suppliers and contractors, and domestic as well as offshore creditors and bond holders.
It had total liabilities of 1.97 trillion yuan based on its accounts, which were last published on June 30, 2021. It recently received
a wind-up petition
from an investor for not fulfilling a financial obligation of HK$862.5 million (US$109.9 million), it said in a filing to the Hong Kong exchange last Tuesday. China Evergrande is expected to release
its debt-restructuring plan
by the end of this month.
Henghchi 5's price tag is hugely discounted as Hui, who is also known as Xu Jiayin in China, wants to ensure the firm's first EV is a hit, the sources told the Post.
He is betting on EVs – a key part of the Made in China 2025 industrial master plan and China's 2060 carbon neutrality pledge – to diversify his business.
To get here, Evergrande has burned through a lot of cash. It pledged to assemble between 500,000 and 1 million EVs a year at plants in Shanghai, Tianjin and Guangzhou.
The developer's listed unit was renamed China Evergrande New Energy Vehicle Group in September 2020 from Evergrande Health Industry Group. In January last year, the EV unit raised HK$26 billion as it brought in six new investors, including Chan Hoi-wan, the wife of Hong Kong property tycoon and long-time Hui ally Joseph Lau, and Lau himself, by issuing 952.4 million shares at HK$27.30 per share to fund research and development.
China Evergrande New Energy Vehicle Group's shares closed at HK$3.20 on March 31, and have been suspended from trading since, as it has not submitted financial results for 2021 to the stock exchange.
Mid last year, its EV unit halted some operations after failing to pay suppliers. It had to find new funding to resume development,
handing out share options
to keep engineers and other employees on board, even as its Shanghai car plant sat idle.
For now, the company is likely to focus on the Hengchi 5 and Hengchi 6 models, due to its funding constraint.