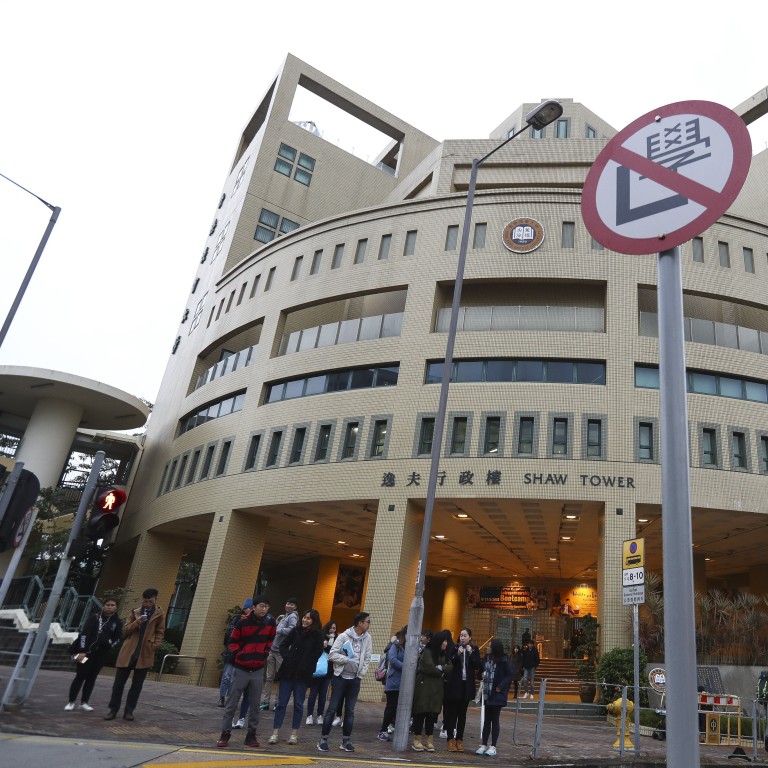 Rents near Hong Kong's universities on the rise as more mainland Chinese students return amid easing coronavirus crisis
Students from the mainland have been flocking back to Hong Kong in increasing numbers; their need for accommodation is a rare bright spot in an otherwise bleak market
In Sha Tin, a two-bedroom flat in the Wai Wah Centre was rented to two mainland students at a monthly price of HK$15,300, which is nearly the price of a three-bedroom home in the same building
An increase in demand from
mainland Chinese students
as Hong Kong's coronavirus crisis has eased has boosted the rents in housing estates close to universities, particularly in Kowloon Tong and Sha Tin, according to tenants, landlords and agents.
Luo Yuanhang, a year-four science student at Baptist University, rented a 700 square-foot flat near Kowloon City, close to his lectures. He shares the apartment with another four classmates, and starting from July the apartment cost HK$16,000 (US$2,039) per month.
The rent was 7 per cent higher than the previous lease. Luo, who is from the southwestern Chinese province of Sichuan, said he and his classmates – also mainlanders – had been particularly eager to find a home because the Baptist University would not allow year-four students to stay in halls of residence.
"The last tenant rented [the flat] at a price of HK$15,000 per month," said Luo. "We
could have got a better price
if we were not in a hurry to find a place to live."
Luo's landlord, who was only willing to disclose her name as Poon, said that before signing the contract, about three or four people came to see the house every day. She had no concerns that the unit would remain empty.
"Usually students sign the contract starting from July. If the rental period started in August, the price would be even higher," she said.
In Sha Tin, a two-bedroom flat in the Wai Wah Centre measuring 297 square feet was rented to two mainland students at a monthly price of HK$15,300, which is nearly the price of a three-bedroom home in the same building, according to the Hong Kong Economic Times.
The area is popular with students attending the nearby Chinese University of Hong Kong (CUHK) and City University.
Students from the mainland have been flocking back to Hong Kong in increasing numbers as the
Covid-19 situation in the city
has become less severe. Their need for accommodation is a rare bright spot in an otherwise bleak market.
Over all, house rents have been in decline since September when the city's official index stood at 184.4. The index was at a low of 177.3 in April and May this year, according to the Rating and Valuation Department.
Midland Realty expects Hong Kong home rents to remain uncertain in July and August. Although university students leasing homes during the popular summer months may push rents up, this could be counterbalanced by the broader weakness in the market.
"Usually both rent and
rental transactions
would go up during [July and August] because the demand from university students, particularly mainland students, would surge, but whether an obvious increase will happen [this year] is not clear yet," said Buggle Lau, the chief analyst at Midland Realty.
Lau said Hong Kong's strict quarantine policy, which requires most inbound travellers to spend seven days in hotel isolation, would make some overseas students consider whether to come back and rent a flat, though the city's new leader is considering shortening the quarantine period.
Terence Chong Tai Leung, an economics professor at the Chinese University of Hong Kong, said the main factors affecting residential rents, besides general market performance, are inflation and salaries.
"If inflation increases and salaries go up, the general property market would be more positive," he said. "If the economy is revived in the second half of 2022, inflation and salaries will goes up, which might lift up rental prices."
According to a government report released on June 27, the average salary in Hong Kong increased by 1.8 per cent in March on a year-on-year basis, with a 0.8 per cent increase in the first quarter of 2022. Around 53 per cent of companies raised salaries compared to the same period of 2021.