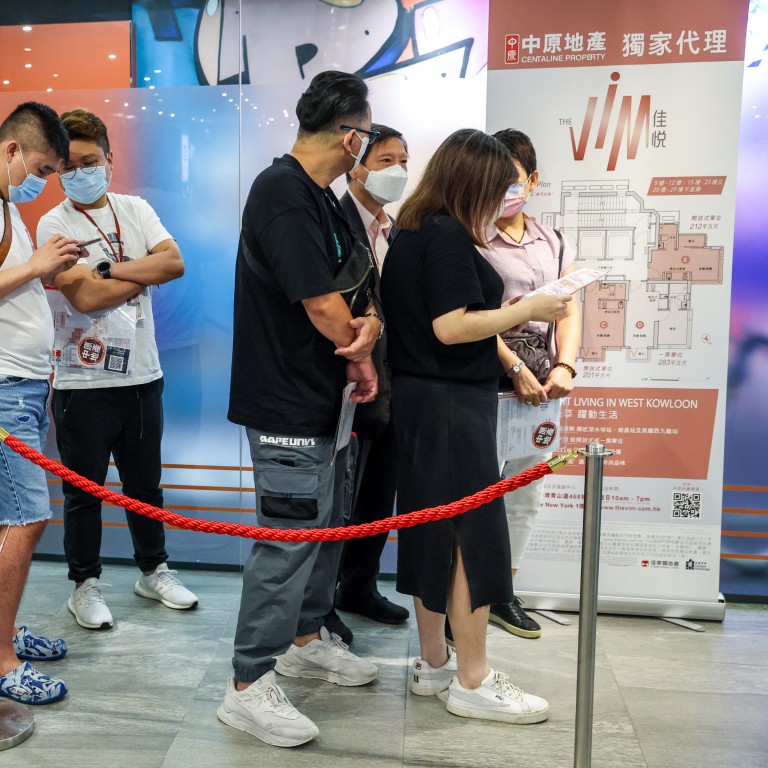 Smallest flats see brisk demand at first Hong Kong home sale after Xi speech underlining desire for larger homes
Twenty units, most of them 199 sq ft, sold within the first hour of sales at The Vim
The smallest units have been priced at HK$3.46 million (US$440,828), while the most expensive flats are priced at HK$5.87 million
The smallest flats at a development in Hong Kong's Sham Shui Po district sold briskly on Sunday afternoon, in what is the first new property sale after Chinese President Xi Jinping said
the city's residents desired bigger homes
.
Twenty units, most of them 199 sq ft, sold within the first hour of sales at The Vim, according to Centaline Property Agency, the development's sole agent. A total of 50 such flats – the project's smallest units – are on offer at The Vim, which has been developed by Hong Kong-listed Carrianna Group Holdings and private builder Choice Investment Holdings. It is expected to be completed in December next year.
"The Vim is proving to be popular among first-time, young
homebuyers
, who have a limited budget and are focused on buying affordable flats in convenient locations," said Louis Chan, vice-chairman and CEO of Centaline's residential department in Asia-Pacific. "The sales are within expectations – we have seen strong demand from first-time homebuyers who want to live in a city area with MTR access."
The sales at The Vim come less than a fortnight after Xi's visit to the city during the inauguration of
Hong Kong's new administration
. "At present, what the people of Hong Kong desire the most is a better life, a bigger flat, more business start-up opportunities, better education for kids and better elderly care. What the people call for, we must strive to deliver," he said in a speech on July 1. The Chinese president also marked the 25th anniversary of the city's handover to Chinese rule.
Moreover, in December last year, the Hong Kong government set 280 sq ft as the minimum size for new living spaces built on government land. This, however, does not cover buildings already under construction at the time of the introduction of the rule.
The Vim will be a 26-storey building comprising 115 units ranging from 199 sq ft to 289 sq ft. Its smallest units have been priced at HK$3.46 million (US$440,828), while the most expensive flats are priced at HK$5.87 million.
Buyers of these units can get financing of up to 90 per cent of the purchase price and will need as little as HK$346,000 as down payment. Homes that cost less than HK$8 million are eligible for up to 90 per cent mortgage financing, while those above that amount can only get a mortgage loan equal to 70 per cent or less of the value of the property.
Brisk demand for the smallest flats at The Vim underlines many buyers' desperate quest for affordable housing in the world's most expensive urban centre.
"Young people are taking their first steps towards buying a small flat to start a new home. They can move forward and switch to a bigger home some years later, when their incomes grow as they develop their careers," said Centaline's Chan.