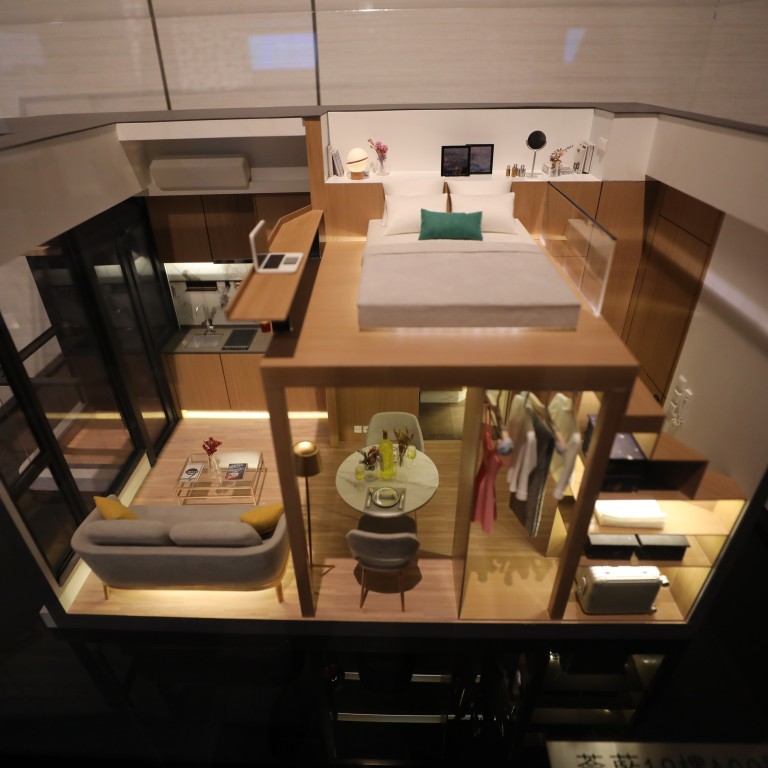 Hong Kong's nano flats: does falling demand point to the end of container-size abodes?
In 2019, 642 such flats sold for a total of HK$2.3 billion, but last year only 307 were sold for a total of about HK$1.5 billion
Too early to conclude that we have seen the back of nano flats, think tank executive says
Divergent responses to recent property launches suggest buyers in Hong Kong have started preferring
larger flats
, following a relaxation of mortgage rules and as the market remains soft.
The sales of
nano flats
, or homes measuring 200 square feet (18.6 square metres) or less, have declined of late. In 2019, 642 such flats sold for a total of HK$2.3 billion (US$293 million), according to Dataelements, a data provider that tracks new residential properties in Hong Kong. Last year, only 307 were sold for a total of about HK$1.5 billion.
"The
relaxation of mortgages
has shifted demand in the mass residential market from first homebuyers to upgraders," said Norry Lee, a senior director at JLL in Hong Kong. "A weak leasing market has further dampened investment demand for nano flats."
Known variously as
micro-apartments
, nano flats or shoebox homes, the smallest of Hong Kong's notoriously tiny abodes are only slightly bigger than the typical carparking space (130 sq ft), or the standard 20-foot shipping container (160 sq ft). The city with the world's second-biggest population of billionaires also has the smallest average living space per person, 23 per cent less than Tokyo, 40 per cent smaller than in Singapore, and nearly almost half the size of what residents in neighbouring Shenzhen live in, according to Hong Kong's government data.
Hong Kong raised the amount of mortgage loans available earlier this year to help more residents get on to the property ladder and to forestall a market slump amid the worst of its Covid-19 outbreaks. Starting in February, the maximum limit for mortgage loans of up to 80 per cent of a property's value was amended to HK$12 million from HK$10 million previously, in the
2022/23 budget
.
At The Vim, a new development in Sham Shui Po that went on sale on Sunday, only 20 out of 50 flats measuring between 199 sq ft and 289 sq ft were sold during a first round of sales. Eighteen of these homes measure 199 sq ft, while 18 others are 201 sq ft in size, according to the project's price list. Prices at The Vim start at HK$3.46 million for a 199 sq ft flat, or HK$17,383 per square foot.
On the other hand, Villa Garda I, with flats measuring 291 sq ft to 995 sq ft, saw 97 per cent of the flats on offer sell out in a week in late June and early July. Buyers included young families, newly married couples and residents buying bigger homes for their own use.
But nano flats are not going to go away any time soon. The number of such flats set for completion just this year is about 1,700, according to an estimate by JLL. The number of completed flats sank by 43 per cent from 982 in 2019 to 558 in 2021, according to data from the Rating and Valuation Department, amid the city's anti-government protests and the coronavirus pandemic.
This increase comes despite concerns raised by Chinese President Xi Jinping during the 25th anniversary of the city's handover to China on July 1. In a speech to mark the occasion, Xi said the government "must strive to deliver" what "the people of Hong Kong desired – a better life, a bigger flat, more business start-up opportunities, better education and better elderly care".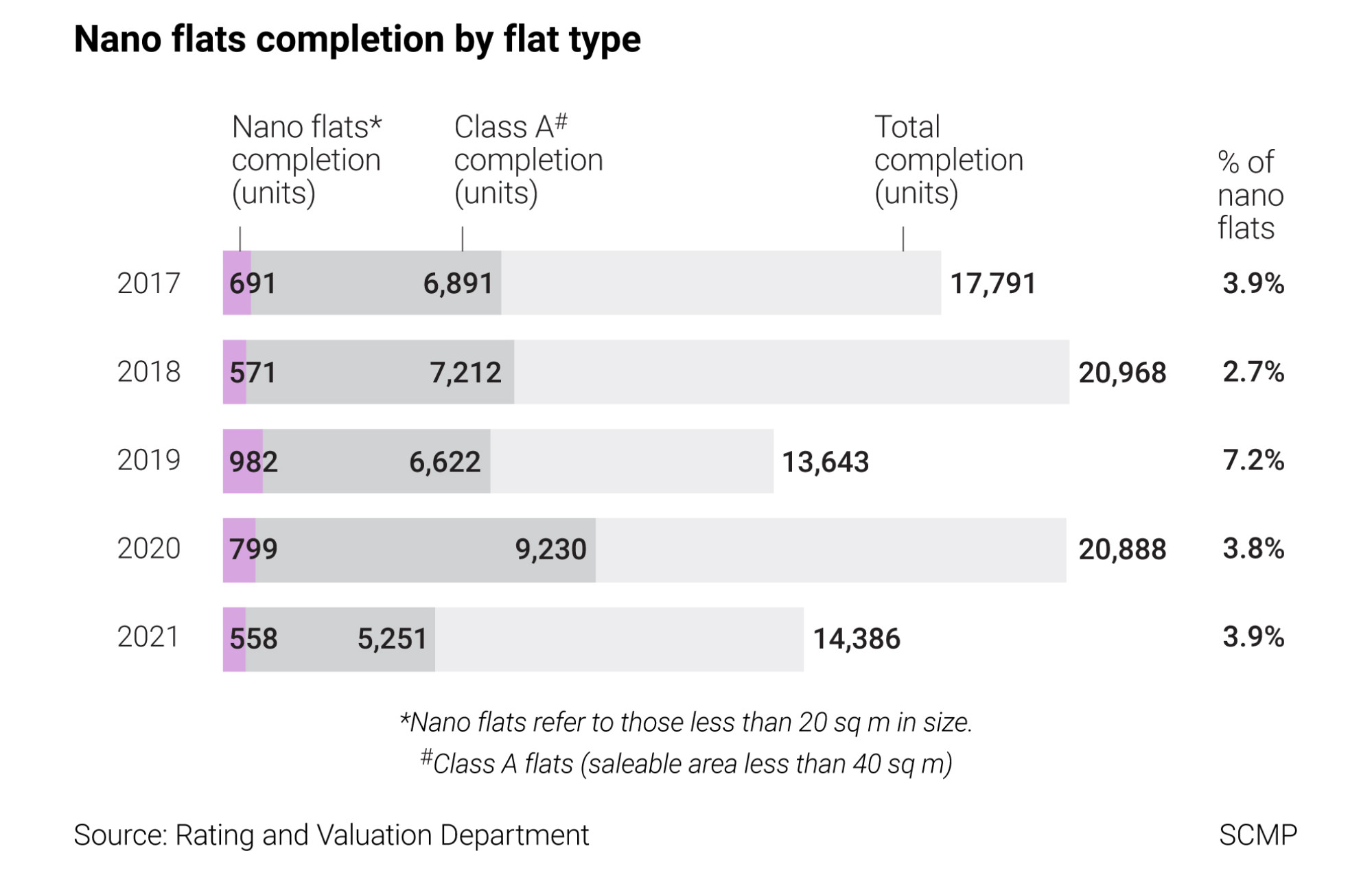 Moreover, the Hong Kong government
in December
last year set a 280 sq ft minimum size for flats built on government land. The rule was then also observed for railway and Urban Renewal Authority projects. It was further extended to all private projects subject to lease modifications and land exchanges in February.
However, private projects that are not subject to lease modifications and land exchanges, are still not covered by the minimum flat size requirement, said Ryan Ip, head of land and housing research at Our Hong Kong Foundation, a think tank.
"We expect that the number of nano flat completions in the coming two years will hover at around 1,000 units per annum, with Kowloon being the major source of supply," he said.
This is because the requirement has yet to feed through to the design of units to be completed in this period, Ip said. It is "too early to conclude that we have seen the back of nano flats. Nevertheless, given the imposition of the minimum flat size requirement, nano flat completions are expected to gradually plateau in 2024 to 2025 ", he said.
According to data published in "Hong Kong 2030+", a study published by the Development Bureau and the Planning Department in October last year, the current average living space per person in Hong Kong is only 161 sq ft. The city lags behind Tokyo's 210 sq ft, Singapore's 270 sq ft and Shenzhen's 300 sq ft.
"The current average living space available to Hongkongers is obviously far from any acceptable standards," said Brian Wong, researcher at Liber Research Community. "The continual supply of nano flats – from both private and public sector [firms] – will certainly further lower the average living space, since a couple sharing a 280 sq ft nano flat would each share a below-average living space."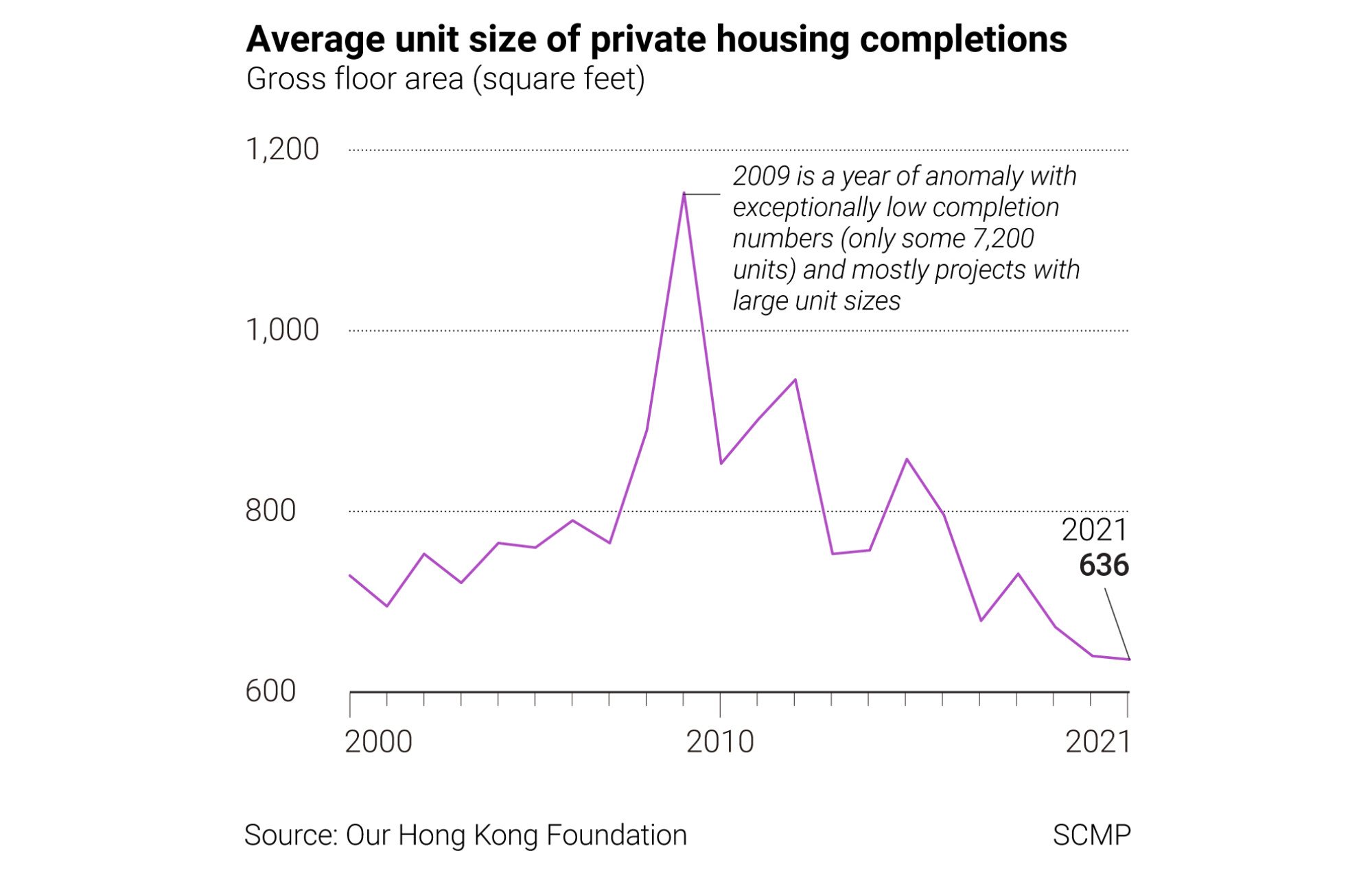 Developers will continue building nano flats as long as the Buildings Department will approve these building plans, or until there is a statutory minimum flat size. This is because, on average, nano flats are sold at a more expensive price per square foot. Developers thus have an incentive to continue building nano flats.
For example, between 2010 and 2019 Henderson Land Development built 2858 nano flats, accounting for 33.4 per cent of the total supply, according to Liber. About 8,550 nano flats measuring less than 260 sq ft were completed in this period.