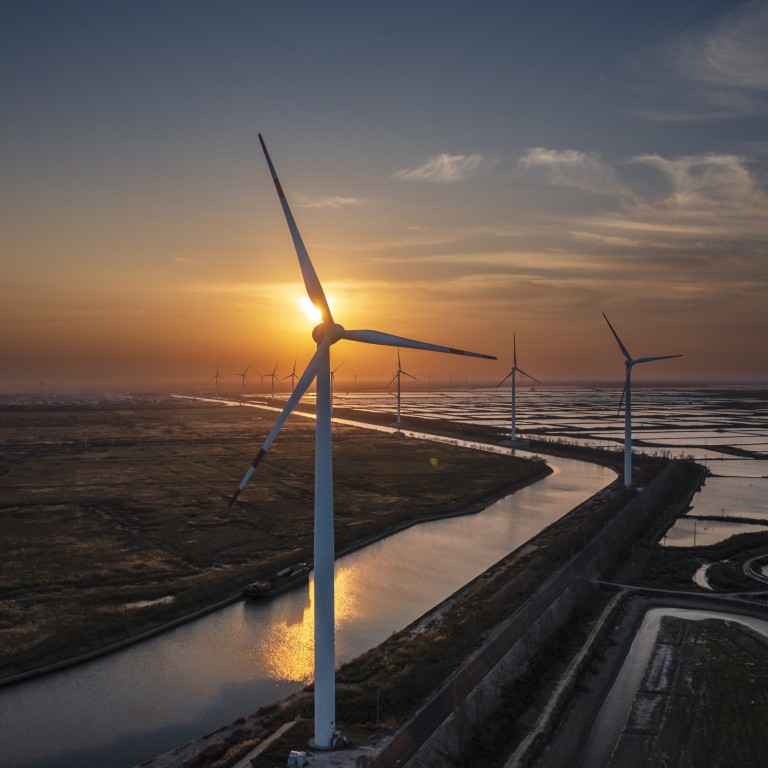 China's national carbon trading scheme marks one-year anniversary, with analysts expecting stricter regulation and data monitoring ahead
China's national ETS regulates 2,162 companies from power generation sector, which together emit around 4.5 billion tonnes of carbon dioxide annually
Big challenges for the national ETS currently are data quality and measurement, reporting and verification issues, say analysts
China's national carbon emissions exchange, the world's largest carbon market covering one-seventh of global carbon dioxide emissions from fossil-fuel combustion, marked its one-year anniversary on Saturday.
The carbon price in the national emissions trading scheme (ETS) closed at 58.24 yuan per tonne on Friday, compared to 51.23 yuan per tonne on its first trading day on July 16 last year. Total trading volumes reached 8.49 billion yuan, with 194 million tonnes of emissions transacted as of Friday, according to the Shanghai Environment and Energy Exchange, the department that oversees the national ETS.
Strengthening the quality of data monitoring and management regarding emissions was also highlighted by China's Ministry of Ecology and Environment (MEE) at a meeting on Wednesday. The national carbon market has "achieved positive results and established a preliminary scientific and effective system", said MEE officials on Wednesday.
Officially launched on July 16, 2021, the national ETS is considered a major tool for China, the world's largest emitter, to gradually reduce carbon emissions and achieve its targets to meet carbon neutrality by 2060.
Currently, China's national ETS regulates 2,162 companies from the country's power generation sector which together emit around 4.5 billion tonnes of carbon dioxide annually, making it the biggest carbon market in the world, according to MEE.
The first year of China's ETS has gone much as expected, starting off with a lenient approach, according to climate analysts.
"Much like the EU ETS (European Union Emissions Trading System), the rules for China's ETS were initially relaxed, likely a strategic decision to secure buy-in from companies," said Matthew Gray, analyst at climate think tank TransitionZero.
Unlike the EU ETS, the world's first international trading scheme set up in 2005, which puts an absolute cap on total carbon emissions, China's ETS follows an intensity-based system which targets reductions in carbon dioxide emissions per unit of output. The enterprises covered under the Chinese scheme were given allowances based on their generation output and the corresponding benchmarks for different fuel and technology.
According to TransitionZero's estimates, China's carbon market was oversupplied by 1.56 billion tonnes of carbon dioxide from 2019 to 2020, the equivalent to a year's worth of EU ETS emissions. Such issues of over allocation of allowances and China's prioritisation of coal in response to power shortages late last year could hinder the ETS' development and lead to low trading prices, said Gray. He recommended that the ETS reform itself by reducing oversupply and data falsification.
The other big challenges for the national ETS currently are data quality and measurement, reporting and verification issues, said Tan Luyue, carbon analyst at financial service company Refinitiv.
The MEE initially planned that the national carbon trading market would expand to cement and aluminium sectors this year, and include all eight of China's big carbon-emitting sectors – power generation, oil refining, chemicals, steel, building materials, non-ferrous metals, paper, and aviation – by 2025.
But Chinese media reported earlier this year that the national ETS might delay the expansion to cement and aluminium sectors until 2023, a year behind its initial plan, due to data quality issues.
Tan expects that expansion to other sectors could also be delayed as the other industrial sector benchmark settings would need more time and effort due to the complex procedures involved. However, in the long term, the analysts are optimistic on the ability of the national ETS to drive down emissions in China.
A report released by the Asia Investor Group on Climate Change (AIGCC) last year projected that the national ETS could reduce Chinese emissions by 30 to 60 per cent by 2060 from 2020 levels, depending on the rate of reduction in intensity caps, expansion of industry coverage and the carbon inhibition factor.
The initial impact of the ETS might be limited but could become more material for covered industries and companies by the mid-2020s, as China aims to peak emissions before 2030, according to AIGCC.
"It is only the second year for China's national ETS," said Tan at Refinitiv. "It is a wise choice to grow slowly and steadily step by step, and solve the remaining issues and avoid possible challenges."