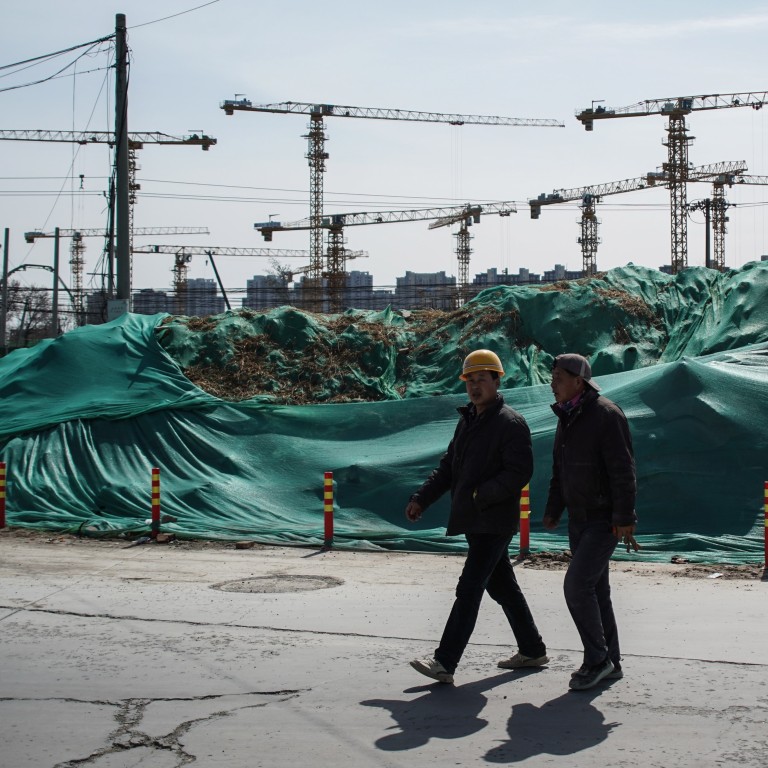 A fifth of Chinese developers face insolvency as investors grow tired of repeated bond extensions, S&P Global warns
A looming insolvency crisis puts as much as US$88 billion of distressed bonds at risk, says the ratings agency
Investors will soon lose patience and press their claims through the courts or debt restructuring, S&P warns
At least a fifth of rated Chinese property developers will
end up becoming insolvent
, putting as much as US$88 billion of their distressed bonds at risk, according to S&P Global Ratings.
While some developers have resorted to debt extensions and bond exchanges
to buy time to avoid default
, investors will soon lose patience and press their claims through the courts or debt restructuring if a recovery of the sector does not play out by the first quarter of 2023, the ratings agency said.
Exchanges and debt extensions have been the two most common ways for Chinese developers to resolve their
bond default risks
.
Guangzhou R&F Properties, for example, recently received approval to regroup all 10 tranches of its offshore bonds worth a total of US$4.94 billion due between now and 2024 into three amortisation notes that mature in 2025, 2027 and 2028, giving it three to four years of breathing room as it struggles to raise cash.
But "this forbearance may not continue," said S&P. "If a sales turnaround is not forthcoming, investors will reject repeated extensions.
"The end of the beginning is at hand for China developer defaults."
In the early stages of
the sector's downturn
, creditors were willing to give developers time restore their liquidity. Debt extensions allow embattled developers to maintain their operations and housing deliveries.
In a sign that investors are growing increasingly impatient with further deferrals, bondholders of China Evergrande's onshore unit have this month rejected a proposal to postpone repayment of a 4.5 billion yuan (US$671.04 million) bond until January 2023.
"We think much depends on the level of sales recovery for China residences in the second half of 2022, and going into the first quarter of 2023. This is when many of the extensions on distressed bonds expire," said S&P.
Since 2018 distressed exchanges, in which a developer swaps outstanding bonds that are coming due soon for newly issued notes, have accounted for nearly 80 per cent of resolved offshore defaults, while debt extensions accounted for 72 per cent of resolved onshore defaults, S&P said.
Over the past 12 months home builders have completed exchanges or extensions on about US$27.8 billion of distressed bonds, it said.
The battered property market received a fresh blow last week when hundreds of homebuyers across the country joined together to collectively
refuse to make mortgage payments
for unfinished, pre-sold units.
"The issue may suggest that the problems for the property market are no longer manageable, which is the tone used by regulators in the past few months," said Raymond Cheng, managing director of CGS-CIMB Securities. "We think that regulators could take more aggressive measures to help the sector, such as helping developers refinance their short-term debt to avoid more defaults."