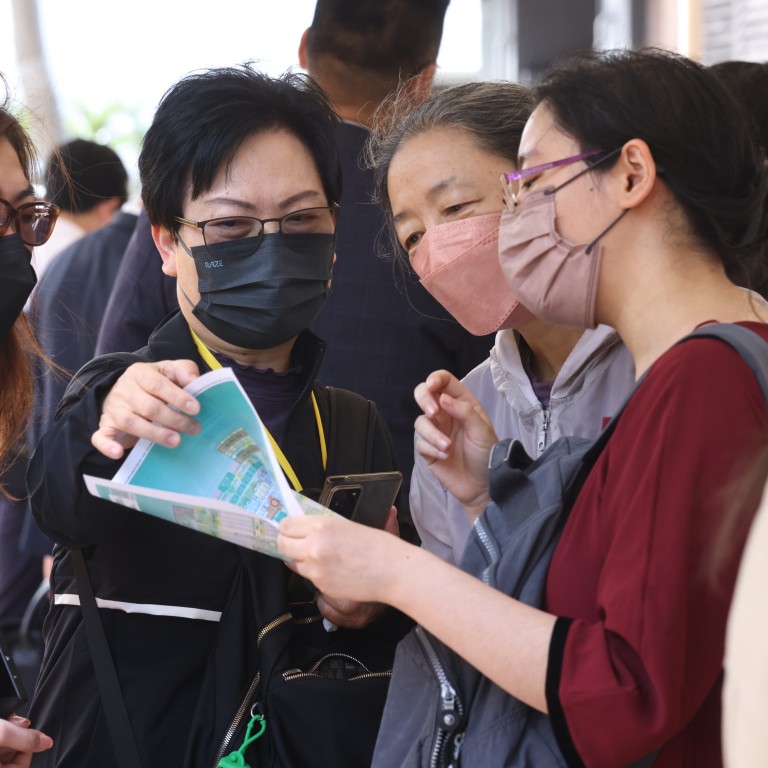 More buyers of incomplete flats with stage payment schemes face higher risk of default as rising interest rates spur price falls
More than 76 per cent of buyers of incomplete flats opted for stage payment schemes as of June 30
By the time some of these buyers arrange mortgages, 'they may not pass the stress test', say analysts
An increasing number of buyers who opt to buy incomplete flats in Hong Kong via stage payment schemes are at risk of defaulting on their purchases, as rising interest rates in the city accelerate real estate price falls.
More than 76 per cent of buyers of incomplete flats opted for stage payment schemes as of June 30, up from 52.3 per cent for the whole of 2021, and 54.5 per cent in 2020, according to data from mReferral Mortgage Brokerage Services. Stage payment schemes allow buyers to defer loan repayments until projects are complete.
"The increased numbers of buyers selecting deferred payment plans at a time when interest rates are in an up cycle illustrates [market] irrationality," said Alvin Cheung, associate director at Prudential Brokerage, an asset management, research and analysis firm.
The stage payment arrangement allows first-time buyers to apply for mortgage loans closer to building completion, and take out a 90 per cent loan for flats worth up to HK$10 million (US$1.27 million). Under existing rules, developers are allowed to pre-sell their projects up to 30 months before completion.
Developers in Hong Kong currently offer two payment schemes: one is immediate payment, which is usually settled within 90 to 180 days. The other is staged payment, in which most payments are due only when property construction is complete.
"By the time these buyers arrange mortgages, they may not pass the stress test, and more importantly, banks are becoming more conservative on property valuations amid a rising interest rate environment," said Cheung.
"The latest trend of more people opting for staged payment comes even though they have to pay a premium of about 10 per cent. And normally investors are willing to do it," said Albert Wong, honorary chairman at AA Horses Mortgage Brokerage Services.
These buyers often put down an initial deposit of 10 to 15 per cent, betting on home prices to increase in about two years' time, he said, adding that things have now changed. "They are unlikely to proceed with transactions if home prices are heading for a further downward trend."
For the six months ended June 30, 76.2 per cent of 2,901 incomplete flats sold through the open market were paid for via deferred mortgage schemes, mReferral said. The Grand Mayfair phase one development in Yuen Long recorded the largest number of deals paid for via staged payment schemes, with more than 85 per cent of the 710 units sold paid for via deferred schemes. The development is due to be completed in October, 2024.
"Many of today's buyers – eligible for 80 to 90 per cent loan-to-value ratios from banks – may not be able to secure approval in two years' time and beyond," said Joseph Tsang, chairman of JLL in Hong Kong.
Typically a first-time buyer, with a stress test waived, is required to earn about HK$83,600 per month for a 30-year instalment loan at a rate of 1.3 percentage points above the one month Hong Kong Interbank Offered Rate (Hibor), prior to being approved for a 90 per cent loan-to-value ratio mortgage on a flat worth HK$10 million, according to mortgage referral brokerage firm StarPro Agency.
One-month Hibor currently stands at 0.79 per cent. If one-month Hibor increases to 3.35 per cent or above in one year's time, the mortgage loan rate may surge to 4 to 4.65 per cent, said Raymond Chong, chief executive officer and founder of StarPro Agency.
Moreover, some banks may not waive the stress test, which measures the impact on repayment ability with an increase in mortgage rates of at least three percentage points.
"Borrowers may fall into a helpless situation if they wait until closer to the completion date to take out a mortgage," said Chong. "They may find out that their income level is not sufficient to pass the stress test in the face of rate hikes."