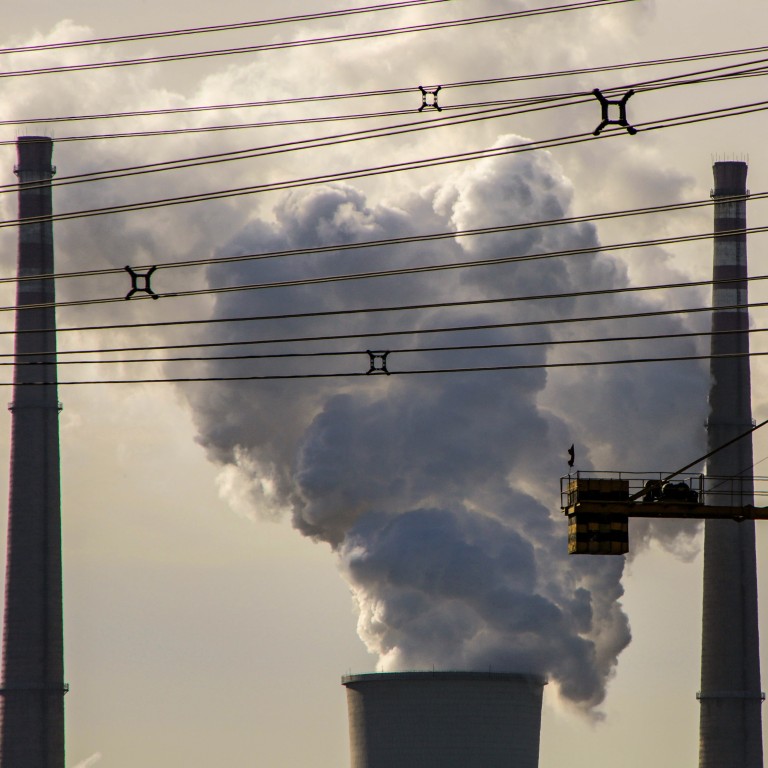 China's approvals for new coal plants rebound amid renewed focus on energy security after last year's power crisis: Greenpeace
China okayed 8.63 gigawatts of additional coal-fired capacity in the first quarter, about 50 per cent of the overall total for 2021, Greenpeace report shows
Approvals for new coal plants decreased 58 per cent year on year in 2021 following President Xi's call to 'strictly control the expansion of coal power'
China's call to boost coal supplies following the power shortage last year and subsequent surge in approval for coal-fired plants has climate experts worried about the nation's
carbon-neutral
goals.
Provincial governments across China approved plans to add a total of 8.63 gigawatts (GW) of
coal-fired power plants
in the first quarter of 2022 alone, nearly 50 per cent of the capacity approved in the whole of 2021, according to a new report from Greenpeace East Asia on Wednesday.
The nods for coal-fired plants gathered pace in the fourth quarter of last year, after China experienced a nationwide power shortage since September. In 2021, China only okayed 18.55GW of coal capacity, a year-on-year decrease of 57.66 per cent, according to the environmental group. However, more than 11GW was okayed in the fourth quarter alone.
"Building more coal-fired power capacity will not provide energy security for China. This is a deep-seated falsehood," said Wu Jinghan, a climate and energy campaigner in Greenpeace East Asia's Beijing office. "An overcapacity of this one energy source is a major hurdle for energy security, as well as China's energy transition."
China, the world's largest carbon emitter which relies on coal for over half of its total electricity generation, two years ago announced a plan to peak carbon emissions by 2030 and reach carbon neutrality by 2060.
Following Chinese President Xi Jinping's announcement in April 2021 that the government would "strictly control the expansion of coal power" and start phasing down coal use from 2026, the rate of approvals for new coal capacity dipped. In the second and third quarters of 2021, less than 3.3GW of capacity was approved, just 17.76 per cent of the overall approved capacity for last year.
However, after a series of power outages across the country last fall, the government began to signal a renewed focus on "energy security" and "energy supply". In April, Chinese Premier Li Keqiang again called for
boosting coal supplies
to ensure energy security. He said coal production should be increased by 300 million tonnes this year, or 7 per cent of last year's output of 4.1 billion tonnes.
The most cited reasons for new coal capacity on approval documents were "taking advantage of local resources", and "supplementing shortcomings in local power generation", according to Greenpeace.
"Energy security has become sort of a code word for coal, rather than for reliable supply of energy," said Wu.
"Provincial governments look to Beijing closely for guidance. So long as 'energy security' is the code word for traditional, emissions-heavy economic planning, they will use it. Coal-dependent provinces need the right directions to move forward," she said.
China's power inadequacies do not originate from low generation capacity, but from from poor integration of generation, grid, load and storage, Wu said.
If China wants to reduce carbon emissions urgently and further accelerate the transition to zero-carbon energy, China must get a hold on the runaway coal expansion, climate experts said. The government should either control the approval process or set up a policymaking guidance for new coal power projects, they added.
Expanding the coal power fleet will further lock in a coal-heavy energy mix and slow down China's green steps towards the "dual carbon" goals, said Shen Xinyi, researcher at Helsinki-based Centre for Research on Energy and Clean Air.
"The rebound in new coal power construction is in sharp contrast with the central government's strengthened pledges to reduce emissions," she said.