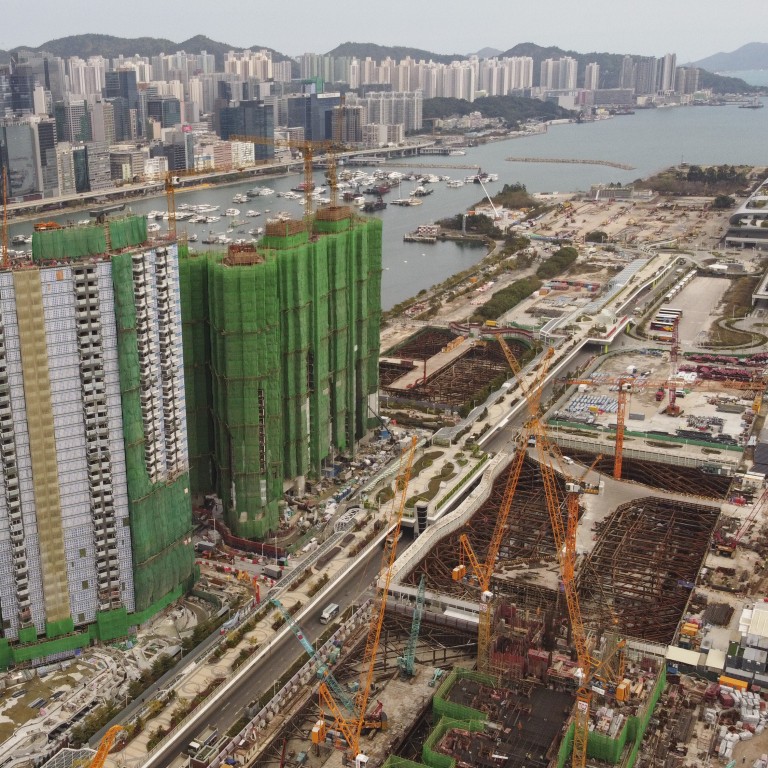 Soaring construction costs may discourage Hong Kong's developers from bidding aggressively for land
Higher costs driven by a surge in materials prices are likely to make property developers more restrained when bidding for land
A government index showed building costs surged by 10.8 per cent last year and 3.2 per cent rise in the first quarter of 2022
Soaring construction costs in Hong Kong are likely to make property developers more restrained when they are
bidding for land
, according to analysts.
The government's Civil Engineering Works Index showed building costs surged by 10.8 per cent last year. This was followed by another 3.2 per cent rise in the first quarter of 2022.
The increase has been driven by
a surge in materials prices
, particularly steel, as China's strict Covid-19 policies – which
included lockdowns
that brought industrial output to a standstill – tightened supply as global demand increased.
"We anticipate the construction cost will rise 4 per cent in 2022," said Francis Au, a growth director at Arcadis, an Amsterdam-headquartered design and consultancy firm.
Construction costs represent around 15 per cent to 25 per cent of the
selling price in residential markets
, so any increase is likely to discourage developers from bidding aggressively. Their reluctance is sure to be compounded by a slump in residential property values, which are expected to drop 5 to 10 per cent by the end of 2022, according to JLL.
"Developers will turn more conservative in land bidding to maintain their existing profit margins," said Joseph Tsang, the chairman at JLL Hong Kong.
The sharp increase in building costs, as well interest rate rises, will add to developers' required risk premium and there will be fewer aggressive players in the market, said Tsang.
Swire Properties
won a land parcel
on Queen's Road East in Wan Chai for HK$1.96 billion, about 15 per cent higher than the second-highest bid, according to a Lands Department announcement last week.
Four months ago, Chinachem Group paid 54.3 per cent more than the runner-up bid for a commercial site in Tung Chung that it won for HK$2.78 billion.
The difference suggests a more restrained approach to bidding has emerged recently.
Aside from higher construction costs,
Hong Kong's home prices
had dropped 3.4 per cent in May from their peak in July, 2021, according to data from the Rating and Valuation Department.
"When the property prices decline, developers tend be conservative when it comes to land bidding," said Wilson Lu, a professor in the department of real estate and construction at the University of Hong Kong.
Lu said that during previous recessions, such as that which followed the 2008 global financial crisis, land bidding was significantly subdued in the weaker property market.
The price of steel had jumped by 28 per cent in February from a year earlier, with concrete blocks, diesel fuel and cement rising by 31 per cent, 15 per cent and 18 per cent respectively, according to Arcadis's Quarterly Construction Cost Review released on Tuesday.
"High inflation of construction materials such as steel, copper, concrete blocks, cement and sand … will last a while due to the Covid-19 pandemic, and the conflict in Ukraine will push up the construction cost," said Au. "On the other hand, the strong US dollar will work to Hong Kong's benefit as a lot of our materials are coming from China and Europe."
The euro fell to a historic low against the US dollar, last week, reaching parity. China's yuan depreciated to 6.75 against the American currency.
Lu said the construction industry is recovering as Covid-19 eases. But challenges remain, because the most important factor is the material imports from mainland China.
"The biggest factor impacting the construction cost is the accessibility," he said. "That means the demand and the supply between Hong Kong and mainland China.
"This accessibility is dependent on Covid-19 in China."
He said the lockdown of Shanghai, which lasted from late March until the end of May, had a large impact on accessibility.