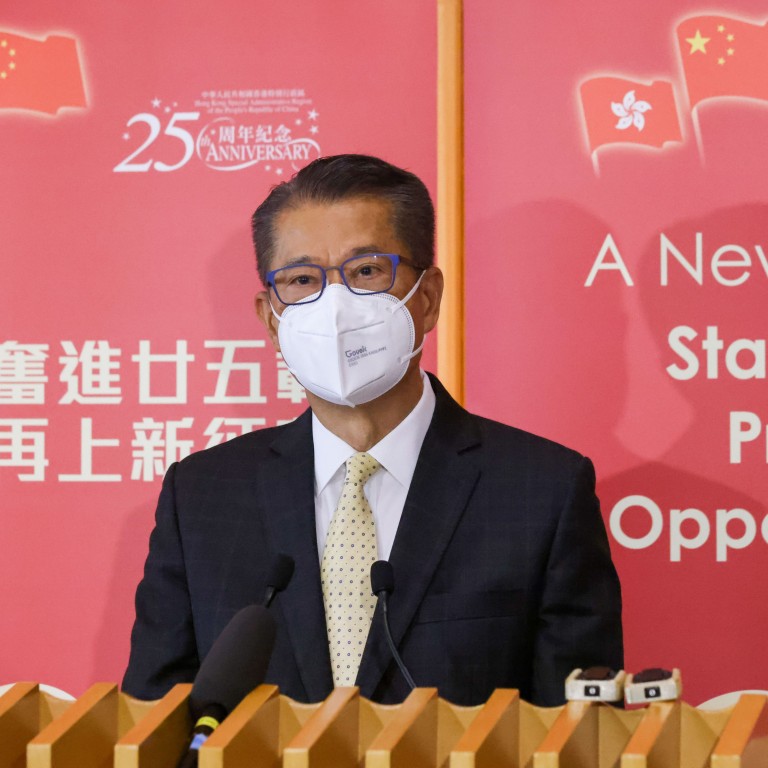 Hong Kong Financial Secretary Paul Chan says global rate rises, recession will hurt exports, but consumption vouchers will offset impact
City's exports will 'naturally be affected', as interest rates rise in developed economies and the external economic situation continues to worsen, Chan says
Central banks will continue to sharply raise rates globally over the next three months with inflation lingering, former Bank of England governor says
"With the increasing interest rates in the US, as well as many of the developed economies, the external economic situation will continue to worsen. So the export performance of Hong Kong will naturally be affected," Chan said during a media briefing after the
Hong Kong Monetary Authority (HKMA)
increased its base rate by 75 basis points in step with an overnight US rate rise of the same margin.
"But on the other hand, if the Covid-19 situation is largely under control, private consumption, with the launch of the second phase of the consumption vouchers, will have increased momentum in the second half of this year," he added.
Millions of Hong Kong residents will receive HK$5,000 (US$637) per person as part of the Consumption Voucher Scheme on August 7.
The overnight rate increase is the fourth time since March this year that the US has raised interest rates to curb inflation, which hit a 40-year high of 9.1 per cent in June. More US rate increases are on the horizon, and Hong Kong will have to follow suit because of its currency peg.
Central banks will continue raising rates sharply over the next three months globally, because they would like to avoid doing so only when economies fall into recession, Lord Meryn King, a former governor of the Bank of England from 2003 to 2013, said during a webinar hosted by the Hong Kong Academy of Finance on Tuesday.
With tight labour markets especially in the US and UK, where people who were employed before the Covid-19 pandemic have left the workforce, wage inflation will continue to rise amid slowing economic growth. "To avoid a period of recession, or stagflation, would require a lot of good luck, rather than something that monetary policies could bring about," King said.
The main issue that Hong Kong currently faces is finding a way to live with Covid-19, as it weighs the impact of its quarantine measures on its economy, King said. "In the West, with vaccinations, we have accepted that any kind of international travel means that you really have to learn to live with Covid," he said.
Hong Kong's external trade faltered last month, dropping by 6.4 per cent to HK$380.7 billion, figures released on Monday show. The total value of exports in the first half of the year increased by just 0.4 per cent year on year.
Hong Kong's economic performance in the second half of the year will "be better than the first half. But taking the year as a whole, it is unavoidable that we may need to
revise our GDP [gross domestic product] forecasts
, which will be announced in August", Chan said.
The increase in interest rates was set to increase mortgage borrowers' payments, but that would not hurt the banking system or the property market, Chan said.
"The property market remains very solid, while the banking system is very resilient. The bad debt ratio stood at only 0.98 per cent in May, which is very low [as per] international standards, while the capital adequacy ratio stood at 20 per cent, well above the international requirement of 8 per cent. There is little chance of US interest rate rises bringing any damage to the local banking system," he said.
Moreover, data shows the local banking system is robust, Chan said, as he pointed to the mortgage loan to asset ratio, which stands at only 50 per cent. This means banks will only suffer losses if property prices drop by 50 per cent. The ratio for the amount of mortgage payments as a percentage of mortgage borrowers' incomes on average is 37 per cent. This means mortgage borrowers on average need to spend 37 per cent of their incomes to repay mortgage loans.
All mortgage borrowers must also pass a stress test to show that they can repay their mortgage loans in case of a 3 percentage point interest rate increase, when they apply for mortgage loans. "With the increase in interest rates, the repayment burden becomes a little heavy. But the staying power of homeowners and their ability to service mortgages remains very solid," Chan said.
"Looking back over the past six months, with Covid-19 and the expectations of increasing interest rates, the property market remains calm," he added. "Going forward, with all the safeguard measures that I mentioned and the strong underlying demand for home ownership, the basics of the
property market
remain resilient."
Chan said he did not expect mainland
Chinese developers'
liquidity problems to have a big impact to the Hong Kong banking system.
"We have been monitoring this situation very carefully. Since the local banks have adopted prudent lending policies, and [with] the strong liquidity position of the banking industry, high capital adequacy ratio and low classified loan ratio, we consider the impact of the mainland developers was very limited," he said.