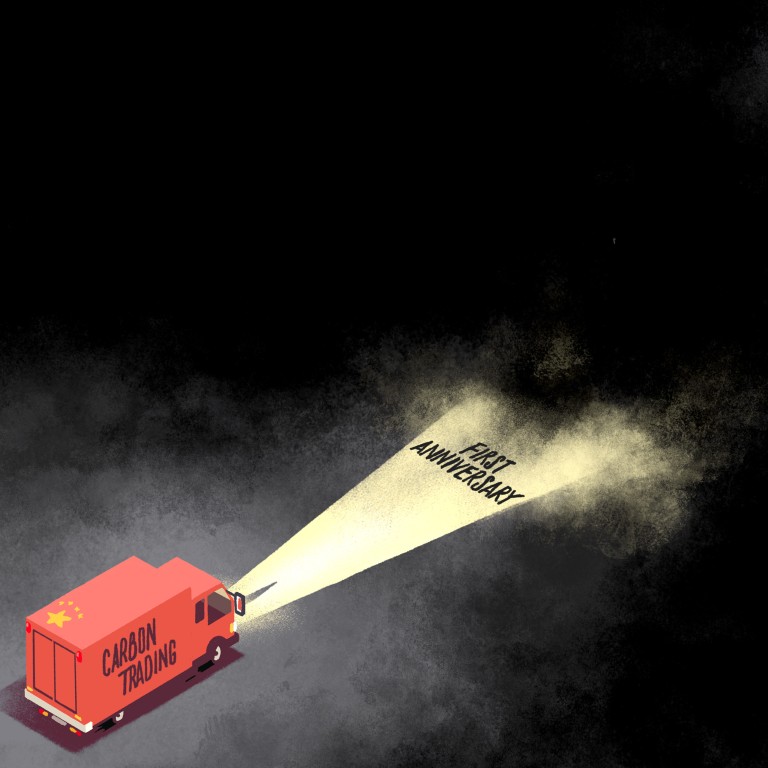 Climate change: China's emissions market fails to live up to hopes as path finder towards cutting carbon
Trading is far too light given the volume of China's emissions, and the market has so far failed to impose a realistic price on carbon pollution
Experts predict delays expanding the market from power generation to other sectors, and say the market must upgrade its mechanisms and data gathering
At the moment of its launch China's emissions trading scheme (ETS) surpassed the European Union's ETS to become the world's biggest carbon market, covering one-seventh of the world's greenhouse gas emissions. Speakers that day proclaimed the scheme as a crucial part of Beijing's decarbonisation project, which aims to see the world's largest carbon emitter reach peak emissions before 2030 and achieve carbon neutrality
by 2060
.
However, one year later the first anniversary of the national ETS passed without fanfare. The Shanghai Environment and Energy Exchange, which operates the national carbon market, cited China's Covid-19 restrictions as the main reason for the lack of a celebration.
But in truth, there is not much to celebrate – yet.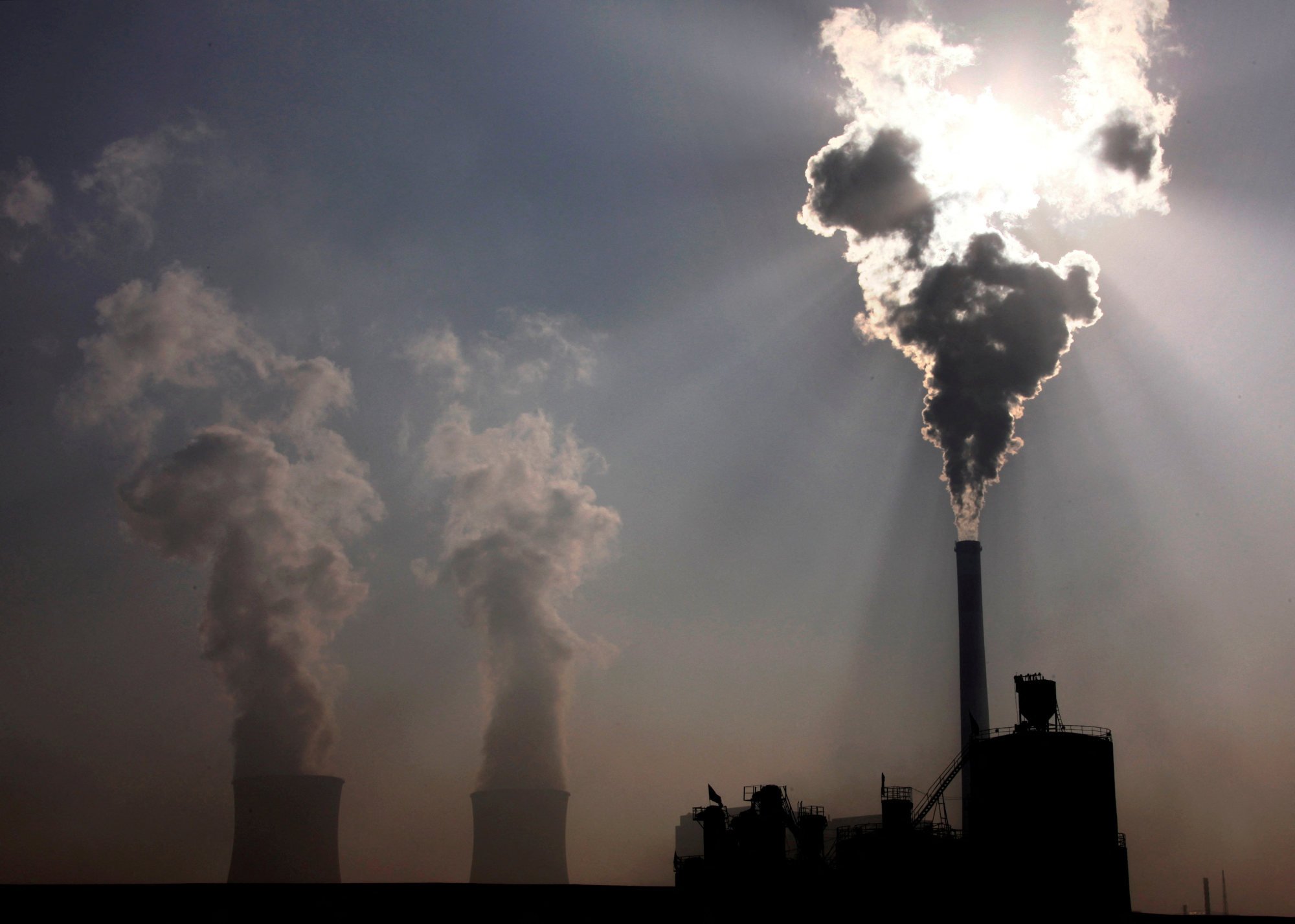 The nascent market recorded a total trading volume of 8.49 billion yuan (US$1.25 billion) in its first year of operation, a fraction of the US$36.7 billion recorded by the EU's ETS last year. Moreover, the market has so far failed to impose a realistic price on carbon emissions. The average price for the right to emit a tonne of carbon dioxide (or the equivalent amount in other greenhouse gases) was US$6.48 in the debut trading year, less than one-twelfth as much as the US$80 price tag in the EU and UK markets last year.
The trading volume is far too small considering the large volume of emissions covered by China's ETS, and the low trading price also has climate experts concerned about the ability of the national ETS to support China's decarbonisation efforts.
"China's national ETS is an important tool in China's climate policy, helping the country to achieve its climate pledge," said Tan Luyue, a carbon analyst at market data provider Refinitiv. "2022 will be a year of progress towards China's dual carbon targets. However, compared with EU ETS trading volumes and price level, China's national ETS is on the low side."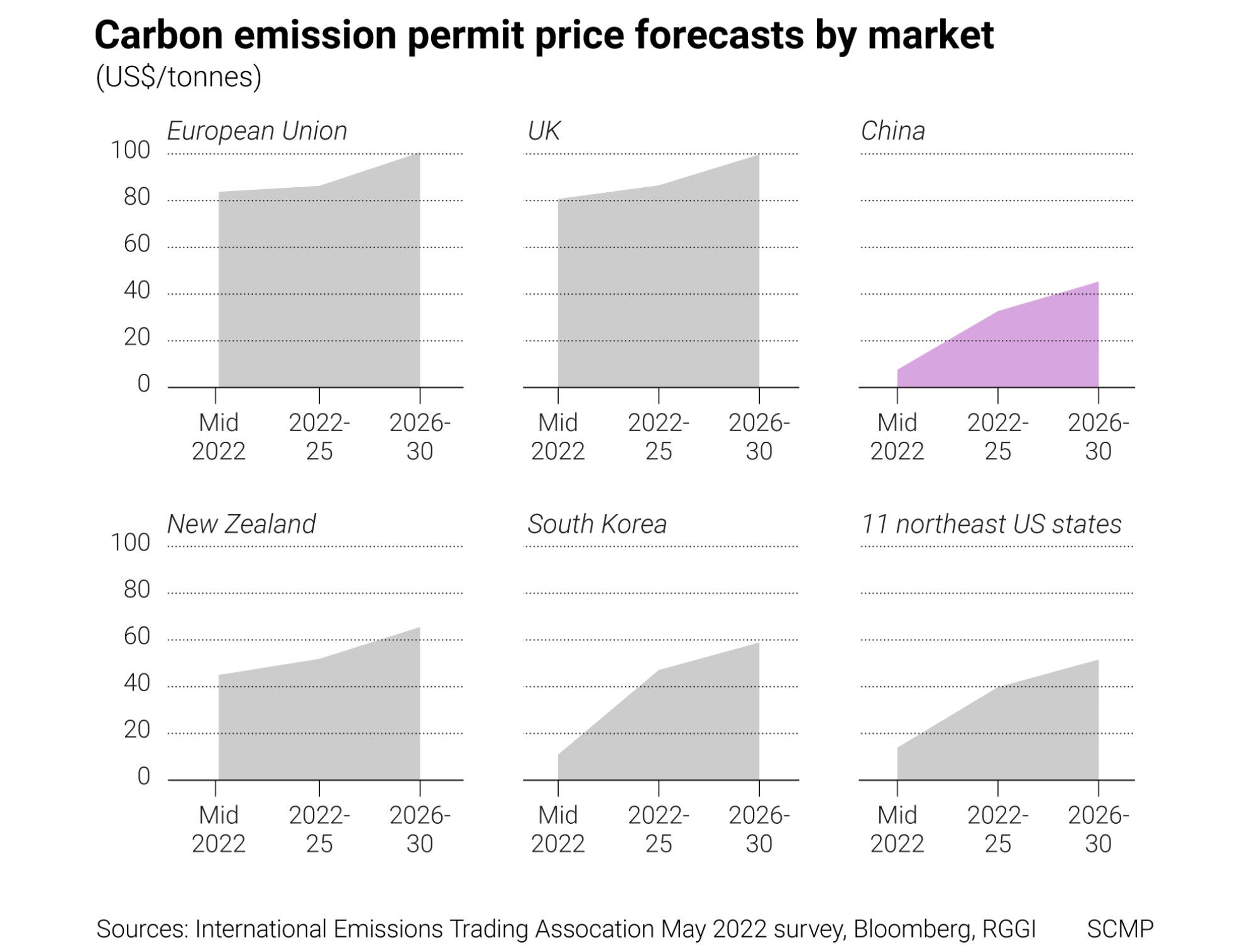 Zhou Xiaoquan, the chairman of Shanghai United Assets and Equity Exchange, which runs the Shanghai Environment and Energy Exchange, conceded that much work lies ahead to grow the trading platform.
"Overall, the national carbon exchange is still at an early stage of development," he told the Shanghai Securities Journal on July 18. "There is a relatively large room for upgrading in terms of trading mechanism design, systems building and market development."
As the nation progresses towards its carbon-emissions goals, the carbon market will need to enter the "deep water zone" and upgrade accordingly, he added.
Currently, the national ETS regulates a total of 2,162 companies together emitting more than 4.5 billion tonnes of carbon dioxide annually, all from the country's power generation sector, according to China's Ministry of Ecology and Environment (MEE). According to the initial plan, the scheme is supposed to expand to include seven other carbon-emitting sectors – oil refining, chemicals, building materials, steel, non-ferrous metals, paper, and aviation – by 2025. That would cover 7 billion tonnes of the country's carbon emissions, or 60 per cent of the national total.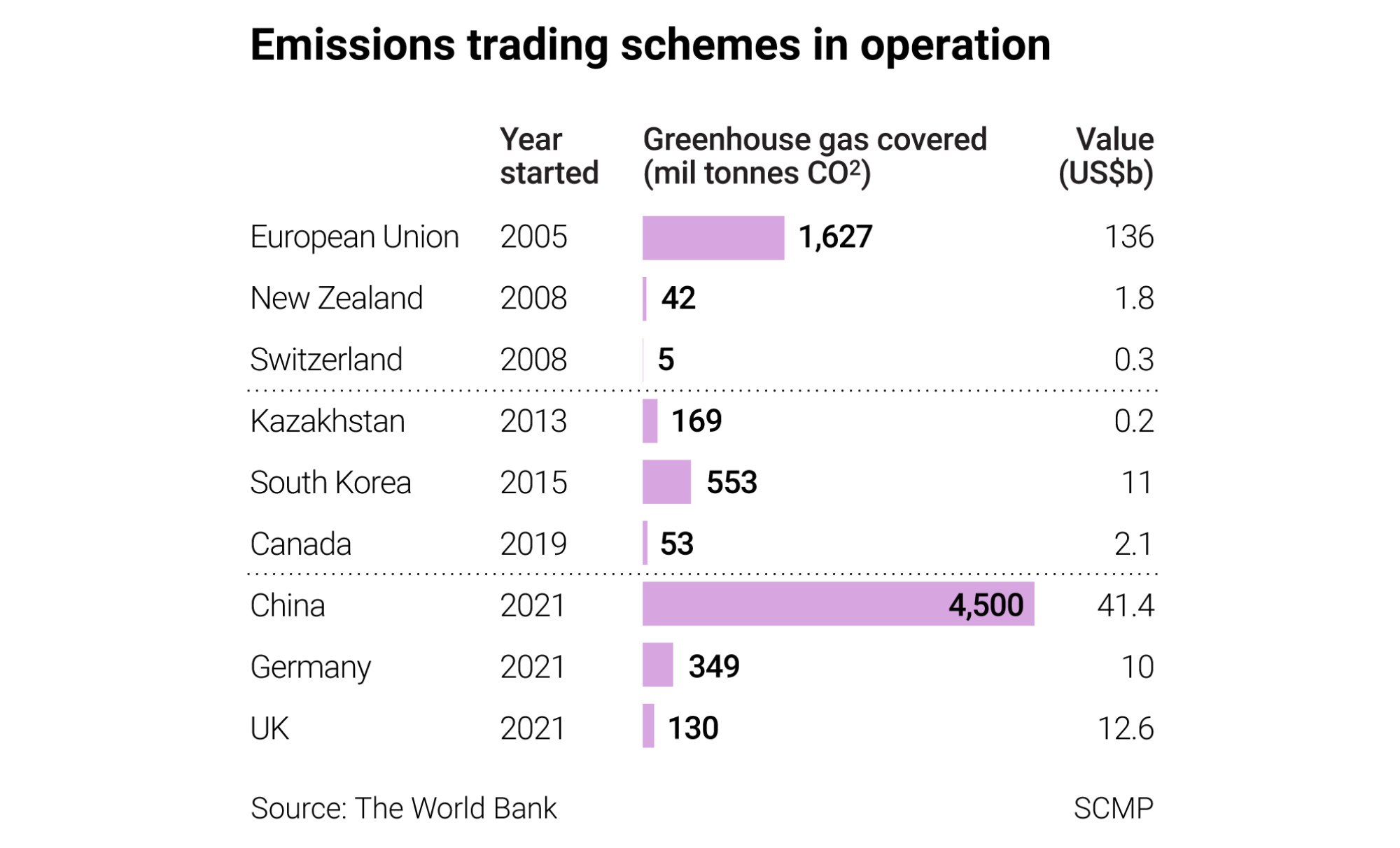 However, several hurdles threaten the scheme's expansion. Chinese media reported in May that extension to the cement and aluminium sectors may be pushed off until 2023, a year behind the initial plan, due to data-quality issues. On June 8, the MEE announced a three-month postponement of deadlines for key polluters to submit the data that are needed to allocate emissions permits, citing Covid-19 disruptions.
"It is clear that MEE places ETS data quality as the top priority currently, while this notice re-emphasised it," said Tan.
The issues with data quality – or more specifically with measurement, reporting and verification (MRV) – stem from the current design of the national ETS.
Unlike the EU ETS, which puts an absolute cap on the total allowable emissions of the whole economy and then lets polluters trade permits that allow them to pollute within those limits, China's ETS follows an intensity-based system. This means it targets reductions in carbon dioxide emissions per unit of GDP. Firms regulated by the national ETS were allocated allowances based on different benchmarks for different types of power generation.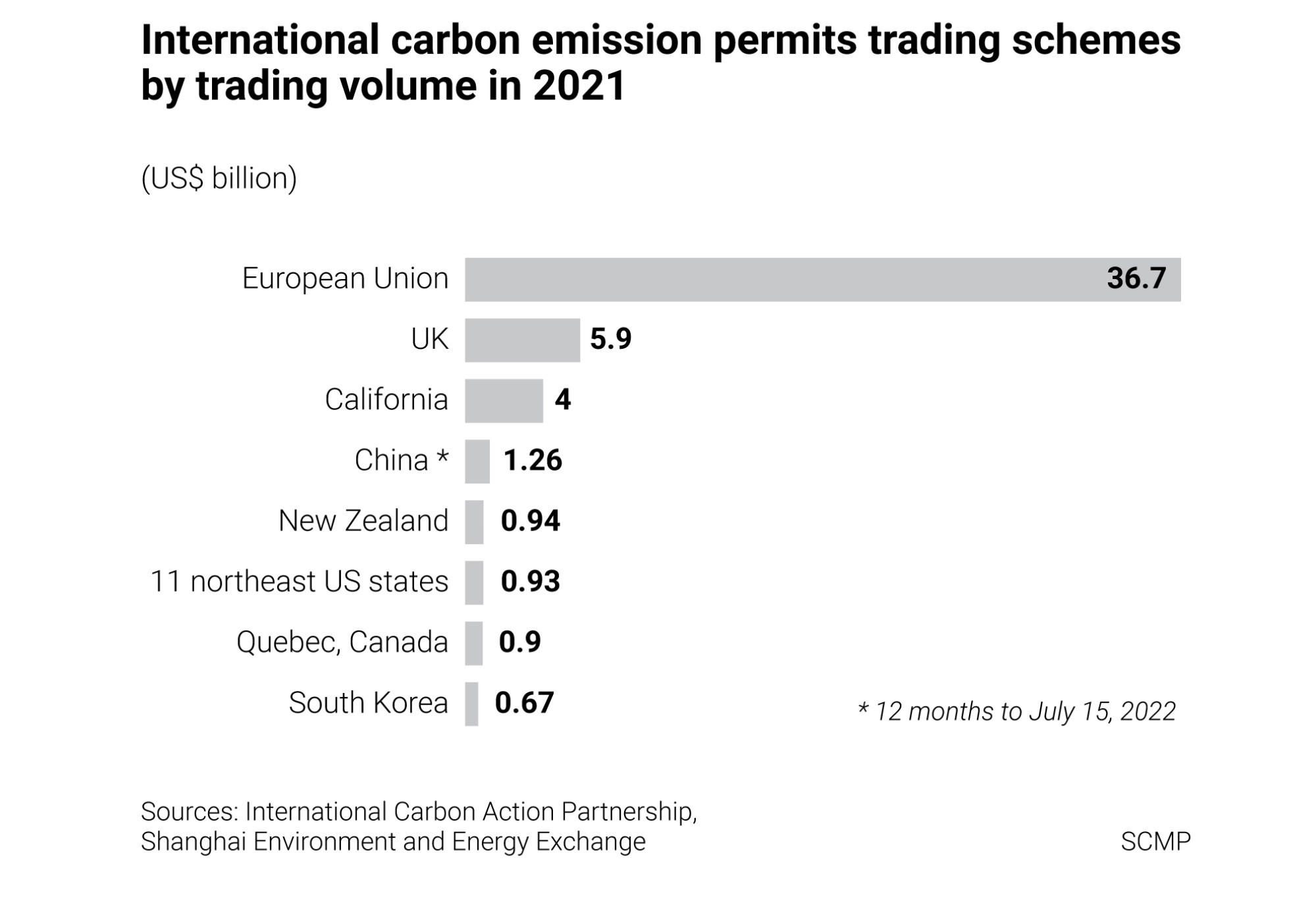 The intensity-based design means polluters can still spill out more emissions if their production volume goes up. This clearly goes against the original intent of an ETS, which is to force companies to reduce carbon emissions. Besides potentially reducing polluters' motivation to trade, the system is also more complicated and costly to administer, according to Tan.
In addition, setting benchmarks for the inclusion of additional industries requires accounting standards for the timely reporting of carbon emissions, as well as historical emission data. However, according to an article published on the official WeChat account of the industry body China Electricity Council last month, only the power sector has standards in place, having announced updates in March 2021 and March 2022. Other industries have not yet finalised or issued their emission accounting standards.
Data falsification via power plants and consulting companies is also a widespread issue that could undermine the ETS, according to Matthew Gray, an analyst at climate think tank TransitionZero.
In March, MEE issued a statement
naming and shaming
four auditing companies for falsifying their clients' carbon emissions data. The ministry also urged local environmental bureaus to further strengthen the supervision and management of companies in the verification space.
"In theory, it is relatively easier to account for emissions in the power sector, compared to the other key carbon-heavy industries, but it still has data quality issues such as falsification," said the article published by the China Electricity Council. "Other industries with relatively more complex emission processes and various emission sources would require more detailed regulations in accounting."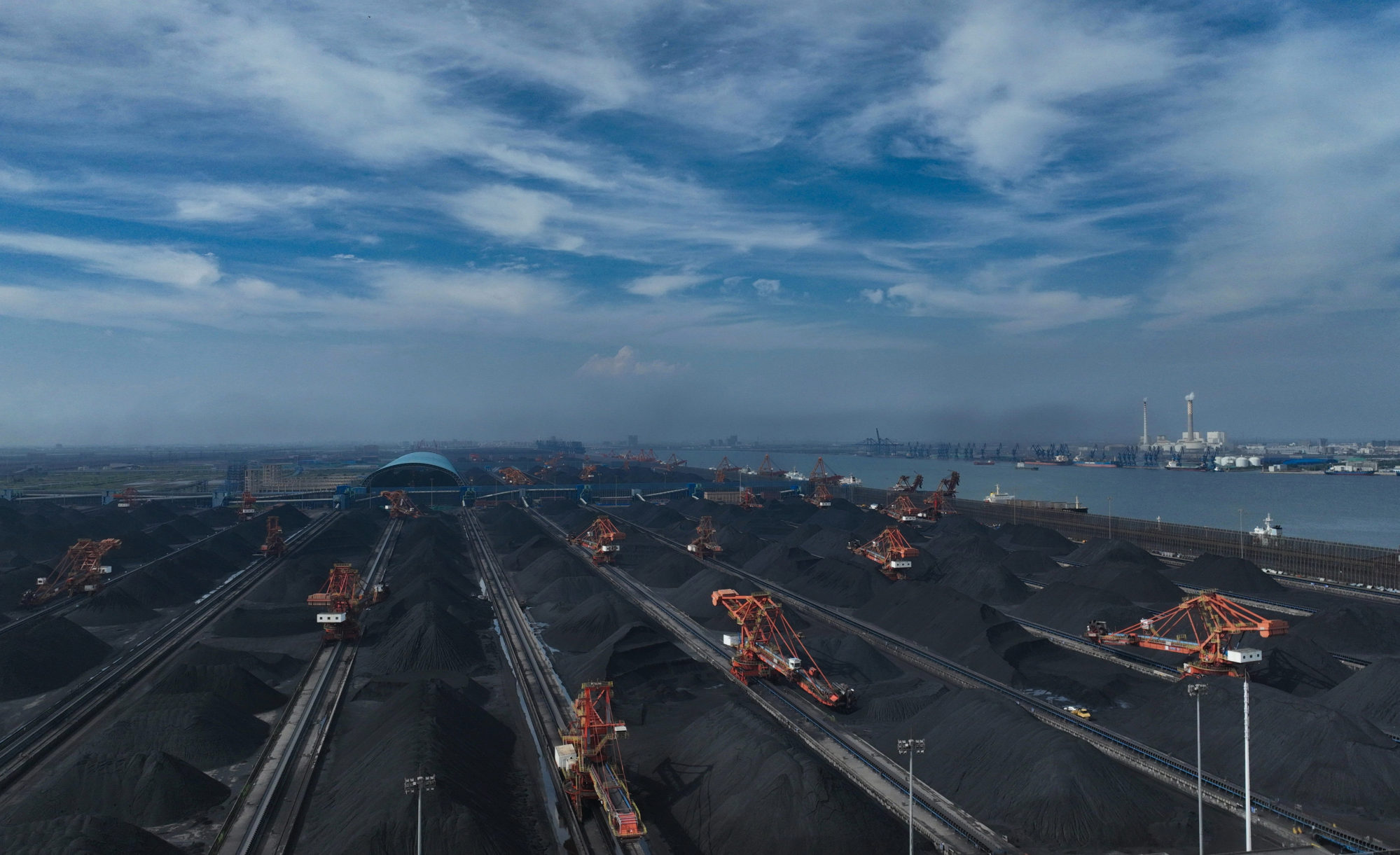 Given these issues, Tan expects the timelines for expanding to the other industrial sectors to be prolonged.
Another issue limiting the impact of the national ETS is the over-allocation of carbon allowances to polluters.
According to TransitionZero's estimation, China's carbon market was oversupplied to the tune of 1.56 billion tonnes of carbon allowances in 2019 and 2020 – the equivalent of a year's worth of EU ETS emissions.
"Much like the EU ETS, the rules for China's ETS were initially relaxed, likely a strategic decision to secure buy-in from companies," said Gray. However, the allocation of excess allowances could hinder the ETS' development and has likely led to the current low trading prices, he said.
If the carbon price is too low, it fails to provide an incentive for emission reduction, but if it is too high, it could pull down the country's GDP growth, according to Zhou Xiaochuan, former governor of the People's Bank of China. The national ETS should find the best resource allocation plan to achieve carbon reduction with the lowest impact on GDP growth, he wrote in China Finance, a publication owned by People's Bank of China, in July.
With its current design, the role of China's national ETS in driving decarbonisation in the short term is going to be limited, said Shen Xinyi, a researcher at the Helsinki-based Centre for Research on Energy and Clean Air (CREA).
"The textbook concept of carbon pricing is to put a uniform price on every tonne of emissions, and to let the market find the least-costly opportunities for emissions reductions," she said.
China's system has a crucial difference. The available emissions quota is not fixed before the start of each year. Rather, the allowances plants receive are adjusted based on the actual output of electricity and heat in the previous year. The more energy a plant generates, the more free allowances it gets.
Overall, the current system is designed to create an incentive for every plant operator to enhance thermal efficiency or choose less carbon-intensive fuels. But it does not create any incentive to change the energy mix.
"The carbon intensity-based allocation simply changes the cost distribution within the coal power sector itself, not between coal and its alternatives," said Shen.
The analysts suggest China adopt a cap-and-trade method as soon as possible, reduce the government's intervention, and fix its data-quality issues.
"The government must commit to the economic and financial implications of deregulation," said Gray. "Cap-and-trade works most efficiently in deregulated markets, where power generators manage risk dynamically over space and time." He recommends the government implement an absolute emissions cap with a gradual reduction annually and a mechanism to adjust allowance supplies.
In addition, China should take immediate action to reduce its reliance on coal power and act on its coal overcapacity issue, analysts warned.
Last April Chinese President Xi Jinping pledged to start phasing out coal, the fossil fuel which accounts for over half of China's power generation, starting in 2026. However, following a nationwide power shortage starting last fall, China's
approval for new coal plants is seeing a rebound
, according to a new report from Greenpeace East Asia in July.
"China must cancel all new coal immediately and indefinitely," Gray said. "A wider conversation with stakeholders is urgently required about how to close, convert or put into reserve coal power capacity in a manner consistent with China's net-zero goal. Finally – and perhaps most importantly – China must resolve its data-falsification issue in the ETS."
In fact, the MEE is already taking measures to strengthen data monitoring, using remote sensing satellites and drones equipped with air pollution sensors to identify non-compliance events, according to a press conference this May. It is also testing the application of internet-of-things technology, big data, and artificial intelligence to enhance the monitoring and analysis of emission data.
Over the long term, analysts are optimistic about the ability of the national ETS to drive down emissions in China.
A report released by the Asia Investor Group on Climate Change (AIGCC) last year projected that by 2060 the national ETS could reduce Chinese emissions by 30 to 60 per cent from 2020 levels depending on the rate of reduction in intensity caps and the expansion of industry coverage.
The initial impact of the ETS might be limited. Yet the scheme could still become more significant for covered industries and companies by the mid-2020s as China moves to achieve declining emissions from 2030 onwards, according to AIGCC.
"It is only the second year for China's national ETS," said Tan. "It is a wise choice to grow slowly and steadily step by step, and solve the remaining issues and avoid possible challenges."