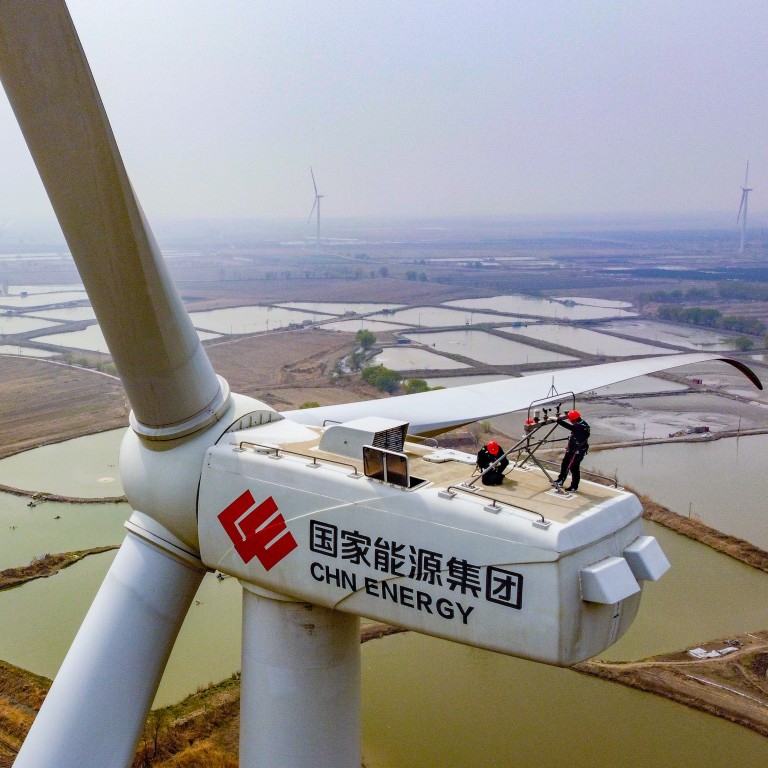 The dirty secret of China's clean energy ambition: millions of wind turbines and solar panels are near retirement age
Contaminated soil, water and air – not to mention carbon emissions – could be the legacy of old wind and solar equipment without a massive recycling effort
Despite being on the government's policy road map, a recycling ecosystem for decommissioned equipment is in its infancy
Solar and wind power could end up contaminating soil and groundwater with toxic metals, adding to air pollution, and contributing to carbon emissions unless China nurtures a recycling ecosystem that can cleanly deal with millions of tonnes of equipment slated for retirement in the coming years.
China is the world leader in producing renewable energy, having installed 328 gigawatts (GW) of wind power capacity and 306GW of solar power capacity since the early 2000s. That translates to around 40 per cent and 30 per cent of the global total, respectively.
The country aims to double its wind and solar capacity by 2025 to support its goals of having 80 per cent of energy come from renewable sources and reaching carbon neutrality by 2060.
But now, China's success in green power is about to create a growing mountain of a challenge.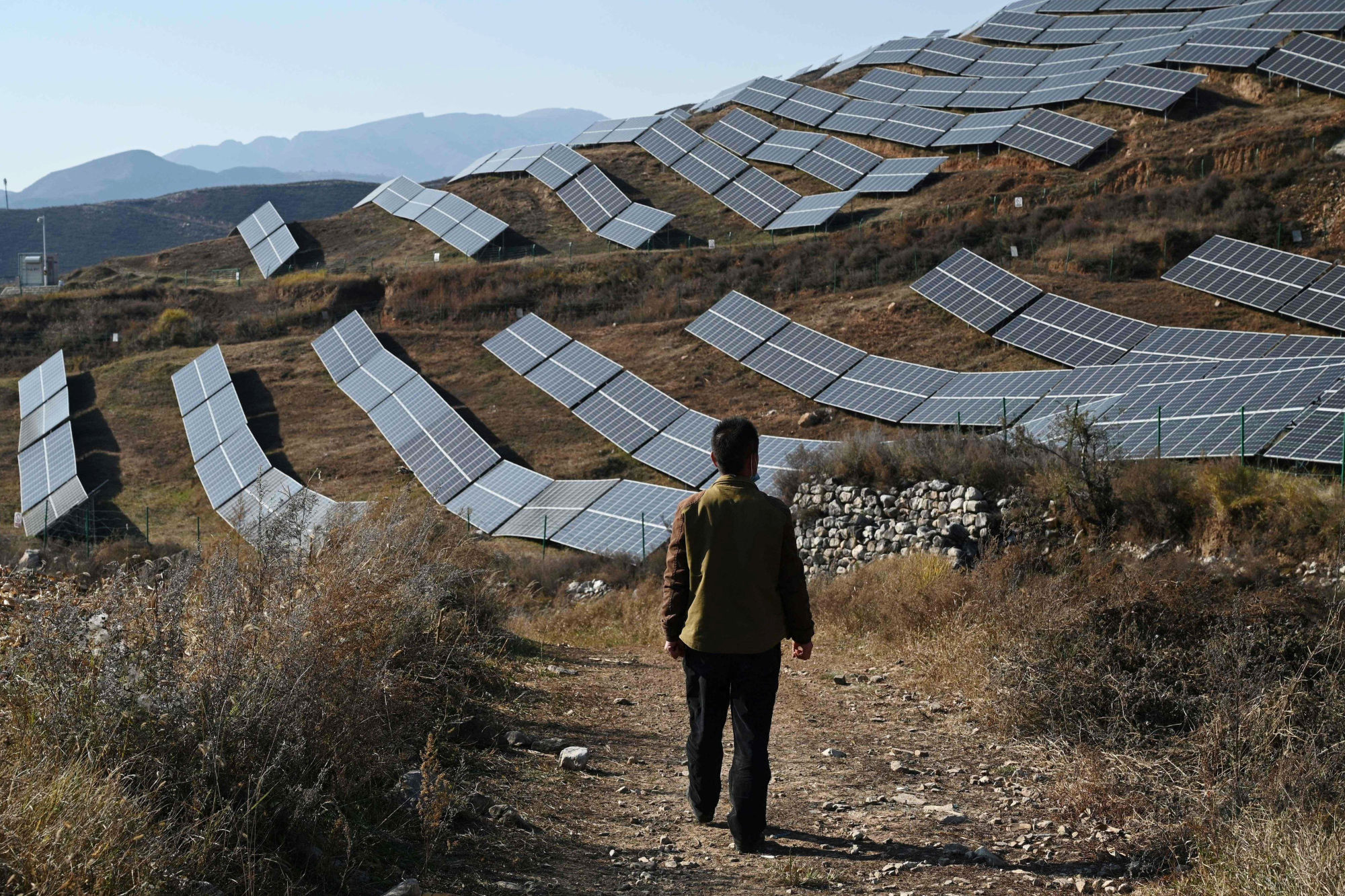 "Solar and wind installation components typically have a 20- to 25-year lifespan," said Li Jiatong, a campaigner at Greenpeace East Asia. "The first wave of retired renewable energy components is about to hit in China. And the amount will of course grow for at least the next two decades."
Greenpeace predicts that the problem will start small, with 1.2GW worth of wind turbines retiring in 2025. But by 2040, the pile will grow to contain 280GW of retired wind turbines and 250GW of retired PV panels. To put this in perspective, the US Department of Energy estimates that 1GW of power requires 3 million typical solar panels, so the PV portion of the decommissioned equipment alone could include 750 million panels.
If put in landfills, the heavy metals in those millions of tonnes of wind turbines and solar panels could contaminate the soil and groundwater. Burning them could also release toxic substances such as glass fibre into the air – not to mention emitting massive amounts of carbon.
Meanwhile, producing key materials for new green-energy equipment, such as steel, aluminium, silicon, and silver, also causes high carbon emissions, as the current production processes rely heavily on coal burning.
On the positive side, almost all the materials in solar panels can be reused, including aluminium, glass, copper, silver, lead, and tin, according to Meng Tao, a professor from the School of Electrical, Computer and Energy Engineering at Arizona State University. Fully recycling these materials, as well as the materials in wind turbines, could reduce the carbon footprints of the solar and wind energy industries to a minimum, he said.
If all the wind turbines and solar panels that are expected to retire by 2040 were recycled entirely, 221 million tonnes of carbon dioxide emissions would be eliminated, according to Greenpeace.
However, these goals are far from possible right now, because the recycling market in China is still in its infancy, according to experts. "There is a government-funded project on solar recycling in China, but there is no industry yet," Meng said. "There are start-up companies focusing on solar recycling, but their technologies are either rudimentary or have yet to be demonstrated."
He pointed out two major challenges. One is figuring out the most cost-effective technology for recycling while minimising the environmental impact. The other is minimising reverse-logistics costs in the collection process.
Research teams and corporations are starting to develop efficient recycling technologies, but more policy support is required, according to Greenpeace's Li.
"The market needs more supportive policies, more comprehensive technical standards, and more ability to collaborate across regions and across sectors," she said. "The main hurdles now are technical challenges and finding cost-effectiveness."
Some of the earliest renewable energy markets in Europe have introduced policies to stop landfilling and burning of used equipment, and to support technology development for solar and wind recycling. For example, the European Union set up an organisation called PV Cycle in 2007, dedicated to expanding the network of solar panel recycling facilities.
Corporations are getting in on the act as well. For example, the division of General Electric that makes wind turbines has been working with cement firms to use retired wind turbine blades as raw materials in cement production.
A robust recycling ecosystem is on the policy road map in China. In the action plan for the country to reach peak carbon emissions by 2030, issued last year, the State Council proposed to "improve the waste recycling network" and "promote new industries such as retired power batteries, photovoltaic modules, and wind turbine blades".
Another policy document issued by China's Ministry of Industry and Information Technology (MIIT) in February aimed at accelerating the comprehensive utilisation of industrial resources. This document called for promoting research and development regarding the industrial application of waste from solar panels and wind turbines, and promised future policy support including tax reductions and subsidies.
China's latest carbon-peaking action plan for the industrial sector, which was released on Monday, also calls for strengthening the recycling of industrial waste and advises further research into an effective route for recycling retired wind and solar modules.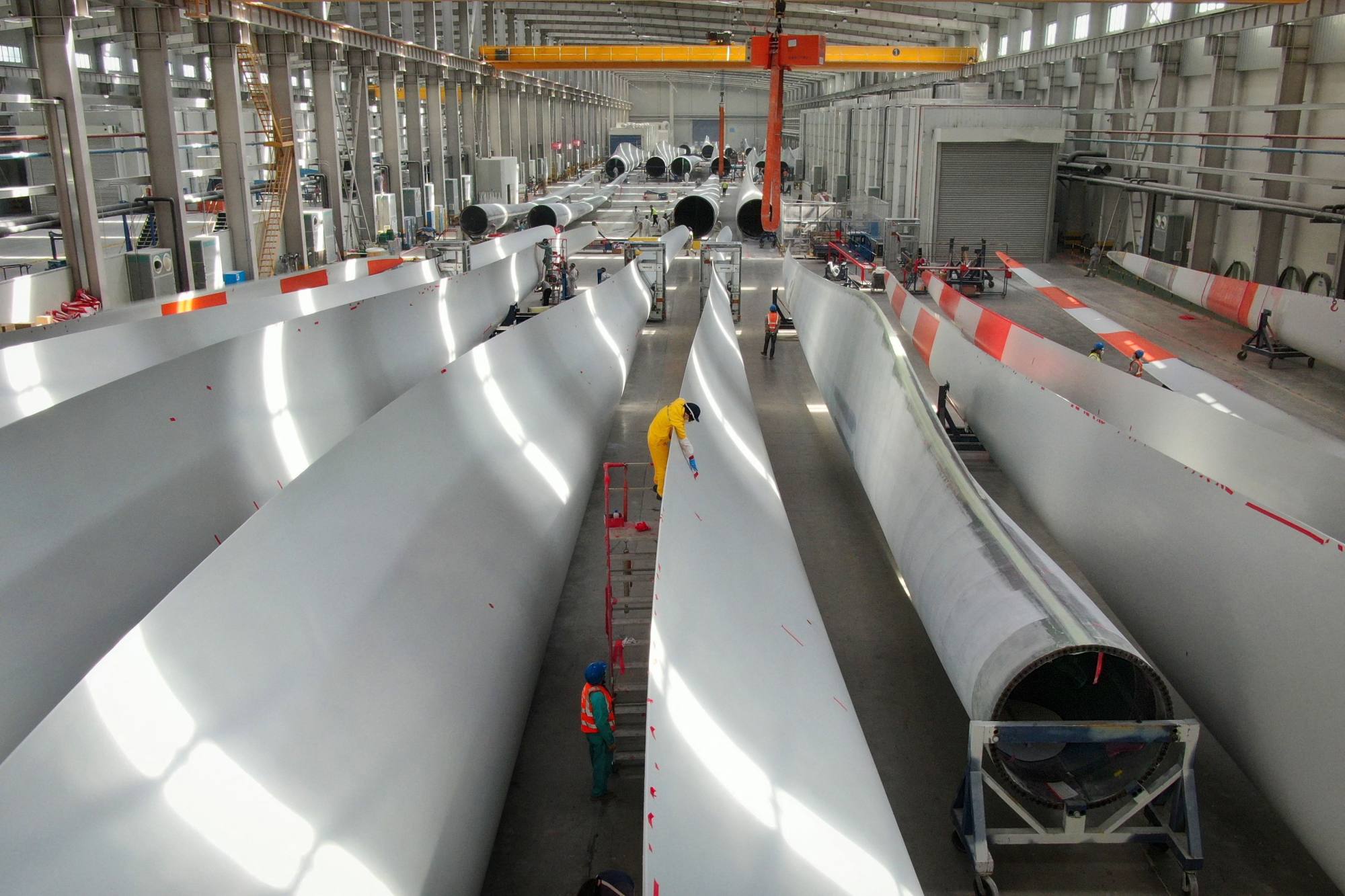 Globally, the renewables recycling sector has become an emerging business opportunity due to the increasing amount of solar and wind power waste. According to energy research consultancy Rystad Energy, solar PV waste is projected to grow to 27 million tonnes per year by 2040, and the recyclable materials from PV panels at the end of their lifespan will be worth more than US$2.7 billion in 2030, up from only US$170 million this year.
"Currently the retired volume is relatively small, and has yet to reach economies of scale," said Greenpeace's Li. "As the expected retired volume increases, we expect to see more capital flow into this market, accelerating the adoption of efficient and environmentally friendly recycling solutions."