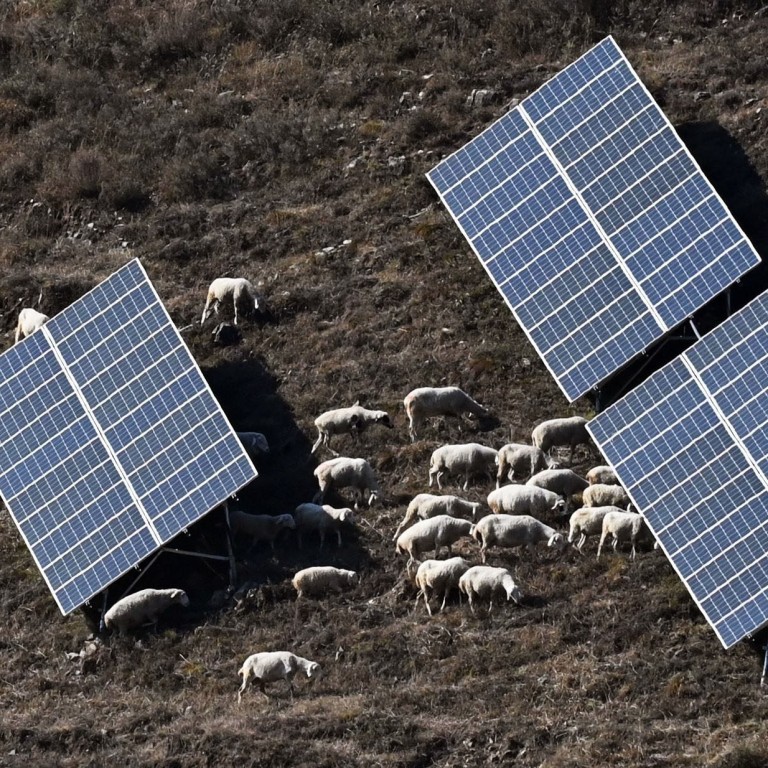 The world's energy use can be fully renewable by 2050 if China goes above and beyond its promise. Here's why
Renewable energy will dominate the future, putting the world technologically and economically in the position by 2050 to get rid of fossil fuels entirely, researchers say
For the world to meet the 2050 energy target, China will have to deliver on its pledge a decade earlier, analysts said
The world can attain a 100-per cent renewable energy system by 2050 if China delivers more than its promises and makes a faster transition away from fossil fuels, according to researchers.
Renewable energy sources such as solar panels and wind turbines will dominate the energy system of the future, putting the world technologically and economically in the position by 2050 to get rid of fossil fuels entirely, according to a July 25 paper published by the Institute of Electrical Engineers (
IEEE
) in New York.
"According to the United Nations, over 160 firms with US$70 trillion in assets are committed to decarbonise the global economy, which means phasing out fossil fuels, by 2050, said Sven Teske, associate professor at the University of Technology Sydney and one of the authors of the report. "Our research has shown that we have the technology to implement a global energy supply based entirely on renewable energy."
All eyes will be on China, the world's largest user of fossil fuels and the largest emitter of carbon dioxide on the planet. The Chinese president Xi Jinping made a surprise pledge at the United Nations in
September 2020
for the world's second-largest economy to reach carbon neutrality by 2060, where renewable energy sources make up 80 per cent of the nation's energy mix, according to Xi's detailed plan a year later.
For the world to meet the 100 per cent renewable energy target by 2050, China will have to deliver on its pledge a decade earlier, researchers said. That challenging goal may have been made more onerous this week, after Beijing
suspended cooperation with the United States
on climate change in response to Nancy Pelosi's visit to Taiwan.
"At present, we see no real chance of Beijing targeting 100 per cent renewables by 2050 – and without that target, it is unlikely China could reach that milestone by market forces alone," said Cory Combs, senior analyst at Beijing-based consultancy Trivium China. "The difference between an 80 per cent renewable grid and a 100 per cent renewable grid is monumental, and China's energy and industrial systems require immense reforms just to reach the former, let alone the latter."
Still, China's 2060 carbon-neutral vow does not equate to the 100 per cent replacement of fossil fuels with renewable energy, as "neutrality" still allows for carbon emissions as long as they are offset with carbon sinks or carbon capture systems, Combs said.
Emission targets, set conservatively in a bureaucratic move to avoid failures, could still be revised, analysts said.
"The [announced] target is usually the bottom line that China will thrive to achieve," said Zhang Lin, an associate professor at City University of Hong Kong (CityU). "Achieving a 100 per cent renewable goal is possible with fast transition in energy systems."
China needs additional and forceful policies to transition to 100 per cent renewable energy, said Zhang Shuwei, the chief energy economist of Draworld Environment Research Centre in Beijing.
Although China's power market reforms will help the country reduce its coal dependency over time, coal will remain central to several other hard-to-abate sectors, especially steel production which remains a major component of the country's economy, said Combs.
Zhang at CityU warned of an overly quick transition to renewable energy that will result in substantial asset stranding and huge economic costs.
"Technological feasibility does not imply economic feasibility," he said. "In the past few years, China has deployed a significant number of wind turbines in the northwest region, resulting in a high level of curtailment."
Therefore, China should not move too fast in switching to renewable energy, as both physical infrastructure such as the connectivity of the regional and national grids, and institutional infrastructure including regulation, policy, conflict financial interests between central and local government, are not ready, he added.