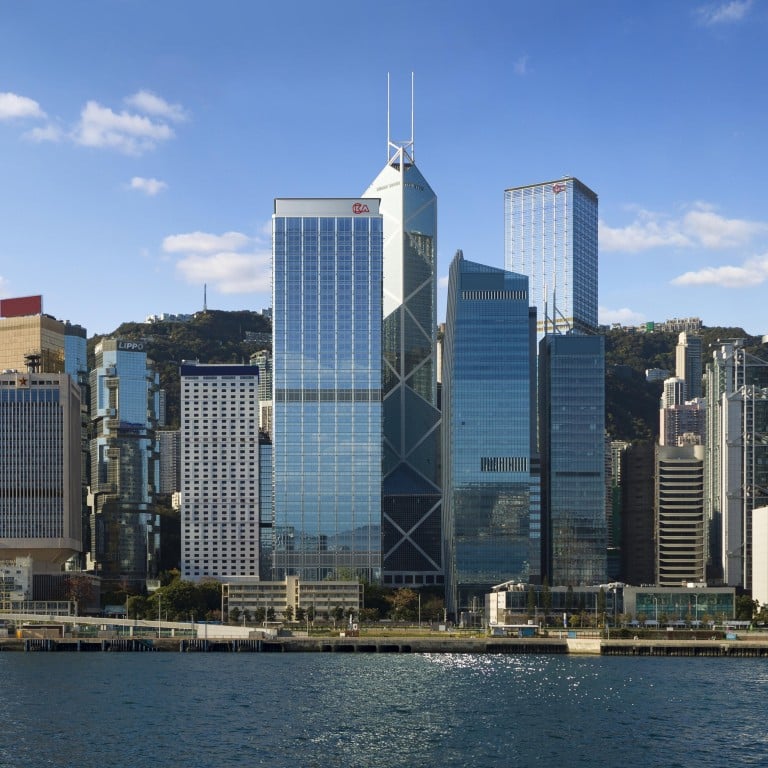 Li Ka-shing's developer unveils design of Cheung Kong Center II, a 41-storey skyscraper in Hong Kong's Central
The redevelopment of Hutchison House will add 550,000 sq ft of prime office space – about the size of 10 football fields – in Central
Set to be renamed Cheung Kong Center II (CKC II), the new tower will stand 41 storeys tall, much higher than the existing building
Hong Kong's famous skyline will soon have a shiny new addition.
CK Asset Holdings, the property developer founded by tycoon Li Ka-shing, has revealed the design of its new skyscraper in Central, set to be unveiled next year once the
conversion of Hutchison House
is complete.
The redevelopment will add 550,000 square feet of prime office space – about the size of 10 football fields – in Hong Kong's main business zone of Central.
Set to be renamed Cheung Kong Center II (CKC II), the new tower will stand 41 storeys tall, much higher than the existing building comprising 23 floors.
"Adopting and modernising the iconic glass curtain wall and linear design of the Cheung Kong Center, CKC II boasts practical office space with maximum layout flexibility, allowing tenants to utilise every inch of space," CK Asset said in the statement, referring to the iconic skyscraper that houses the Cheung Kong Group, its parent company.
All office floors at CKC II will have an uninterrupted 270-degree view of Victoria Harbour.
The first major project to be undertaken by CK Asset after Victor Li Tzar-kuoi, Li's son, took over as chairman of the CK Hutchison conglomerate in 2018, Hutchison House was vacated by its tenants late that year to make way for the construction of the new office skyscraper.
The building at 10 Harcourt Road is close to other financial landmarks in Central such as the Bank of China Tower, HSBC's headquarters, CCB Tower and the Standard Chartered Bank Building. Multinational companies in sectors such as law, accounting, technology, commerce and trade are also located nearby.
CKC II is likely to fill up steadily with tenants as more companies return to central business areas, said Martin Wong, director and head of research and consultancy, Greater China, at Knight Frank.
It marked the firm's return as a Hongkong Land tenant, after spending 15 years further down Queen's Road Central at Central Development Limited's Central Tower. Before moving to Central Tower in 2007, White & Case had occupied 17,000 square feet of space at Gloucester Tower, one of the three office buildings in the Landmark complex.
Rents of grade A offices in Central have plunged 28.3 per cent from their peak in 2019 to a monthly HK$57.30 (US$7.30) per square foot, according to data compiled by property consultancy JLL.
Prices are likely to remain soft as an estimated 4.6 million square feet of new prime office space comes online this year, the most since 6.8 million square feet were added in 1998, according to a report by investment bank Morgan Stanley.
In June, the city's prime office market saw a slower take-up rate, halting an eight month recovery, as new supply exceeded demand by 96,800 square feet, according to property consultancy JLL.
The additional supply pushed the overall vacancy rate up slightly to 9.4 per cent from 9.3 per cent in May. In the central business district, the vacancy rate climbed to 7.9 per cent from 7.6 per cent.
Hong Kong's overall office property segment saw an all-time high vacancy rate of 9.8 per cent in September 2021, according to JLL data. Office vacancy rates in Central peaked at 8 per cent last December.