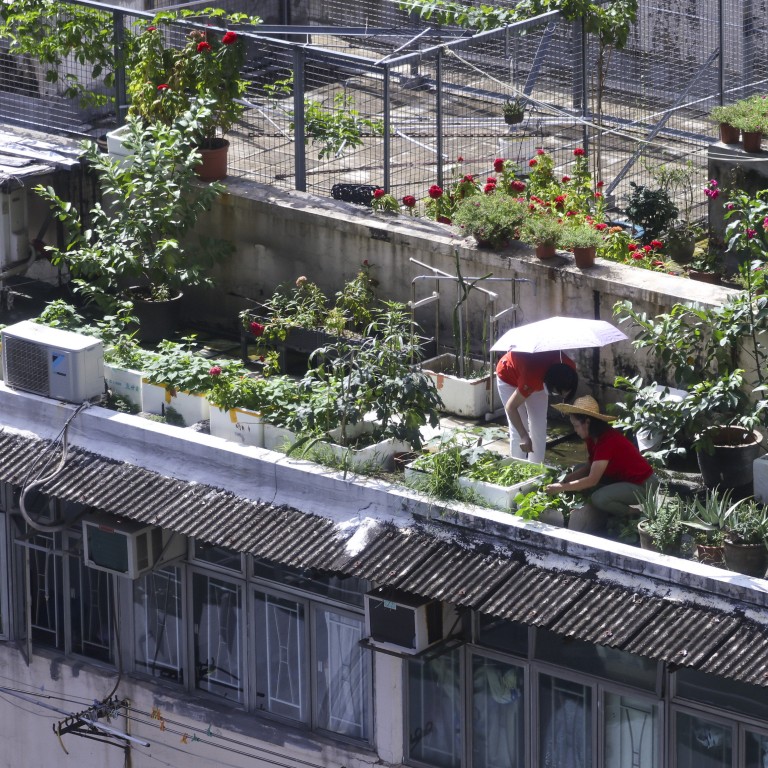 Sustainable cities: Hong Kong should look to nature-based green building solutions to hit carbon goals, conference hears
'Hong Kong is not doing a lot [in terms of] adding greenery to urban spaces,' says Rosewood Hotel Group's global head of social impact
The viable space for rooftop farming in Hong Kong is not far short of the 7 million sq m of farmland in the city, conference is told
Hong Kong can do a lot more to
enhance its long-term sustainability
by adopting nature-based decarbonisation practices and tightening regulations, an environmental conference has heard.
Rosewood Hotel Group, a Hong Kong-based multinational hotel management group, was cited as an example during a panel discussion.
It is exploring the use of natural insulation for its hotels in Asia. This entails growing creeping plants on the sides and rooftops of buildings to reduce energy use, especially in cities with
huge air-conditioning needs
.
"This is one single business doing it, why cannot cities do it at the municipal level?" Mehvesh Mumtaz Ahmed, the company's global head of social impact said at the SCMP Asia Sustainability conference on Tuesday. "Hong Kong is not doing a lot [in terms of] adding greenery to urban spaces, Singapore is doing a better job on that.
"There is a lot of square footage on the roofs in Hong Kong that are not used and could be greened to provide insulation and be used for
rooftop farming
."
The conference featured a keynote address by Lam Ching-choi, a non-official member of the Hong Kong government's Executive Council and chairman of the Council for Sustainable Development.
Eight new projects were recently approved under the government's HK$100 million sustainable development fund, to support low-carbon lifestyle initiatives among a wide spectrum of recipients – from students to small enterprises, Lam noted.
The total viable
space for rooftop farming
in Hong Kong amounts to some 6 million square metres, not far short of the 7 million square metres of existing farmland in the city, Ahmed noted.
To drive such
green initiatives
forward, clear and effective regulations around building usage and construction would be needed in Asia. The region lags Europe and North America when it comes to green building regulations, she added.
Hong Kong's property sector accounts for 60 per cent of all the city's carbon emissions, according to a report published by commercial real estate services firm Jones Lang LaSalle in May.
As 85 per cent of the city's buildings are more than 10 years old, they need extensive retrofitting to meet the government's goal of becoming carbon-neutral by 2050.
The government has set targets for buildings' electricity consumption to be cut by 20 to 40 per cent by 2050 from 2015 levels. It has not set corresponding targets for carbon reduction.
Hong Kong ranked 30 out of 32 large international cities by their mid- and long-term decarbonisation commitments and aspirations, JLL's study found.
Given that Hong Kong is slow to implement strict standards for new builds, the city should accelerate the pace of retrofitting to above 3.5 per cent a year, it said.
Singapore's green building master plan plans to green 80 per cent of buildings by 2030, while Tokyo has in place a cap-and-trade programme that encourage building owners to reduce emissions and use renewable power.
Ivan Fu, director of architecture and urban design firm LWK + Partners, who chairs the Construction Industry Council's committee on the environment, said Hong Kong is moving towards the use of low-carbon concrete, which will help the construction industry significantly reduce its environmental footprint.
Software is already commercially available for building designers to assess the carbon footprint – both from the use of construction materials and the subsequent running of the building – before detailed design work starts, said Amie Shuttleworth, head of sustainable investing at US-based venture investment firm Undivided Ventures.
Nicolas Medrano, senior associate principal and senior designer at an American architectural, urban planning and engineering firm, Skidmore, Owings and Merrill, said nature-based concepts are being introduced into the development of new cities.
Shorelines are designed to act like a sponge to absorb storm surges and extreme rainfall as part of climate change risk mitigation measures, while bio-bricks and bio-concrete that contains carbon dioxide-consuming bacteria are being introduced as construction materials.
"Nature is the most powerful super-computer that ever existed," he told the conference. "There is a tremendous amount of intelligence embedded within nature."
Cities are also being designed so that people can get to their workplaces and other frequent destinations by walking just 15 minutes from their homes, he added. This too is an effective way of reducing carbon footprints.