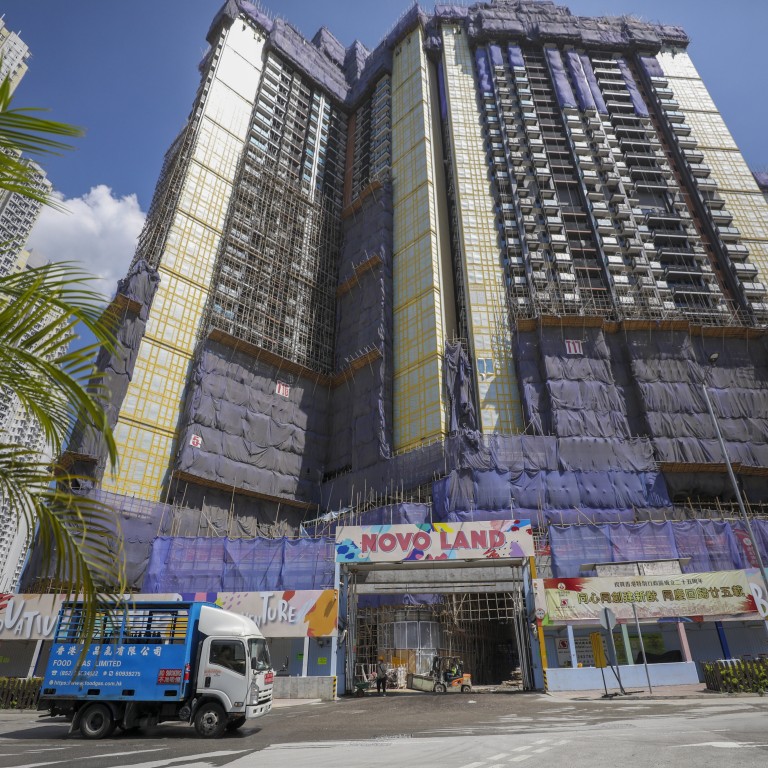 New flats at Novo Land in Tuen Mun sell out as young, first-time buyers take advantage of steep discounts
Sun Hung Kai Properties sold all 180 units on offer in the second phase of the project within about four hours on Wednesday
'Nearly 80 per cent of our clients were young buyers considering the low entry price,' said Sammy Po of Midland Realty
The
low-pricing strategy
of Hong Kong developers proved effective once again as hundreds of mainly young first-time buyers flocked to the sales office of a large residential project in Tuen Mun.
Sun Hung Kai Properties (SHKP) sold all 180 units on offer in the second phase of its
Novo Land project
within the first four hours on Wednesday afternoon, according to agents.
The development is at 8 Yan Po Road, about a 25-minute walk from Siu Hong MTR station.
"The latest round of flats are priced 20 per cent lower than units that recently went on sale in the same area, which is
very attractive
," said Louis Chan, Asia-Pacific vice-chairman and CEO of the residential division at Centaline Property Agency.
Chan said about 60 per cent of the potential buyers for Phase 1B were people who had been unable to get their hands on a unit when Phase 1A was launched at the end of July.
SHKP managed to sell 815 units, or 98 per cent of the units available in phase 1A for HK$5 billion, within 12 days of them going on sale at the start of August.
The latest batch of flats at the development attracted 12,887 potential buyers who registered an interest. The average price was HK$13,998 per square foot.
"Nearly 80 per cent of our clients were young buyers considering the low entry price," said Sammy Po, chief executive of Midland Realty's residential department in Hong Kong and Macau.
One buyer spent HK$12 million for two units, he said.
The units, ranging from 253 to 694 square feet, were priced between HK$3.41 million and HK$9.59 million, or HK$12,936 to HK$15,539 per square foot, after discounts of up to 15 per cent.
Eight units are to be sold separately through tender.
The cheapest flat on offer on Wednesday was a 253 square-foot unit priced at HK$3.4 million, or HK$13,489 per sq ft.
Novo Land comprises 4,639 units in total, to be developed in six phases. It is slated for completion in June, 2023.
There were 824 units in the first phase, and 800 in the second.
Chan said August could record as many as 2,500 transactions of new flats, the highest in 20 months, given today's sell-out at Novo Land.
Sales of lived-in flats, meanwhile, are
likely to remain weak
as developers are pricing new flats at steep discounts in a bid to lure buyers away from the secondary market at a time when interest rates are on the up.
Mortgage payments linked to the Hong Kong interbank offered rate (Hibor) have risen since March. The one-month Hibor was at 1.9 per cent on Wednesday, the highest in two years following an 11-day rally.
The effective mortgage rate – 1.3 percentage points above Hibor – has climbed from 1.43 per cent in January to about 2.5 per cent.
The Hibor-linked mortgage is capped at 2.5 percentage points below the prime rate, which stands at 5 per cent.
"If Hibor remains above 1.8 per cent for a period of time, the pressure on Hong Kong's interest rate and banks' capital costs will increase sharply," said Eric Tso, chief vice-president at mReferral Mortgage.
"The pressure on banks to raise interest rates will increase, which may lead to an acceleration in the pace of raising the prime rate."
Tso believes the prime rate rise could go up in September.