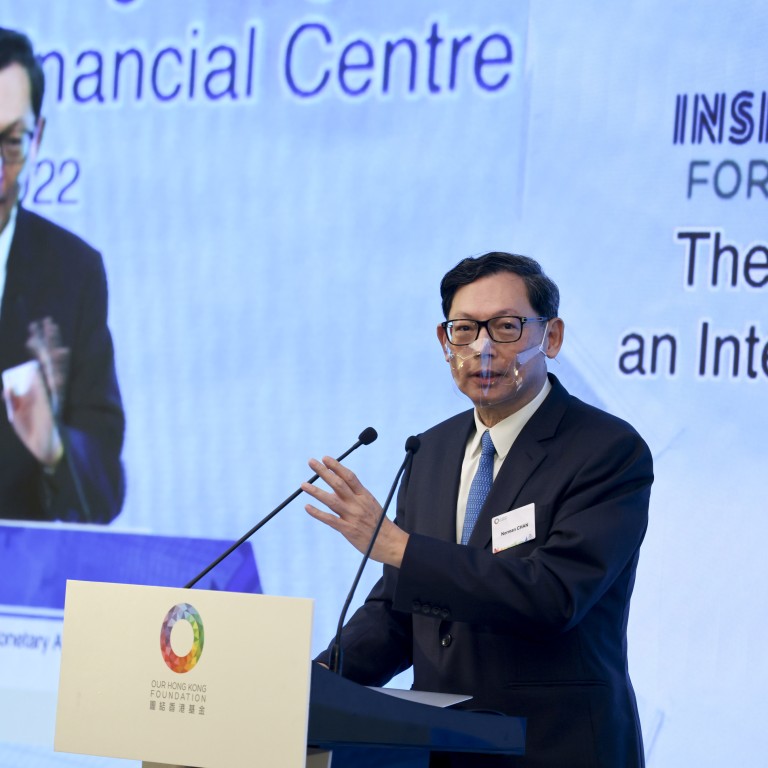 Ex-Hong Kong central banker Norman Chan says Greater Bay Area needs 'capital connect' to spur freer flow of funds
Newer and deeper connect schemes than Stock Connect, Bond Connect and Wealth Management Connect needed for development zone, former HKMA CEO says
More needs to be done for the free movement of goods, people and capital, think tank told
Authorities in Hong Kong and mainland China should consider launching a pilot "capital connect" to spur the freer flow of capital within the
Greater Bay Area
, former Hong Kong central banker
Norman Chan Tak-lam
said on Thursday.
An experimental scheme could encourage more cross-border investment and make it easier for companies to raise funds in the stock and bond markets of the development zone, Chan, who was CEO of the
Hong Kong Monetary Authority
, the city's de facto central bank, from 2009 to 2019, said at a forum organised by the Our Hong Kong Foundation. The foundation is a think tank set up by
Tung Chee-hwa
, the city's first post-handover chief executive.
"Wider channels must be developed to meet the increasing demand for mobile payments and to diversify flows of money and capital between the mainland and the rest of the world."
Since China has capital controls, mainland companies that raise funds from a listing or bond offering in Hong Kong have to apply to the government to transfer this cash to the mainland. Chan said the mainland authorities could use blockchain to make sure funds raised in the Greater Bay Area stay in the development zone and are not used in other parts of China or overseas.
The connect schemes are cross-border trading mechanisms, first introduced in 2014 between Hong Kong and Shanghai to let international investors trade stock, bonds and fund products in mainland China through Hong Kong. The schemes also allow mainland investors to invest in these products in Hong Kong. These mechanisms are part of a set of policies introduced by Beijing to gradually open up its capital markets, and to allow Hong Kong to act as a gateway for international investors entering the mainland markets.
The stock and bond schemes linking Hong Kong, Shanghai and Shenzhen allow domestic and global investors to trade on these three exchanges. The Wealth Management Connect scheme launched in September last year, however, is limited to the Greater Bay Area and allows only residents of nine mainland cities in this development zone to buy Hong Kong investment products through local lenders. Hong Kong and Macau residents can also buy these products through mainland lenders.
The proposed capital connect could follow a similar format. Chan said that under this scheme, mainland and Hong Kong companies could raise funds in designated stock or bond markets in the Greater Bay Area, and the capital raised would then be allowed to circulate and be used freely within the zone's 11 cities.
The Wealth Management Connect also needed more relaxation, Amy Lo, Asia-Pacific co-head of UBS Wealth Management and CEO of UBS Hong Kong, said at the forum.
"We want to see a higher quota and more relaxation to the scheme, which will be a growth driver for the Greater Bay Area," she said. At present, individual investors cannot invest more than 1 million yuan (US$147,216) under this mechanism.
Another important growth engine for Hong Kong could be green financing, as many investors were now concerned about their investments having environmental, social and governance, or ESG, components, Lo said.
"The Covid-19 pandemic has … led the world to focus on climate change and sustainable growth," Nicolas Aguzin, the CEO of bourse operator Hong Kong Exchanges and Clearing, told the forum, adding that Hong Kong could be a fundraising hub for green finance and other climate-related projects.
"China will need more than US$20 trillion of green investments in the next 15 years to meet its decarbonisation goals. Hong Kong has a key role to play in supporting this as a green finance hub," he said.
Under the Greater Bay Area development zone project, which was initiated in 2019, Beijing aims to link Hong Kong, Macau and nine cities in Guangdong province into an integrated economic hub to rival those in the US and Japan.
The bay areas in the US and Japan do not have capital flow restrictions like the Greater Bay Area, Chan said on Thursday, adding that this was necessary for Beijing's development zone to compete with Tokyo, the San Francisco area, and others.
"If we want to see the Greater Bay Area become the largest, most dynamic player in the world, we must do more to overcome the impediments to the free movement of the basic factors of production – goods, people and capital," he said.