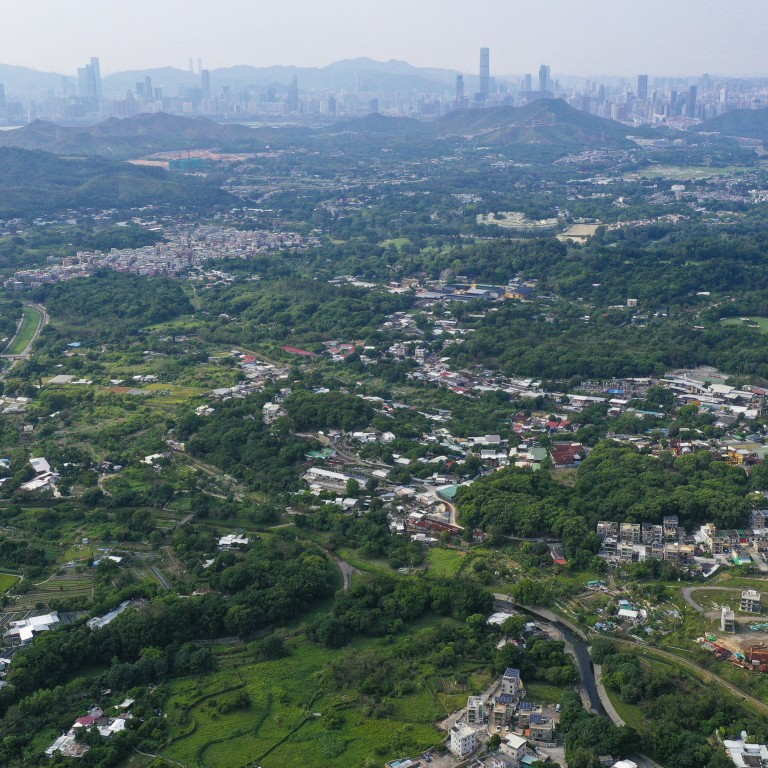 Hong Kong seeks to raise plot ratios, building heights at Northern Metropolis projects to ease housing shortage
Relaxing plot ratios generally implies more housing supply, Knight Frank analyst says
The government has applied to raise the plot ratio of private housing parcels by up to 20 per cent, and that of public housing sites by up to 30 per cent, where feasible
The Hong Kong government has applied to relax plot ratios and building height restrictions at 37 parcels of land by up to 30 per cent in northern Fanling and Kwu Tung, as part of its
Northern Metropolis
development plan to boost the city's housing supply.
The Civil Engineering and Development Department submitted two applications seeking approval from the Town Planning Board this week, which, if cleared, could yield 58,439 homes – 24,929 in Fanling North and 33,510 in Kwu Tung North – according to documents provided by the board. The total number of homes would increase by more than 13,000, or 28.8 per cent, according to estimates by Hong Kong Economics Times. This would include an increase of more than 7,000 units for Kwu Tung North and about 6,100 for Fanling North.
"The government wants to provide higher per capita living spaces for Hong Kong residents, as the [city] … is currently behind most leading Asian cities such as Shenzhen, Tokyo and Singapore," said
Martin Wong
, director and head of research and consultancy for Greater China at Knight Frank. "Relaxing plot ratios would in general imply more housing supply."
According to "Hong Kong 2030+", a study published last October, the current average living space per person in Hong Kong is only 161 sq ft. The city lags behind Tokyo's 210 sq ft, Singapore's 270 sq ft and Shenzhen's 300 sq ft.
This week's applications also comes after
Chinese President Xi Jinping instructed John Lee Ka-chiu
, Hong Kong's new leader, on the 25th anniversary of the city's handover to China that his administration should "strive to deliver" what "the people of Hong Kong desired – a better life, a bigger flat, more business start-up opportunities, better education and better elderly care".
"A 30 per cent [plot ratio] increase is significant. The improved plot ratios will increase housing supply," said Norry Lee, senior director at JLL. "I believe most of the mass market demand is targeting the New Territories. An increase in supply of around 58,000 units will help ease housing prices," he added.
The applications have been made under Section 16 of the Town Planning Ordinance for five public housing sites and 12 private housing sites in the Kwu Tung North New Development Area, as well as 20 planned housing sites in the Fanling North New Development Area. In particular, the department has sought to raise the plot ratio of the private housing parcels by up to 20 per cent, and that of the public housing sites by up to 30 per cent, where feasible, in line with previous government decisions.
In view of Hong Kong's pressing housing demand, the 2014 Policy Address sought to increase the maximum domestic plot ratio by around 20 per cent for areas outside north Hong Kong Island and Kowloon Peninsula, according to a Town Planning Board document about Kwu Tung North.
In late 2018, the Executive Council agreed that the plot ratios of public housing sites could be increased by 30 per cent where technical feasibility permitted, the document shows.
Meanwhile, the Fanling North proposal is also in line with the 70:30 public-private housing land split on newly developed government plots set out in the 2018 Policy Address. For the Kwu Tung North New Development Areas, remaining site formation and infrastructural work is expected to commence in 2024, while the first population intake is anticipated to be in 2030 and 2031.
In December
last year, the Hong Kong government set a 280 sq ft minimum size for flats built on government land.
The increase in plot ratios and building heights, if approved, will cover private developments, including its own, a Henderson spokeswoman said on Friday.
Property projects covered by the Northern Metropolis plan are currently selling like hot cakes. SHKP will, for instance, offer another 383 flats for sale at
its Novo Land project
on Sunday. It sold all 180 units in the development in Tuen Mun within the first four hours on Wednesday.