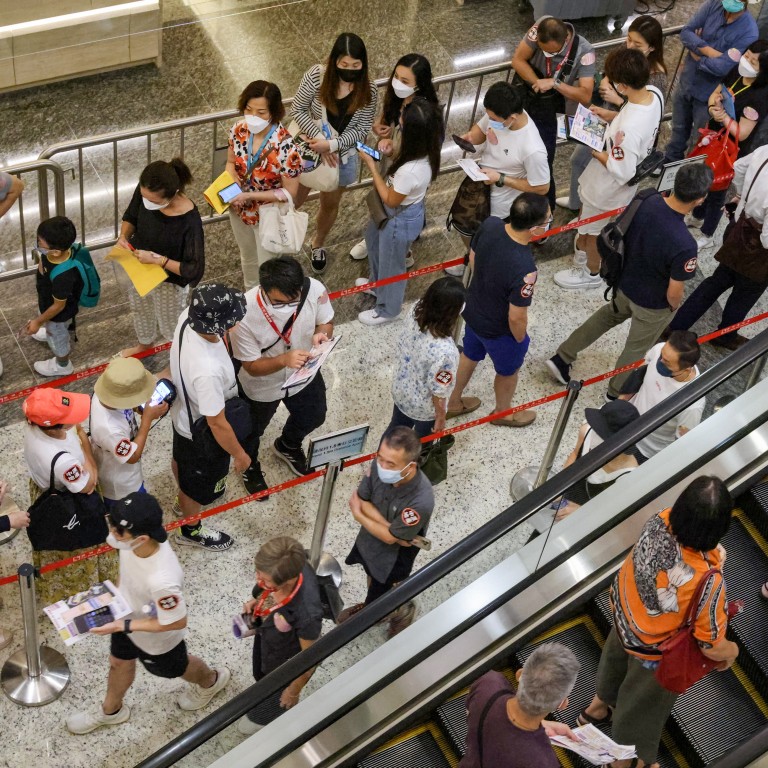 Young homebuyers snap up Sun Hung Kai Properties' Novo Land flats as steep discounts offset higher mortgage rate
Buyers, most of them young and purchasing homes for the first time, bought 371 of 383 units on offer in the third phase on Sunday
First-time buyers continued to snap up flats at the popular project in Tuen Mun, shrugging off concerns about higher mortgage rates
Young homebuyers continued to snap up flats at the popular
Novo Land project
in Tuen Mun on Sunday as steep discounts outweighed concerns around rising mortgage rates.
Sun Hung Kai Properties (SHKP) sold 371 of 383 units on offer in the second phase of its
Novo Land project
, according to agents.
"The sales are ideal," said Sammy Po, chief executive of Midland Realty's residential department in Hong Kong and Macau.
Around 80 per cent of the buyers on Sunday were young, first-time buyers,
attracted by discounts
of up to 20 per cent, agents said.
Today's strong sales came after the second batch of units at Novo Land sold out within just four hours last Wednesday. The developer's low pricing strategy has at least partially offset the impact of rising interest rates and attracted hordes of young buyers driven by a strong desire to get a foothold in Hong Kong's notoriously expensive property market.
Homebuilders in the city are speeding up their sales in a bid to get ahead of the interest rate increases. It is expected that
more banks will follow HSBC
, which last week became the first of the city's major lenders to raise its mortgage rates.
The bank raised the cap for its
Hibor-linked home loans
to 2.75 per cent from 2.5 per cent for new applications on Thursday. Hibor (the Hong Kong interbank offered rate) is the interest rate banks charge each other for borrowing money.
Despite this, the attractive prices on offer are offsetting the relatively weak sentiment among buyers, said Po.
"If the sellers are willing to lower their prices, there is still demand, as many buyers were taking a 'wait and see' attitude," he said. "If there are cheap properties, people are still wiling to enter the market."
The average price of the Novo Land units on Sunday was HK$14,429 (US$1,839) per square foot. The flats – ranging from 220 sq ft to 708 sq ft – were priced between HK$3.4 million and HK$9.5 million after discount, or between HK$13,039 per sq ft and HK$17,233 per sq ft.
The project has proved popular, with each previous batch of flats selling out since sales were launched on July 31. The total value of the units on sale on Sunday was more than HK$2.6 billion.
Novo Land comprises 4,639 units in total, to be developed in six phases. It is slated for completion in June, 2023. There were 824 units in the first phase, and 800 in the second.
Mortgage payments linked to Hibor have been on the rise since March. The one-month Hibor hit 1.9 per cent on Wednesday, the highest in two years following an 11-day rally.
The effective mortgage rate – 1.3 percentage points above Hibor – has climbed from 1.43 per cent in January to about 2.5 per cent.
More property developers are expected to offer discounts to boost sales to counter the impact of the higher interest rates, while homeowners will continue to lower their asking prices in the secondary market.
Housing prices will stabilise or even edge up in the fourth quarter, if the government pushes policies that buoy economic growth and Hong Kong fully reopens its international borders, said Po.
"But if the interest rate hikes are faster than expected or rise by a bigger-than-expected degree, it will have a negative impact on the housing market," he said.