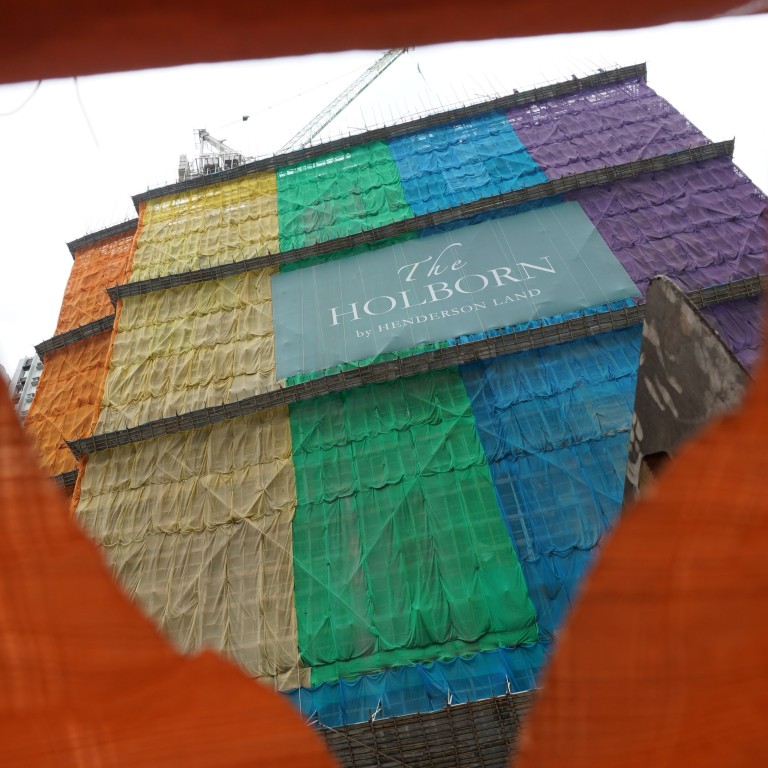 Hong Kong's Henderson Land reports lower first-half profit, says global headwinds, Covid-19 curbs make for sombre outlook
Lower underlying profit mainly because of the absence of a one-off gain developer recognised last year
Firm hopes that Hong Kong will soon resume quarantine-free travel, which will bode well for economy, property market, chairmen say
Henderson Land Development
, one of Hong Kong's biggest property developers, reported a 34 per cent year-on-year decline in first-half profit to HK$5.1 billion (US$654.6 million) on Tuesday.
The lower underlying profit was mainly because of the absence of a one-off gain it recognised last year from Miramar Hotel and Investment Company becoming a Henderson Land subsidiary in 2020, according to a filing with the Hong Kong stock exchange.
The developer founded by billionaire Lee Shau-kee, Hong Kong's second-wealthiest man with a net worth of US$30.6 billion according to Forbes, also saw gross
rental income
decline by 2 per cent to HK$3.2 billion in this period, as tough Covid-19 curbs implemented in the early part of the year dampened retail sales in Hong Kong. As of the end of June, 93 per cent of the company's major rental properties were occupied.
Henderson Land
has proposed a
dividend
of HK$0.50 per share to be payable on September 20. Its shares closed 1.6 per cent lower at HK$27.25 apiece on Tuesday.
Amid the coronavirus pandemic, Russia's invasion of Ukraine, geopolitical tensions between China and the US, and interest rate increases caused by widespread inflation in various major economies, "there is increasing fear that a worldwide recession is imminent", Lee Ka Kit and Lee Ka Shing, Lee Shau-kee's sons and Henderson Land's chairmen, said in a statement on Tuesday.
"The group hopes that Hong Kong will soon resume
quarantine-free
travel, which will bode well for the overall economy, as well as the property market in Hong Kong," they added.
The developer
plans to follow up the launch of the first phase of its
One Innovale project
in Fanling this month with the launch of nine other projects this year. These projects will comprise 10,800 residential units and 2.9 million sq ft in gross floor area. It is also looking to sell 180,000 sq ft of office and industrial space.
In the first half of this year, the developer's contracted sales in Hong Kong and mainland Chinese amounted to about HK$27.9 billion, of which HK$12.2 billion will be recognised in the second half upon completion of development and handover to buyers.
Henderson Land is one of the most prolific buyers of land in Hong Kong. It currently owns 25 million sq ft in the city and is looking to acquire more projects in various districts.
In November last year, it won the bid for Hong Kong's most expensive commercial land parcel by paying a record HK$50.8 billion for a 50-year land grant on New Central Harbour Front Commercial Site 3. The price offered was HK$13.7 billion, or 37 per cent,
more than the next best bid
.
Henderson Land said it planned to invest HK$63 billion in the site and will develop three blocks on the property. Two of these will be office buildings and the one closest to the harbourfront will be multifunctional.
Meanwhile, Henderson Investment, which runs department stores in Hong Kong, said Covid-19 restrictions severely impacted operations with profit falling by 20 per cent to HK$24 million. The unit declared a dividend of HK$0.01 per share. Its shares declined by about 1.5 per cent on Tuesday.