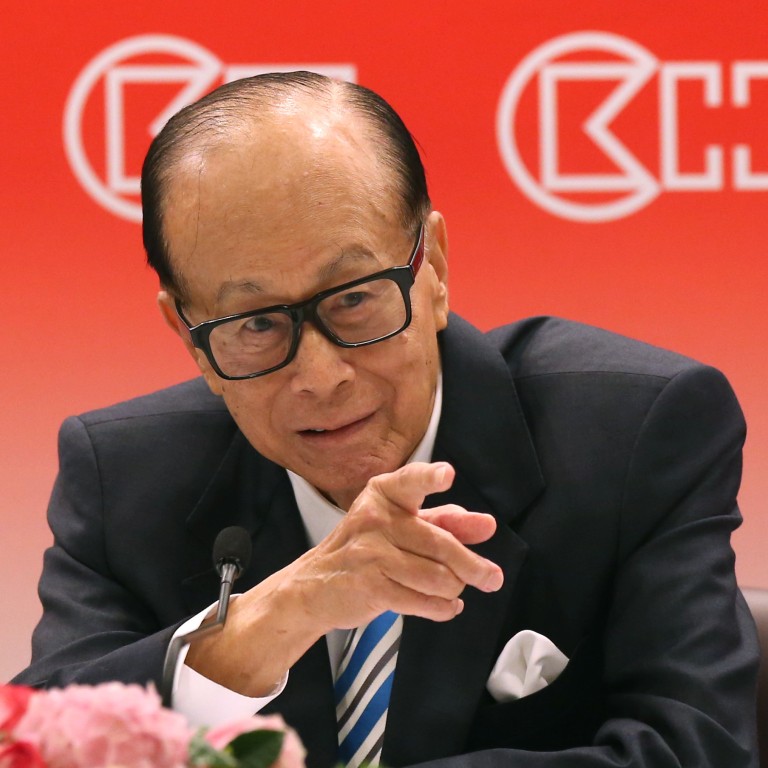 Li Ka-shing's Horizons Ventures makes undisclosed investment in Canadian Covid-19 treatment start-up SaNOtize
Horizons and Jerusalem-based OurCrowd lead US$24 million Series B funding round
Funding will go towards the expansion of a third-phase clinical trial of a nasal spray aimed at treating and preventing Covid-19
Hong Kong tycoon Li Ka-shing's
private investment arm Horizons Ventures has invested an undisclosed sum of money in Canadian start-up SaNOtize Research and Development to help fund a late-stage clinical trial for its
Covid-19
drug candidate.
Horizons and Jerusalem-based online technology ventures investing platform operator OurCrowd have co-led the US$24 millionSeries B round to fund the expansion of a third-phase clinical trial of a nasal spray aimed at tackling the infection. The Israeli firm previously invested US$1 million in March 2020.
"Our clinical and observational studies found [our spray] to be safe and effective at both treating and preventing Covid-19, even amid Delta and Omicron [variant] surges," Gilly Regev, SaNOtize's co-founder and CEO, said in a statement on Wednesday.
"We look forward to expanding our clinical research and working towards regulatory approval in the United States and Canada."
Agricultural Bank of China International also took part in the financing round, which will fund the development of the nitric oxide-based nasal spray. The Vancouver-based start-up plans to recruit up to 3,000 participants in Canada and Sri Lanka.
In clinical studies completed so far, the spray has been shown to rapidly reduce the viral load in people infected by Covid-19 and decrease the risk of infection after known exposure, the start-up said. In a recent study, the spray also shortened the time it takes for a patient to get a negative PCR result. The study's results were published in The Lancet Regional Health Southeast Asia journal.
It has also shown a 94 per cent reduction in the viral load found in patients who are at high risk of getting very sick from the infection, within 24 hours after treatment. The ratio rises to 99 per cent within 48 hours.
As a potential preventive therapy, the spray has been used on people who have had high-risk close-contact exposure to Covid-19. They were 75 per cent less likely to become infected when compared to those who did not receive the same treatment, SaNOtize said, citing an observational study.
The start-up aims to use its nitric oxide technology to develop "highly affordable and effective" spray treatments for a range of "bothersome" respiratory and topical infections, said Horizons portfolio curator Frances Kang, who was recently appointed a member of SaNOtize's board of directors.
SaNOtize was founded in 2017 by Regev and chief scientific officer Chris Miller. They want to develop therapies from nitric oxide, a naturally occurring molecule known to have antibacterial, antifungal and antiviral properties.
Nitric oxide gas has been shown by other pharmaceutical companies to be safe across several applications, including inhalation by newborns with pulmonary hypertension, also known as blue baby syndrome, the start-up said.
The spray, branded as Enovid in some countries, is approved as a medical device in Israel, Bahrain, Thailand, Indonesia, Singapore, Nepal and the European Union. In India, it has been approved on an emergency use basis for treating adult patients with Covid-19 who have a risk of progression of the disease. It is not yet approved for sale in Canada or the US.
Horizons, the investment firm of Hong Kong's wealthiest man – Li is sometimes referred to as "Superman" for his deal-making prowess – opened an office
in Singapore
in May to expand its capabilities for finding new deals and supporting portfolio companies in Asia.
Its portfolio spans 107 start-ups globally, with health and sustainability among its investment themes. These firms include 57 companies in North America, 18 in Europe, 15
in Israel
and 17
in Asia-Pacific
, its website shows.
Its most recent deals include a Series A investment in California-based Ansa Biotechnologies, which is developing a next-generation enzymatic DNA synthesis technology to spur innovation with applications in biologic drugs and DNA-based data storage.