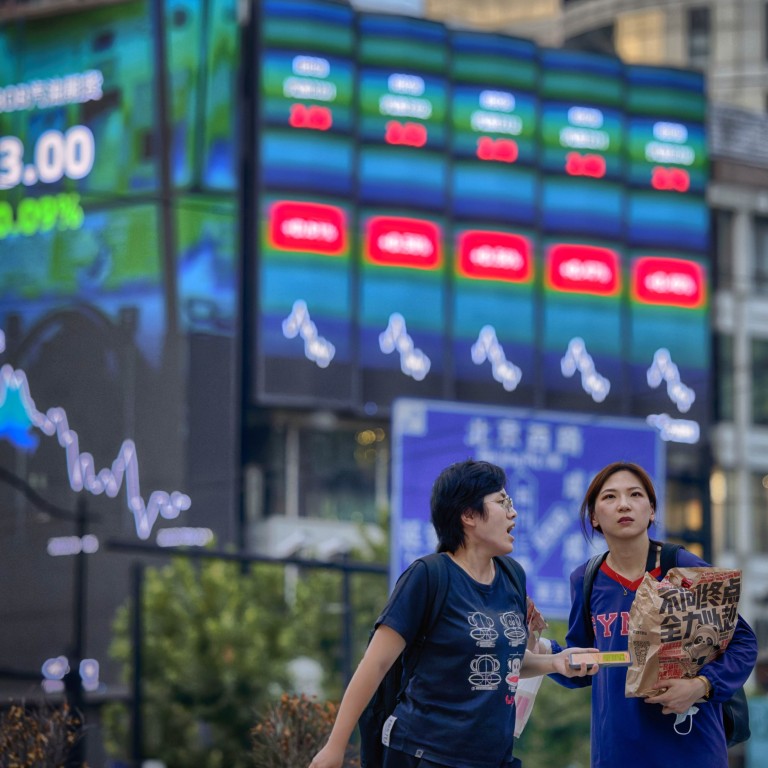 JD.com, Alibaba, CNOOC power best stock rally since April as China dangles fresh stimulus, US delisting speculation returns
China's State Council on Wednesday unveiled a slew of policy measures to boost infrastructure spending to strengthen recovery
China Tourism Group Duty Free failed to gain any upside in its trading debut, after completing a US$2.1 billion IPO this week
Hong Kong
stocks
surged by the most in four months from a five-month low after Beijing unveiled further stimulus to boost the economy amid Covid-19 and power crises. Alibaba Group and JD.com powered tech gains on speculation about progress to tackle US delisting risk.
The Hang Seng Index surged 3.6 per cent to 19,968.38 at the close of Thursday trading, the most since a 4 per cent jump on April 29, after a typhoon warning shuttered the morning trading session. The Tech Index jumped 6 per cent, also the best gain in four months, while the Shanghai Composite Index added 1 per cent.
JD.com soared 11 per cent to HK$246.20 and Alibaba strengthened 8.8 per cent to HK$93.80. Meituan, NetEase and Tencent Holdings added 4.8 per cent to 8 per cent. CNOOC soared 4.8 per cent to HK$10.82 on higher crude prices and before its interim report, while AIA added 4.8 per cent to HK$77.70 amid signs of recovery in its mainland China business.
China unveiled further measures overnight to stabilise the economy following a State Council meeting. It outlined 19 policies, including an additional 300 billion yuan (US$43.8 billion) support for policy banks to fund infrastructure projects, Xinhua News Agency
reported
.
"These measures could help offset the sharp contraction in government revenue and support infrastructure investment growth to some degree in coming months," Goldman Sachs said in a note on Wednesday.
Chinese tech stocks extended gains in late trading amid a new round of speculation that China will offer
a plan
to break the impasse on corporate audits. A solution could preserve funding access for existing US-listed Chinese companies and future IPO candidates.
Stocks
in mainland China rose after authorities announced additional measures, overturning an earlier loss. Higher crude prices also fuelled gains in domestic oil producers. CNOOC jumped 8.1 per cent to 17.68 yuan, while PetroChina rose 3 per cent to 5.49 yuan and Sinopec advanced 1.7 per cent to HK$4.23. All are due to publish their earnings today.
Chinese onshore and offshore firms accounting for about a quarter of market capitalisation have reported through August 19, with second-quarter earnings rising by 2 per cent from a year ago, according to Goldman Sachs.
"Authorities are ramping up stimulus. Yet, downbeat private-sector sentiment, coupled with China's zero-Covid policy, will continue to limit the effectiveness of stimulus measures," strategists at BCA Research said in a report on Wednesday. "The risk-reward profile remains poor for Chinese onshore and offshore stocks."
Elsewhere, markets in the Asia-Pacific region were also bullish, with benchmarks in Japan, Australia and South Korea gaining between 0.6 per cent and 1.2 per cent.