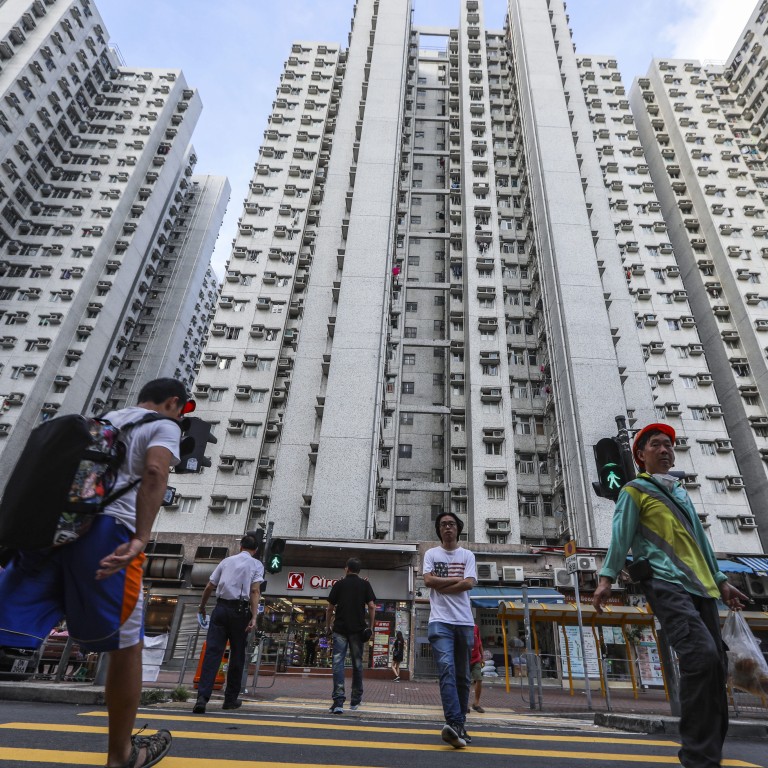 Hongkongers sell lived-in Home Ownership Scheme flats at losses, as rising interest rates weigh on sentiment
Even estates that have seen the priciest HOS flats in recent years have reported losses and prices well below market levels for lived-in homes in August
Wider losses possible, as the home price outlook remains bearish for the coming months, Ricacorp executive says
Even estates that have seen the priciest HOS flats in recent years, such as Charming Garden in western Mong Kok and Fu Keung Court in Yau Yat Chuen, have reported losses and prices well below market levels for lived-in homes in August.
In Charming Garden in western Mong Kok, a 484 sq ft flat sold for HK$4.64 million before premium, according to agents. It was between 18 and 24 per cent cheaper compared to similar flats in the estate. Charming Garden was the first estate to see an HOS flat surpass
HK$10 million in price in July 2018
.
A 401 sq ft flat at Fu Hong House in Fu Keung Court changed hands for HK$4.95 million at a loss of HK$350,000, or 6.6 per cent, this month, according to Full Mark Property Agency. The flat was bought for HK$5.3 million in early 2018. Hong Kong's most expensive HOS flat, a 645 sq ft home, was sold in this estate for HK$11 million in May last year.
"For [lived-in] HOS homes that change hands under the current market conditions, if the owner bought at a high level from 2017 to 2019 and now wants to resell, there is a great chance of loss," said Derek Chan, head of research at Ricacorp Properties. "Wider losses are also possible, as the home price [outlook] remains bearish in the coming months."
HOS offers a path to home ownership to those who meet certain income thresholds. Couples with a maximum combined monthly income of HK$66,000 (US$8,410) and assets worth no more than HK$1.85 million are eligible, as are individuals earning half that amount.
HOS flats are sold at a discount to market rates. Public housing tenants can buy either new or used flats under the scheme without paying a premium to the Housing Authority, if they surrender the homes they are renting. Those who do not qualify because their income is too high can buy lived-in HOS flats on the open market, as long as a premium is paid to the government.
A 554 sq ft flat in Kam Kai House at Kam Ying Court in Ma On Shan sold at a loss of HK$780,000 for HK$5 million this month, as overall home prices declined, according to Century 21 Goodwin. It was bought for HK$5.78 million in March 2019, when the city's economy was booming.
The losses came as Hong Kong home prices fell by 1.6 per cent in July, sinking to an almost two-and-a-half-year low, amid rising interest rates and Covid-19 rules that continue to weigh on the city's economy and the property market. The trend is likely to continue.
Some property owners who would like to emigrate, are eager to cash out and leave Hong Kong even though sentiment in the second-hand market continues to decline, according to Century 21 Goodwin.
The number of lived-in HOS transactions, however, declined to a three-month low of just 340 in July, according to Land Registry data. The average price also declined 2.1 per cent to HK$5.05 million.
This number could fall further to about 300 this month, with the average price also softening further, because of cheaper new flats being launched by developers and rising mortgage rates, said Ricacorp's Chan.
Hong Kong has already recorded the lowest number and value of HOS deals in two-and-a-half years in the first half of 2022, because of the fifth wave of the city's Covid-19 outbreak, Chan added.
In the overall private housing market, the proportion of loss-making deals 6.5 per cent in July, or 105 deals, according to Ricacorp, the highest level in more than 12 years.
The city's homeowners and potential buyers are braced for higher mortgage rates since the US Federal Reserve embarked on a rapid succession of interest rate hikes in March to tame the fastest inflation in America in four decades.
The Hong Kong Monetary Authority, the de facto central bank, has increased its base rate in lockstep under its linked exchange rate system with the US dollar.
The US central bank has raised its benchmark rate in four consecutive meetings from March, and the market widely expects another increase of 50 to 75 basis points in September.