Is China heading for stagnation as property slump goes Japan's way in a deja vu crisis
The spectre of a real estate crisis blowing up to become a full economic crisis looms large in China, Natixis says
Beijing is likely to intervene to stabilise the financial market to prevent and avoid a property bubble such as that in Japan, National University of Singapore professor says
China's real estate assets
are facing the risk of a protracted pricing decline, if Japan's experience in dealing with its own property bubble and more than two decades of economic stagnation are anything to go by, analysts said.
The spectre of a real estate crisis blowing up to become a full economic crisis in the world's second-largest economy looms large, as household consumption and investment are likely to take a severe blow and the fiscal resources of the government are also limited because the funding crunch in the property segment also impacts land sales, a major source of revenue, according to Natixis Corporate and Investment Banking.
"It does look a little bit worrisome," said Alicia Garcia Herrero, chief Asia-Pacific economist with the French investment bank. "It's well known that if you have very low prices, that feeds asset price inflation. It happened in Japan and it's what can happen in China, given that China has been undergoing deflationary pressures for so many reasons. One is ageing, the other is the idea of bursting of the bubble. For me, it looks like asset prices will need to correct structurally, but especially real estate prices."
In the 1980s, with the Japanese having excessive savings and an easy monetary policy, the population kept buying property. This led to a massive property bubble in the 1990s, as investors were speculating that property prices would keep rising. The ensuing bubble led to Japan's "lost decade", when its economic growth stagnated and deflation was a consistent feature of the economy, according to Natixis.
In China's case, the high debt levels of private developers have been brought to the fore by Beijing's "three red lines", a set of requirements intended to curb risky borrowing. Unable to tap more loans, China Evergrande Group and other weaker developers have defaulted on their bond payments.
Chinese developers owed as much as U$5 trillion as of the second quarter of 2021, according to Japanese bank Nomura.
The property industry's problem is likely to create a vicious cycle for the economy, as it accounts for slightly over a fifth of total fixed-asset investment. Fixed-asset investment plummeted to about 5 per cent in July.
Meanwhile, land sales, which also contribute about a fifth to government revenue, are likely to be impacted by the property slump as developers are unlikely to acquire parcels of land during a downturn and when funding is tight, according to Natixis.
Property sales
are unlikely to provide relief to embattled developers, with rating agency Moody's Investors Service predicting that
demand
will continue to decline in the next six to 12 months.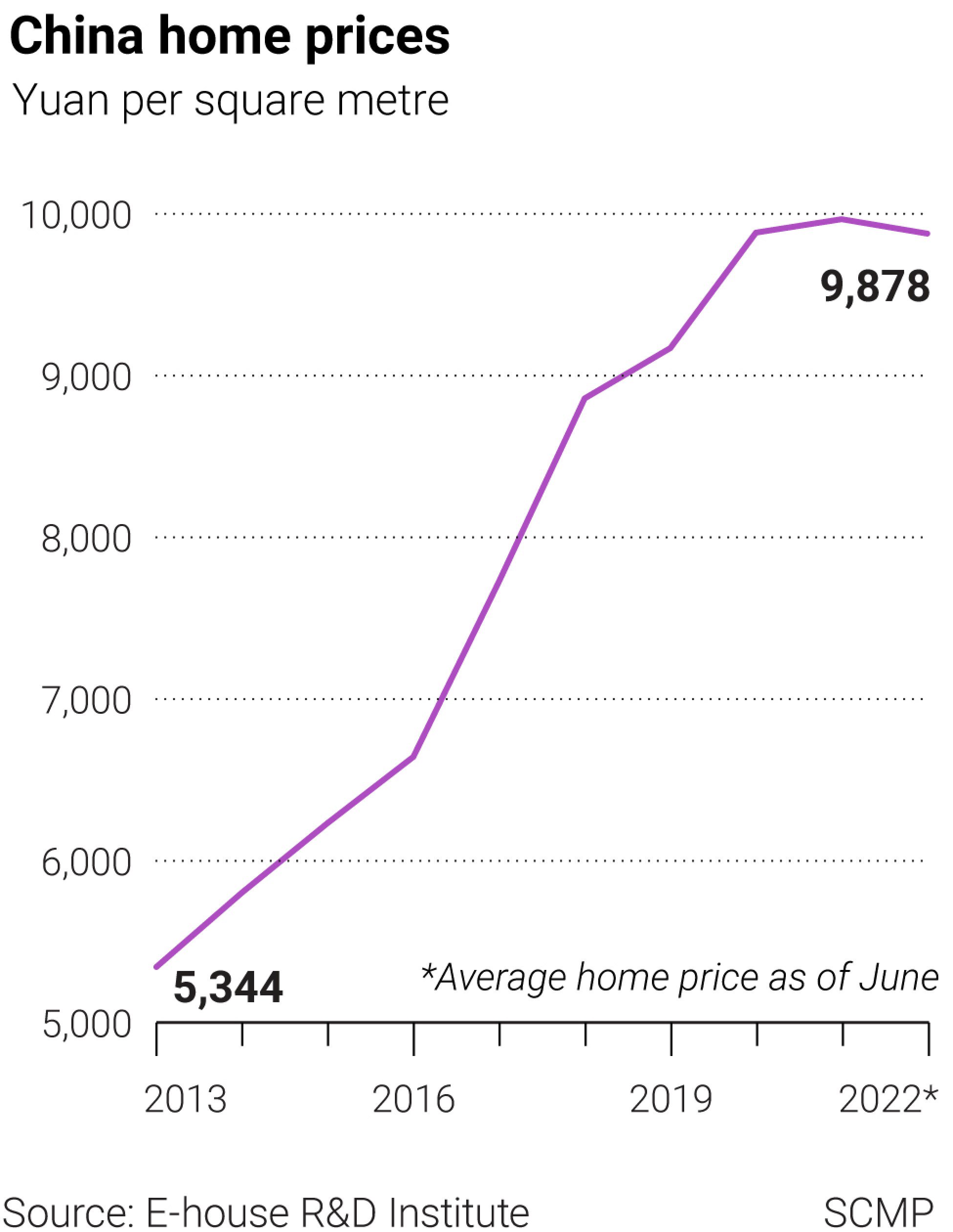 Last year, Cathie Wood, founder of investment management firm Ark Investment Management, warned that China's asset bubble might burst the way Japan's did in the 1990s, and urged Beijing to reduce excessive borrowing in the real estate sector.
But some analysts said there remain big differences. For instance, Beijing has much greater oversight of the housing market than Tokyo did because of administrative controls.
"The real estate market is strongly linked with upstream and downstream industries in China's economy," said Sing Tien Foo, professor and director of the Institute of Real Estate and Urban Studies at the National University of Singapore. "If the worsening real estate debt problem is unabated, it could create significant knock-on effects on the economy."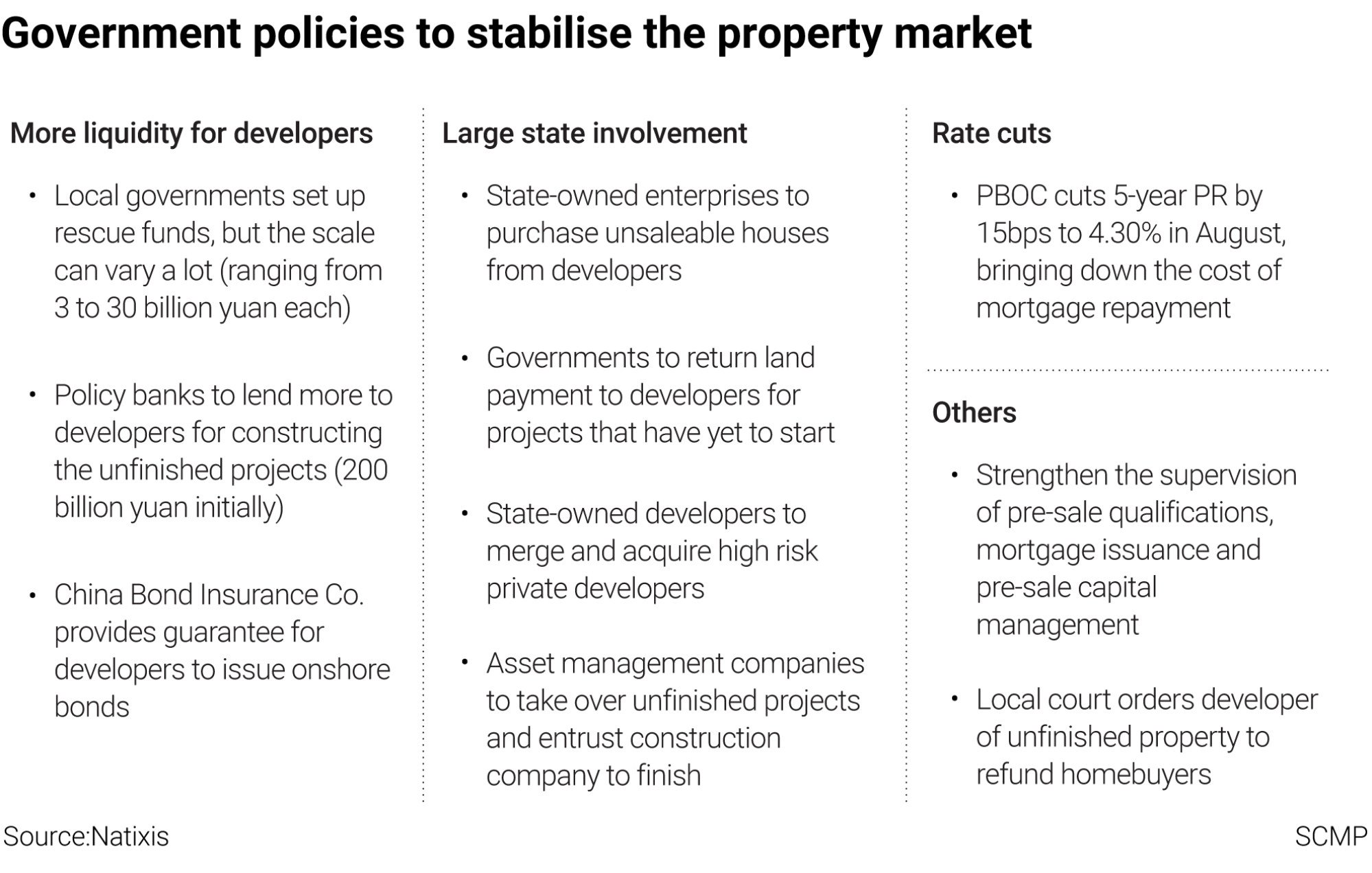 The Chinese government is likely to intervene to stabilise the financial market to prevent and avoid a property bubble such as that in Japan, or a repeat of the US subprime crisis in 2007, Sing said.
To stave off instability in the financial sector, China is injecting 320 billion yuan (US$46.2 billion) into the banking system this year. Some of these funds are proceeds from local government infrastructure bond offerings that have been redirected towards banks.
Also, unlike in Japan, where the bubble was fed by speculation, the demand for housing in China "remains strong", according to Martin Wong, director and head of research and consultancy in Greater China at Knight Frank in Greater China.
"We are not seeing a property bubble in China, as end-user demand remains strong," Wong said. Any decline in demand "is mainly due to a short-term setback in buying confidence regarding the current debt issue and economic growth".
China might also yet avoid going down Japan's path to a property bubble and economic stagnation because Beijing has more tools to prevent a hard landing, said Kohei Iwahara, senior economist, Japan and Pacific at Natixis.
"Compared to Japan in the late 1990s, China has better established macroprudential policies, [and] better legal frameworks for bankruptcies and non-performing loans," he said. "China also has tools to control supply of the real estate market. The essence is China has more resources in the hands of the state, which can be mobilised to affect demand and supply. Still, the moves are not free as they can still be costly to the society as a whole."