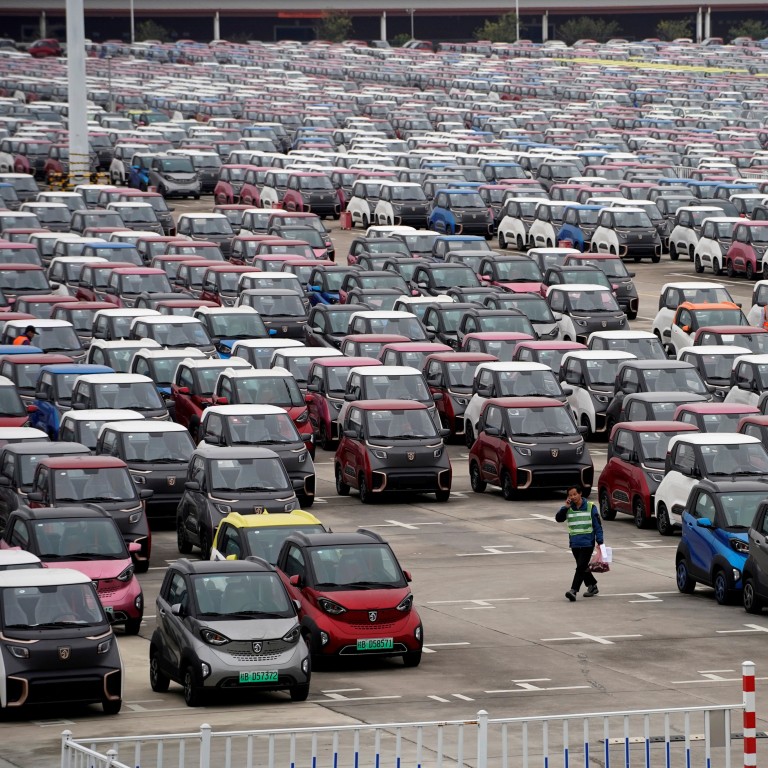 GM, Mercedes-Benz pile among carmakers banking on China for EV sales, not doing enough on climate crisis, Greenpeace says
Sales of zero-emission vehicles did not exceed 9 per cent of the total at any of the world's 10 biggest manufacturers last year, Greenpeace says
Carmakers are relying heavily on China to increase sales of such vehicles
The world's largest carmakers have relied heavily on the Chinese market to increase the sales of
zero-emission vehicles (ZEVs)
, and are not moving away from fossil fuels at a rate sufficient to limit global warming, Greenpeace East Asia said.
This comes despite sales of ZEVs reporting their biggest increase globally in a decade last year, the environmental group said in a report released on Thursday. Progress has been uneven across carmakers and geographies, it added. Greenpeace defines ZEVs as electric cars that do not emit pollutants or carbon when operating. In this report, battery-powered electric vehicles (EVs) and fuel cell EVs are regarded as ZEVs, but plug-in hybrid EVs are not.
Greenpeace found that ZEV sales did not exceed 9 per cent of the total at any of the world's 10 biggest car manufacturers – including
General Motors (GM)
, Mercedes-Benz,
Volkswagen
and Ford – in 2021. Japan's Toyota received the lowest score, with ZEVs comprising just 0.18 per cent of its total sales last year. Toyota also lagged behind on supply chain decarbonisation, Greenpeace said.
"There is a lot of hype around EVs right now, but the reality on the ground is that traditional carmakers are not doing nearly enough to transition to ZEVs," said Ada Kong, project lead at Greenpeace.
The report is significant because Greenpeace suggests the car industry is not transitioning away from fossil fuels quickly enough to keep the planet's average annual temperature rise within 1.5 degrees Celsius.
It urged carmakers to adopt ambitious ZEV transition strategies across all markets. Carmakers should stop selling conventional vehicles in Europe by 2028 and in the United States, China, South Korea and Japan before 2030. The transition to ZEVs must be implemented alongside investment in battery recycling, decarbonisation of the steel supply chain, and ensuring a just transition for industry workers to protect their rights and well-being.
The environmental group evaluated the world's 10 largest carmakers based on their phase-out of internal combustion engine vehicles, supply chain decarbonisation and resource reduction and efficiency.
Nissan and Honda, two other Japanese carmakers, were ranked third and second to last because of their slow transition to ZEVs and weak climate targets. In 2021, ZEVs comprised just 0.35 per cent of Honda's total vehicle sales.
GM and Mercedes-Benz received top scores, but ZEV sales at both companies only made up a small portion of their overall tallies, at 8.18 per cent and 3.82 per cent, respectively.
Globally, 4.6 million ZEVs were sold last year, more than doubling the 2 million units sold in 2020, their biggest increase in a decade. But the figure is still too small when compared with 80.4 million vehicles sold globally in 2021, according to Greenpeace.
The environmental group also found that carmakers were relying heavily on China, which is the world's largest auto market and
offers extensive subsidies
to EV buyers, to increase sales of ZEVs. About 96 per cent and 83 per cent, respectively, of GM's and Honda's ZEV sales during the first half of 2022 took place in China. In the same period, ZEVs only made up 2 per cent of Honda's sales in Japan and 3 per cent of GM's US sales.
The report also found that carmakers have not issued sufficient commitments to decarbonise steel and upstream materials, while sales of sport utility vehicles, which consume on average a quarter more energy than medium-size cars, are on the rise, accounting for nearly half of the global market share of private cars in 2021.
Some of the world's largest automobile markets are, however, already taking action. In China, battery-powered EVs comprised 11 per cent of all car sales in 2021, compared to just 6 per cent the previous year. The European Union, Canada and California in the US have also taken steps to ban the sale of new conventional vehicles by 2035, while Norway and the UK are working towards 2025 and 2030 deadlines, respectively.
"The climate crisis is already here, and we are increasingly feeling the impacts," Kong said. "The world's biggest auto brands need to recognise their own contribution to the climate crisis and commit to a full transition to ZEVs within the decade."