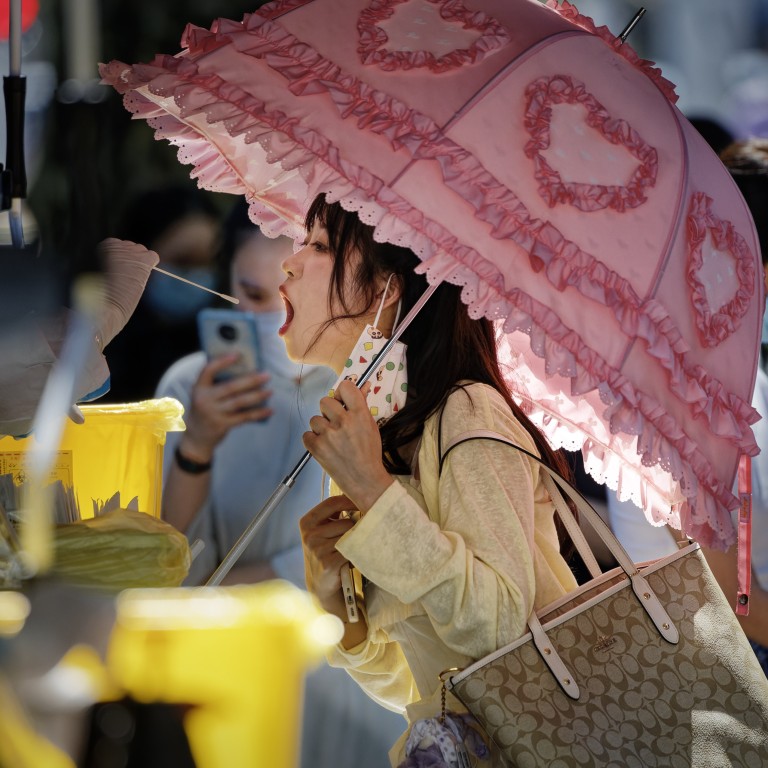 China's carbon neutral goal: 9 billion Covid-19 tests have generated at least 5.4 million tonnes of greenhouse gases since 2020
When Covid-19 tests are performed millions of times globally on a daily level, 'there will definitely be some impact', Beijing University of Chemical Technology professor says
According to data provider Our World In Data, China has performed more than 9 billion tests from the start of 2020 to April 11 this year
The life cycle of a single Covid-19 nucleic acid diagnostic test in China could lead to the emission of 0.6 kilograms of carbon dioxide, roughly half the
carbon emissions
of a person's daily electricity usage in the country, a group of researchers has found.
The production of testing kits, transport, testing and waste treatment all cause greenhouse gas (GHG) emissions and air and water pollution, the researchers said in a new study published in the Environmental Science & Technology journal last week.
Improved approaches to waste treatment, low-carbon transport and the use of more environmental friendly materials should be considered to achieve sustainable and green diagnostics, as the world continues to battle the coronavirus pandemic and some countries led by China implement a zero-Covid policy with mass testing being conducted nationwide to prevent outbreaks, the researchers said.
"Even though Covid-19 diagnostics are of the greatest importance to end the pandemic, their environmental impact should not be ignored," the researchers from institutions including Guangdong University of Technology, Beijing University of Chemical Technology (BUCT) and University of Michigan, Ann Arbor, wrote in the paper.
"When we see a small (testing) kit, we often tend to ignore its environmental impact. But when it's performed millions of times globally on a daily level, there will definitely be some impact," Su Xin, professor of biomedical engineering at BUCT and one of the authors of the paper, told the Post last week.
China has adopted stricter Covid-19 policies since
an outbreak in Shanghai
this March. Dozens of cities across the country have imposed lockdowns and travel restrictions. Some cities, such as the southern technology hub Shenzhen, have made Covid-19 tests the norm since March, with residents required to take them every 24, 48 or 72 hours through a huge network of free testing facilities.
The researchers examined the environmental impact – including GHG emissions, heavy metals and water pollutants – of a single Covid-19 test in China by following a full cradle-to-grave life-cycle approach.
A typical Covid-19 test normally starts with a technician using a disposable swab to collect respiratory material from the nose or mouth of a patient, sealing it in a tube containing the virus transport medium and then transferring it from the testing station to the clinical laboratory. This is followed by RNA extraction, nucleic acid amplification and testing in the laboratory. The medical waste is then disinfected and disposed of in a high-temperature incinerator.
The researchers found that the total GHG emissions per test are 612.9 grams, with a majority being carbon dioxide and a little methane. "The combined GHG emissions of two nucleic tests performed are roughly equivalent to the emissions from electricity that a Chinese resident uses every day," Su said.
China has not disclosed the total number of such tests it has performed since the outbreak of Covid-19 in 2020. According to data provider Our World In Data, however, China has performed more than 9 billion tests from the start of 2020 to April 11 this year, 10 times more than the United States, the second-biggest country in terms of the number of Covid-19 tests done.
This implies that at least 5.4 million tonnes of GHG emissions could have been generated due to Covid-19 tests in China since 2020. The country, which
pledged to achieve net-zero carbon emissions
in 2060, emitted more than 11.9 billion tonnes of GHG in 2021, or 33 per cent of the global total.
A breakdown of the Covid-19 testing process also reveals that waste treatment accounts for most of the emissions – 71.3 per cent of the total. Testing kit production and transport contribute to 14.5 and 13.3 per cent of the total, respectively.
The waste treatment process is a heavy emitter, as all the waste is sterilised with high-temperature steam and disposed of in a high-temperature incinerator of 850 to 1,200 degrees Celsius, both of which require significant energy arrangements.
The transport process is also of concern, as the testing kits must be kept at minus 20 degrees Celsius during transport to maintain the activity of their ingredients, and conventional diesel vans are currently the most common existing medical cold-chain logistics pathway in China. For long-distance transport, extra cooling is required, which consumes additional fuel. The average delivery distance of a testing kit from manufacturers to testing centres is about 5,960 kilometres in China, the study found.
The GHG emissions from the testing process come from the electricity consumption of the testing equipment, which usually takes 7 to 15 minutes to extract nucleic acids, followed by one-and-a-half hours in a polymerase chain reaction thermal cycler for the testing results.
In reality, the environmental impact of Covid-19 tests could be even larger, as the impact of transporting medical waste from testing centres to waste treatment plants is excluded due to data being unavailable, the researchers said.
They suggested three possible environmental impact mitigation strategies for Covid-19 testing: using more environmentally friendly and recyclable materials in testing kits; revising existing medical waste treatment methods; and using electric vehicles during transport.
"I hope the relevant companies and policymakers notice this issue," Su said. "Covid-19 testing is still necessary under the current pandemic situation, but there should be ways to make improvements to reduce its environmental impact."