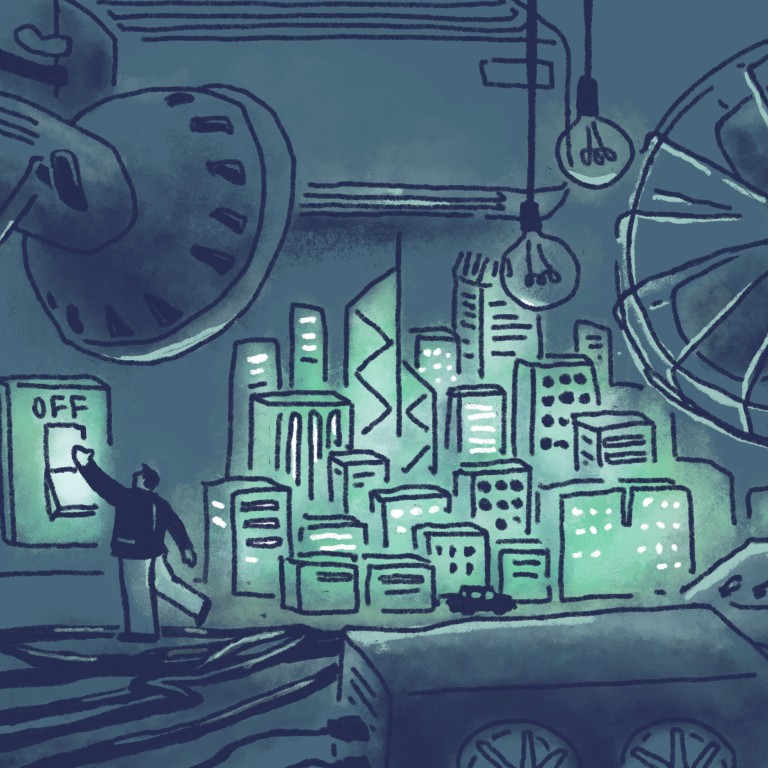 From AI to cooling paint: how smart tech helps Hong Kong buildings cut the cost of staying green
Buildings account for about 90 per cent of electricity consumption in a city famed for its densely packed skyscrapers
Developers, landlords and construction firms are using the latest technologies to address the environmental impact
Deep within the bowels of Exchange Square near the southern shore of
Victoria Harbour
, sitting about five metres under one of Hong Kong's most vital buildings, a subterranean system is noisily transforming how one of the world's most
crowded cities
cools itself – and reduces its carbon footprint in doing so.
Seawater from the harbour is pumped directly in to cool the air-conditioning system of Exchange Square, which houses the city's financial market place and several consulates among its three office blocks and a shopping centre. Around 64,000 cubic metres of seawater flows through the system every day – enough to fill 26 Olympic-sized swimming pools.
The system uses up to 35 per cent less energy than
conventional air-cooled systems
, a major saving for the owner, Hongkong Land, which uses almost half of its energy consumption in Central district alone on air-conditioning.
"We pioneered the direct seawater cooling system in Hong Kong," said Hongkong Land's technical manager, Derek Chan, amid the heavy thrum of the underground plant room during a tour of the developer's
Central
portfolio. "The chiller plants are controlled automatically now, so you won't find any operator stationed here."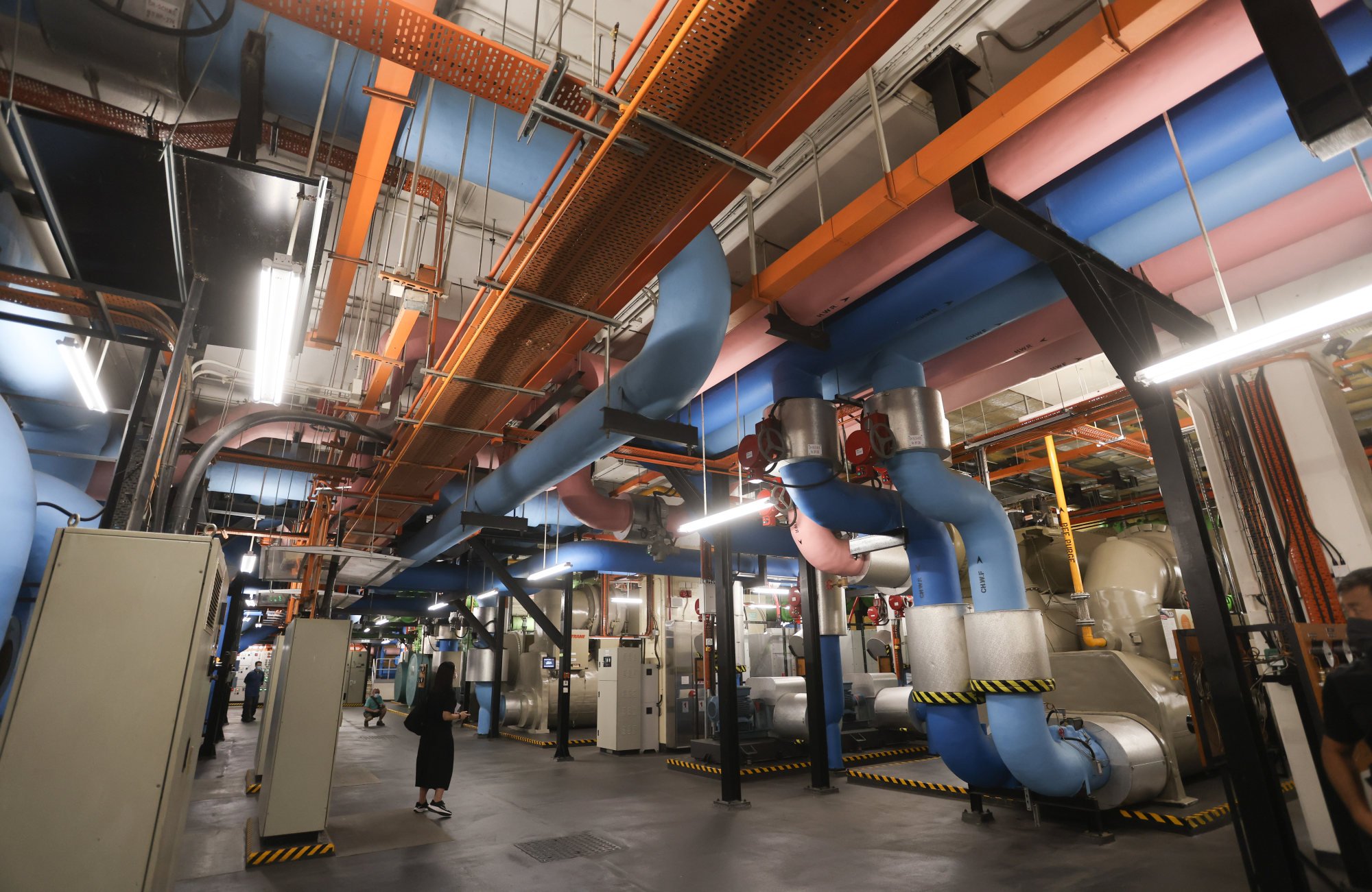 Hongkong Land, a unit of the Jardine Matheson conglomerate, has been using seawater since 1963 to cool its 450,000 square metres of real estate closest to
the iconic harbour
. The effort is monitored and managed from the top floor of Two Exchange Square, where artificial intelligence, machine learning, the
Internet of Things (IoT)
and other 21st century technological applications congregate in a 400-square metre command centre for the company's portfolio of 12 buildings in Central.
All this helped the developer achieve a 30 per cent energy saving and a 40 per cent reduction in carbon emissions at the end of 2021 compared with 2008 when it conducted its first comprehensive energy audit.
"Working with existing buildings presents challenges, but we are determined to overcome these with new technologies and systems," said Andy Yeung, director and head of technical services at Hongkong Land, in an emailed interview.
Hong Kong has over
10,000 high-rise buildings
, of which over 2,000 are skyscrapers standing taller than 100 metres, according to building information directory Emporis. It is hardly surprising that the built environment represents a major source of carbon emissions.
The government has set a goal
to reduce the electricity consumption
of commercial buildings by 30 per cent to 40 per cent, and that of residential buildings by 20 per cent to 30 per cent by 2050 from 2015 levels. It hopes to reach the halfway point of those targets by 2035.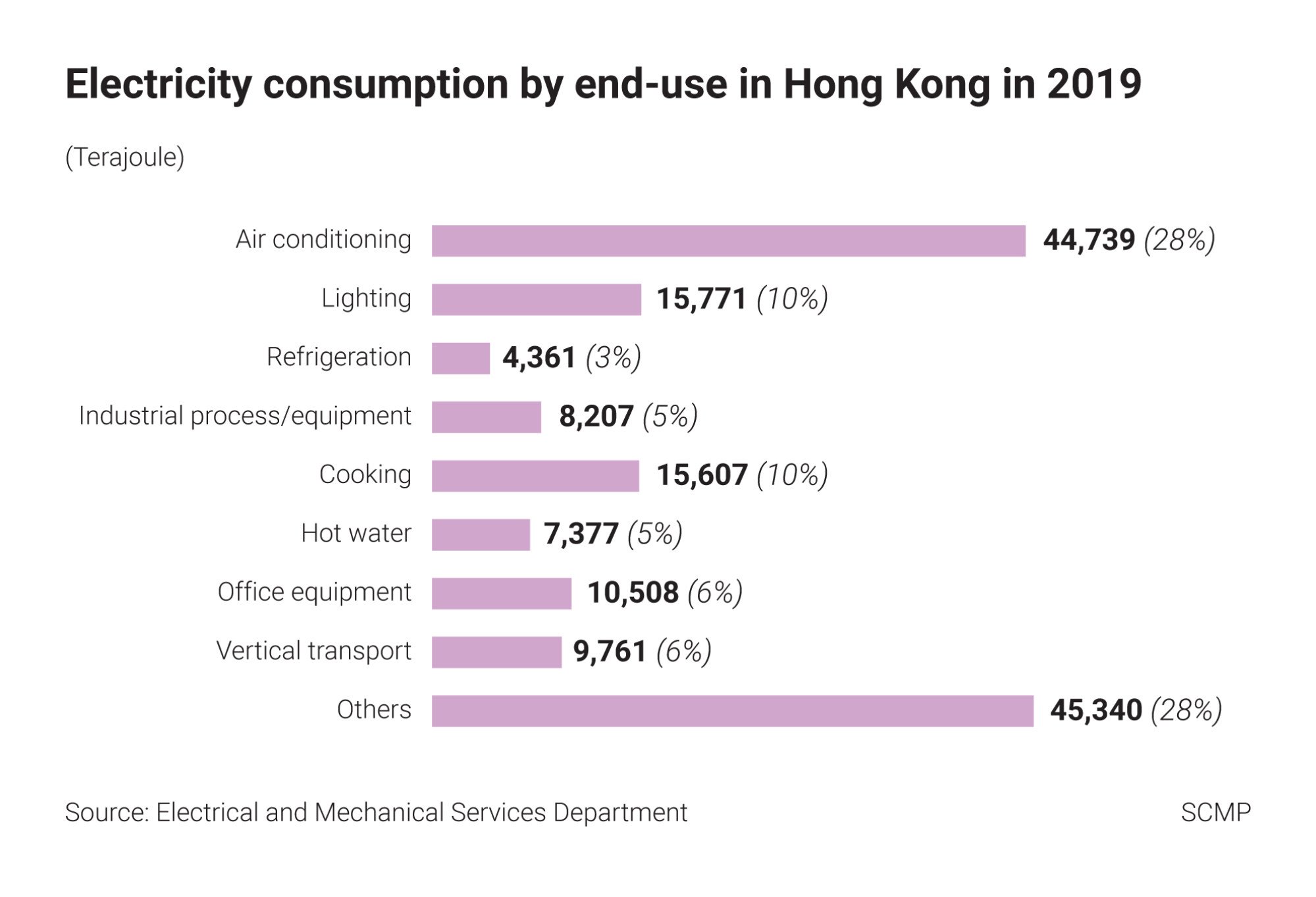 Electricity generation continues to be the major source of emissions in Hong Kong. It accounted for about 60 per cent of total emissions in 2020, sending some 20.4 million tonnes of
carbon dioxide into the atmosphere
, according to the latest data released by the Environmental Protection Department in June. Other major emission sources were the transport sector at 19.7 per cent, and waste management at 8.7 per cent.
Another big Hong Kong commercial landlord, Swire Properties, launched its
Green Performance Pledge
, an initiative that covers the entire tenancy cycle in the areas of office fit-out and operations to help improve its carbon footprints and energy efficiency.
Property consultancy JLL installed a smart power-metre system at its office in One Taikoo Place as part of the scheme. The system helps to monitor energy use in different zones and appliance categories.
JLL discovered that almost half of the electricity was consumed outside office hours.
It removed underused equipment including an icemaker, which led to a 9.3 per cent reduction in energy use in its social hub and work cafe areas between last October and June of this year.
The property consultancy
has also been exploring raising the thermostat of the air conditioning units in the server room, and will replace all existing lighting – more than 1,000 bulbs – with more efficient LED lights to improve energy efficiency.
"Working with a landlord to optimise your own performance also optimises the performance of the building. So it goes both ways," said Helen Amos, head of sustainability at JLL in Hong Kong. "Either side cannot achieve the challenge without working together."
The
decarbonisation
of its Hong Kong offices should help the consultancy reach its goal of net-zero carbon emissions for all the buildings it occupies by 2030, said Amos. JLL is also looking to use clean energy where possible, and buy renewable energy certificates, or their equivalents, in local markets.
Dutch asset manager APG Investments Asia, an office tenant of Swire Properties in Three Pacific Place, participated in the fit-out portion of the Green Performance Pledge and managed to reduce carbon emissions in its new office by 10 per cent on an annual basis, compared to its previous premises in Central.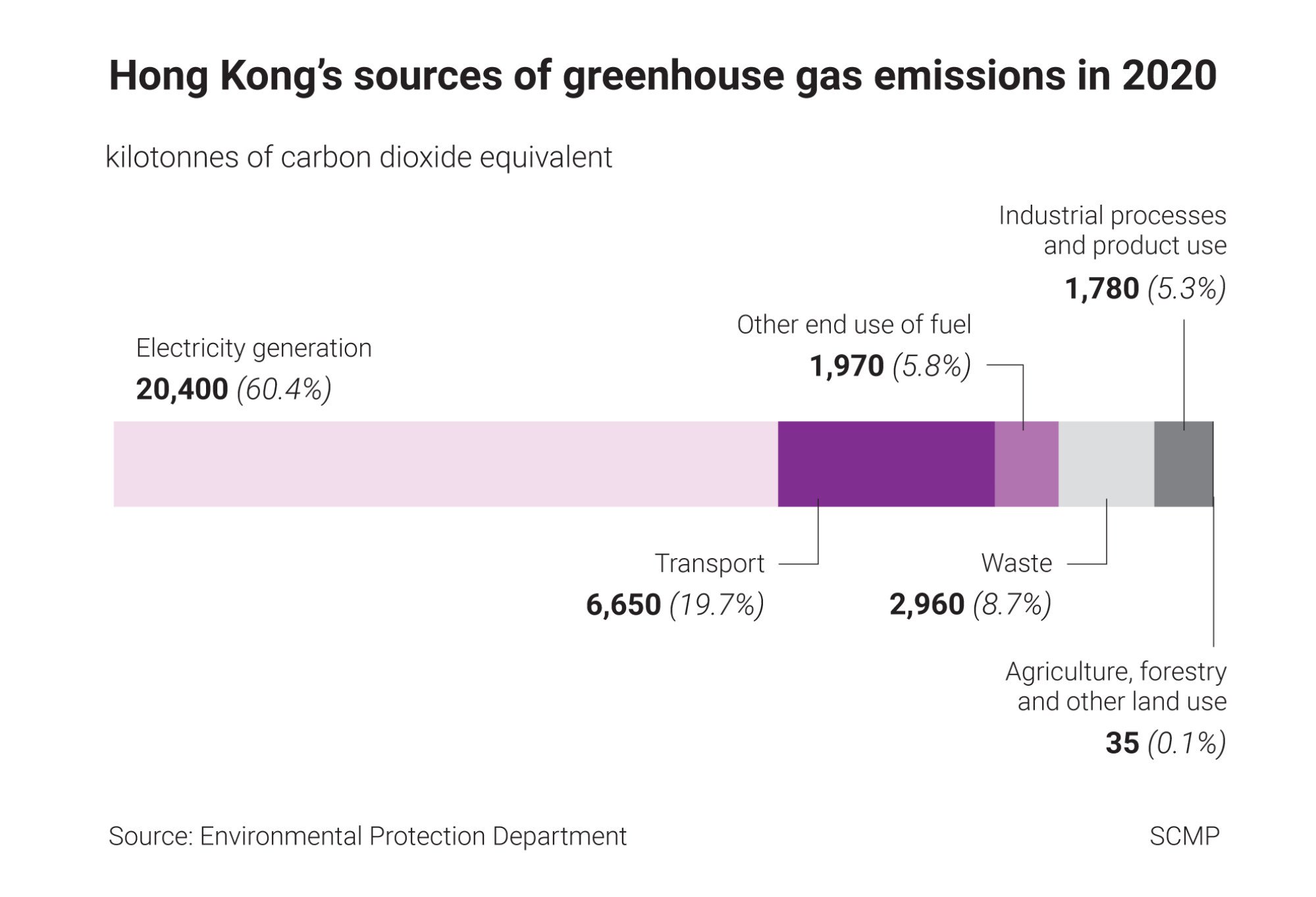 This was helped by adopting energy saving features such as the use of motion and daylight sensors throughout the office.
"The most important part is how we now operate this asset for the next 20 years. We can start to look at even newer technology," said Jonathan Waite, senior responsible investment manager at APG Asset Management Asia.
Chief finance and risk officer Thijs Aaten added: "Ultimately you will have to be net zero. If you're dodging the bullet now, it will catch up with you."
Swire Properties has developed a smart waste-reduction pilot programme for its tenants in partnership with Spare-It, a cleantech start-up based in Boston, US. Smart scales were fitted under rubbish bins to collect live waste disposal and recycling data in offices, and display screens were set up to showcase the waste reduction progress of participating teams.
"With this information, we're able … to understand exactly where to focus and how to generate less and less waste," said Jose Moreno, Spare-It's general manager in Hong Kong.
The seven-month challenge involving 15 teams from seven office towers managed by Swire Properties resulted in a 14 per cent reduction in waste per employee. The programme also diverted 41 per cent of total waste by weight from landfills.
According to Spare-It's calculations, the scheme saved 51,847kg of carbon dioxide emissions, equivalent to the planting of 1,250 trees, said Moreno.
Spare-it is not the only start-up turning to digital solutions to make buildings more environmentally friendly.
Hong Kong engineering technology firm Negawatt Utility has developed a digital centralised platform to manage the carbon emissions of buildings.
"With IoT and data analytics, we can understand how the building is operating and give suggestions on how to fine-tune, for example, why buildings are sometimes too hot and too cold," said Arthur Lam, CEO of Negawatt.
The company partnered with Schroders Capital in 2019 to conduct a pilot project at its Worfu mall, a community shopping centre in North Point. Since then, the start-up has helped reduce energy use by about 200,000 kilowatt hours (kWh) – equivalent to 14 tonnes of carbon emissions being avoided – through the optimisation of the chiller plants that provide cooling.
"Negawatt's platform has also allowed us to draw on the data to make assumptions on how we can set KPIs [key performance indicators] to make our asset more efficient" to lower our carbon footprints further, said Tracy Wong, asset manager at Schroders Capital real estate Asia-Pacific.
Air conditioning accounted for 28 per cent of Hong Kong's electricity consumption in 2019, according to data from the Electrical and Mechanical Services Department.
A team of PhD students and research staff from City University of Hong Kong have looked into ways of reducing the use of air conditioners as a means to lower environmentally harmful emissions.
They
founded I2Cool in June 2021
and launched their first product, iPaint, a cooling paint which can reduce the surface temperature of buildings without relying on air conditioning and thus lower the electricity consumption of cooling systems.
The paint, which is patented in Hong Kong and mainland China, was inspired by the self-cooling skin of Sahara silver ants. It reflects more than 95 per cent of solar radiation and emits infrared heat.
When compared to normal white paint, iPaint can result in an immediate cooling effect of between 4 and 7 degrees Celsius when applied on the roof tops of buildings, said Martin Zhu, co-founder of I2Cool.
Using one square metre of iPaint can save 120 kWh of electricity and eliminate 70kg of carbon dioxide emissions annually, equivalent to planting six trees, according to the company's website. The product has been used by the Urban Renewal Authority, the Civil Engineering and Development Department, as well as developers such as Henderson Land and Hang Lung.
Reducing the
embodied carbon of buildings
– the emissions associated with materials and construction throughout the whole life cycle of a building – is crucial to decarbonising the built environment.
Largely overlooked, embodied carbon contributes around 11 per cent of all global carbon emissions, according to the World Green Building Council.
To this end, construction companies and contractors such as Gammon Construction have been employing materials with a lower carbon footprint.
Gammon has over 480 certified low-carbon concrete products, with a roughly 15 to 30 per cent lower carbon footprint than normal concrete, according to chief executive Kevin O'Brien.
"The reason why concrete is a challenge is because part of the recipe is cement, and cement uses a lot of energy to produce, both to extract its raw materials, and then the energy necessary to produce cement," said O'Brien.
The
production of concrete
accounts for around 8 per cent of the world's carbon dioxide emissions, according to London-based think tank Chatham House.
As of July, the total net floor area of environmentally certified grade A buildings in Hong Kong reached 28.3 million square feet, accounting for 38 per cent of total prime office stock, according to a report by property consultancy Colliers released on Wednesday.
"We suggest landlords upgrade their assets early to gain the upper hand in the office market. The competitive advantage of being an early sustainability adopter will likely fade as government regulations push everyone to reach similar standards," Colliers wrote in the report.
More than 85 per cent of the
buildings in Hong Kong
are over 10 years old, according to JLL's
Decarbonising Cities and Real Estate
report in May.
At the current rate of construction, between 60 and 80 per cent of the buildings in Hong Kong that will be in existence in 2050 have already been built.
"We create new buildings that are very efficient, but we've also got very good, well designed older buildings that, with systems upgrades, could be some of the best buildings in Hong Kong," said JLL's Amos.
"They're not so snazzy, but actually, their performances are up there, just with a retrofit."