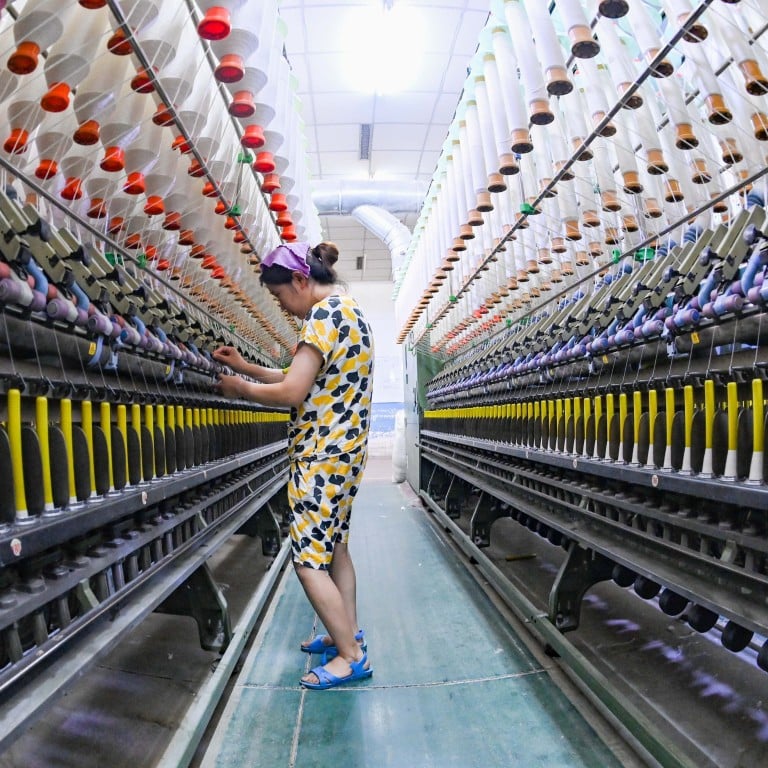 Climate change: Hong Kong-based Esquel opens green unit as textile firms aim to make China-made products sustainable
The industry's green movement is in its infancy, but has great potential given global concerns and China's decarbonisation policy, industry analysts say
The market potential for sustainable fashion is huge, but greater industry coordination is needed to drive efforts, they say
Hong Kong and mainland Chinese companies in the textile and garment industry are trying to burnish their image and do right by the environment by adopting more sustainable practices.
The industry's green movement is still in its infancy, but has great potential given global environmental concerns and China's decarbonisation policy drive, industry analysts said.
This month, Hong Kong-based Esquel Group, one of the world's largest garment producers and suppliers, opened up a green manufacturing park in Guilin, Guangxin province, to showcase its innovations and efforts in sustainable supply.
The company demonstrated what it calls waterless dyeing technology. The process reduces water use in the overall dyeing process by 95 per cent while eliminating the use of salt and reducing energy consumption by almost 40 per cent, according to the company.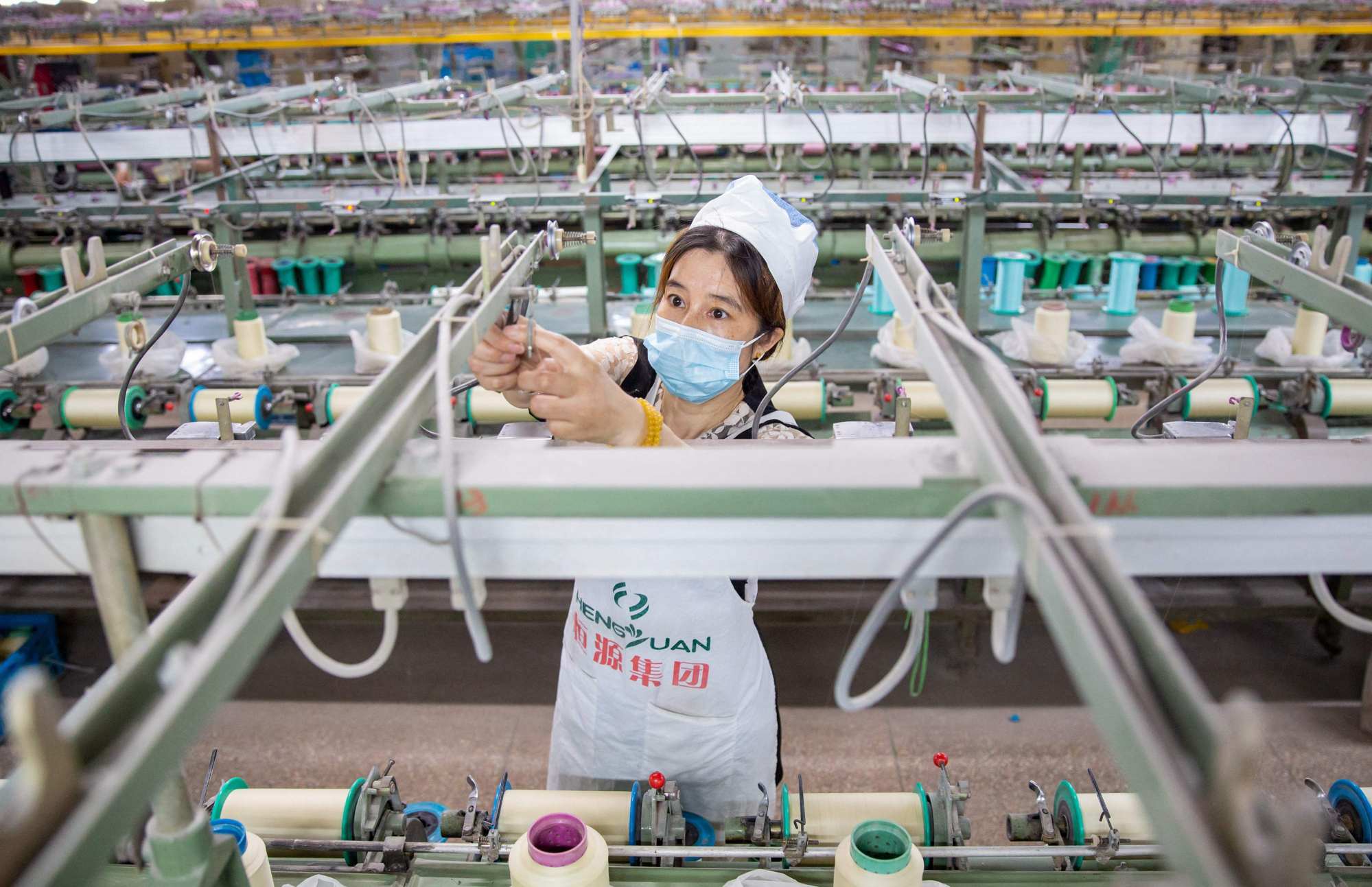 Esquel has been working with research institutes across China to develop cotton with high resilience against climate change and diseases, and has also invested around US$5 million in sustainable projects related to clean energy and smart manufacturing through its newly established Esquel Ventures.
The company reduced its carbon footprint last year by a quarter compared to 2018 levels and will achieve carbon neutrality for its owned and controlled greenhouse gas emissions (GHG) by 2050, CEO Edgar Tung said in Guilin this month.
"Esquel alone is not enough to achieve sustainable development," he said. "We must cooperate with other organizations to actively promote the concept of sustainable development."
Other fashion industry companies in China are also actively promoting sustainability.
Icicle Group, a Shanghai-based brand focusing on sustainability and use of natural fabrics, took the top spot on online marketplace Tmall's Singles' Day sale in 2020 in the luxury womenswear category, above well-known international brands such as Theory and Sandro. Several other players in China's textile manufacturing scene, including cashmere brand Erdos Group and Hong Kong-based Crystal International Group, are also advocating sustainable fashion and including it in their business strategies.
Sustainable development in China's textile and apparel industry lags that in Europe and the US, said Karen Du, the head of Shanghai-based R.I.S.E. Lab, an organisation dedicated to sustainable fashion.
"However, with the guidance of national policies such as in environmental protection and carbon neutrality, as well as with consumers' increasing awareness of sustainable consumption, the market potential is huge," Du said.
Sustainable development in China is a top-down affair, with international and domestic policies driving brands and manufacturers, according to Vincent Djen, co-founder of Shanghai-based Remakehub, a social enterprise that provides circular solutions for fashion waste pollution.
"The US and EU have dominant voices in the fashion industry," Djen said. "They bring the trend and culture of sustainable fashion to China and affect China's fashion industry."
The fashion industry is responsible for up to 8 per cent of global GHG emissions, according to the United Nations (UN) Environment Programme last year. In 2019, the UN launched the UN Alliance for Sustainable Fashion, seeking to halt the environmentally and socially destructive practices of fashion.
Government policies demanding sustainable manufacturing also have an impact on China's garment and textile industry, according to Du. An example is Europe's promotion of the EU
carbon border adjustment mechanism
, which aims to impose a tax on imports manufactured in countries where decarbonisation standards fall below those of the EU.
China's own requirements for a more sustainable industry are also a major driving force, according to Djen. China announced in 2020 its goal of the whole country achieving
net-zero GHG emissions by 2060
. In April of this year, the central government issued guidelines on
accelerating the recycling of waste textiles
, a move that should further promote the industry's sustainable transition.
An increasing number of domestic brands in China are also improving their performance in sustainable development, from raw material procurement to production, according to Du. For example, both HowBottle, which turns plastic bottles into backpacks and jackets, and Klee Klee, which focuses on eco-friendly and minimal clothing designs, have gained popularity among Chinese consumers this year.
So far, China's domestic apparel and textile industry has tended to focus more on environmental sustainability, due to China's emphasis on the net-zero emission goal, than on other areas of the environmental, social and governance (ESG) spectrum, experts said.
Esquel last October issued a report highlighting its progress in meeting the United Nations' Sustainable Development Goals and said that it will work on improving employees' well-being and aims to "provide decent jobs for all".
The company has been entangled in the US-China geopolitical tensions since 2020, with the US Department of Commerce placing Esquel's Xinjiang subsidiary on the Entity List for alleged use of forced labour in July 2020, which prohibits it from buying from American suppliers.
The company, which denied the accusation and filed a lawsuit against the US commerce department last year, said in a statement in 2020 that the income of its Xinjiang employees is two to three times higher than the local average, and said that it did not use any form of forced labour in its facilities.
"China has passed the early years like in the 1990s and 2000s, when the wages were not up to standard," said Djen. "Foreign countries have some prejudice against products made in China, but I think this is getting better because they're also seeing Tesla and Apple having their products made in China."
Greater industry coordination would help to accelerate the sustainable transition in China's garment and textile industry, Du added.
"I hope all parties can take action, and sustainable development can no longer just stay at the discussion level," she said.