Recent Hong Kong homebuyers stand to lose millions as prices decline – some already have
Many people who bought homes over the past five years are now facing a loss – at least on paper – as prices continue to slide
Some owners who had to sell have taken significant losses – in one case to the tune of HK$5.85 million (US$745,334)
In fact, some owners who bought high have been forced to sell low recently, turning paper losses into real losses – in one case to the tune of HK$5.85 million (US$745,334).
Many homeowners who bought homes after mid-2017, when prices were higher than the current level, may find themselves in the same position if they choose to sell, said Derek Chan, head of research at Ricacorp Properties. A total of 327,419 private homes fall into that category, according to Land Registry data compiled by Midland Realty.
"Negative factors such as the US-China trade war, social unrest, Covid-19, and rising interest rates have caused property prices to soften," said Chan. "Therefore, those who entered the market at a high price in the past few years have a high chance of experiencing paper losses."
For most of 2018 and 2019 the government's index of lived-in home prices ran higher than the
latest reading of 376.1 in July this year
, according to official data released by the Rating and Valuation Department. For example, the index is now 5.2 per cent below the 396.9 it registered in May 2019, before the outbreak of social unrest and the coronavirus pandemic.
The HK$5.85 million loss came on a four-bedroom, 1,318 sq ft flat with a sea view at Harbour Glory in North Point, which changed hands for HK$42 million in early September, 12 per cent below what the owner paid the developer, CK Asset Holdings, in 2017, according to Centaline Property Agency.
The person decided to "sell as soon as possible and leave the market, as Hong Kong is about to enter the interest rate upcycle," said Jason Lam, chief district sales director at Centaline.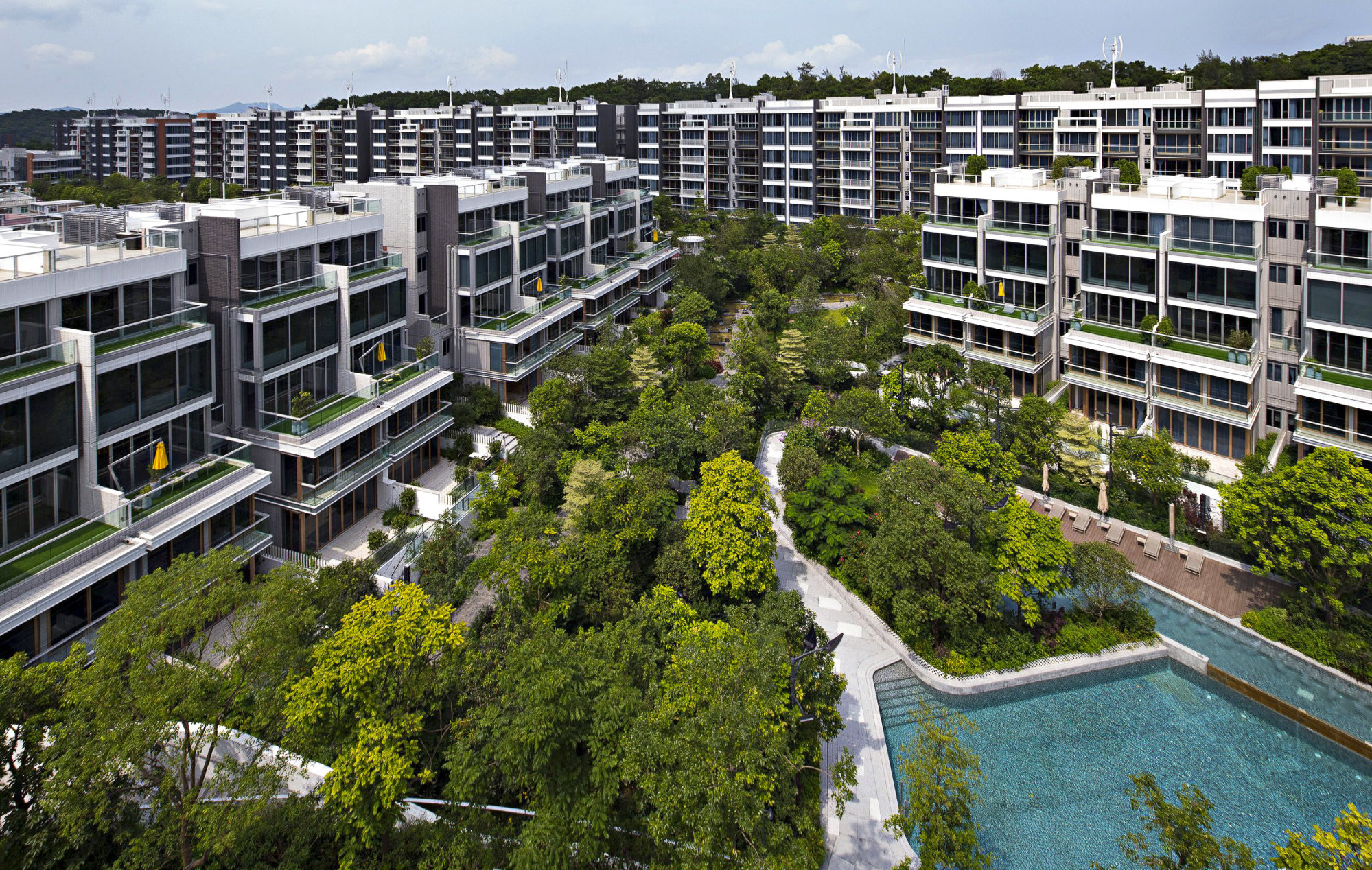 In Sai Kung, a seller lost HK$3.85 million on a three-bedroom, 1,108 sq ft flat with a garden at Mount Pavilia, which changed hands for HK$17.8 million, 18 per cent below the original price in 2018, according to Century 21 Goodwin.
The district in August saw at least four recent loss-making deals at developments completed in the past few years, said Frankie Liu, sales director for Sai Kung area at Century 21 Goodwin.
The Centa-City Leading Index, a gauge of lived-in home prices compiled by Centaline, fell 0.8 per cent to 171.83 for the week ended September 4 – the lowest level since February 2019. The index has fallen 5.1 per cent over eight weeks and may fall further and more sharply, according to Centaline.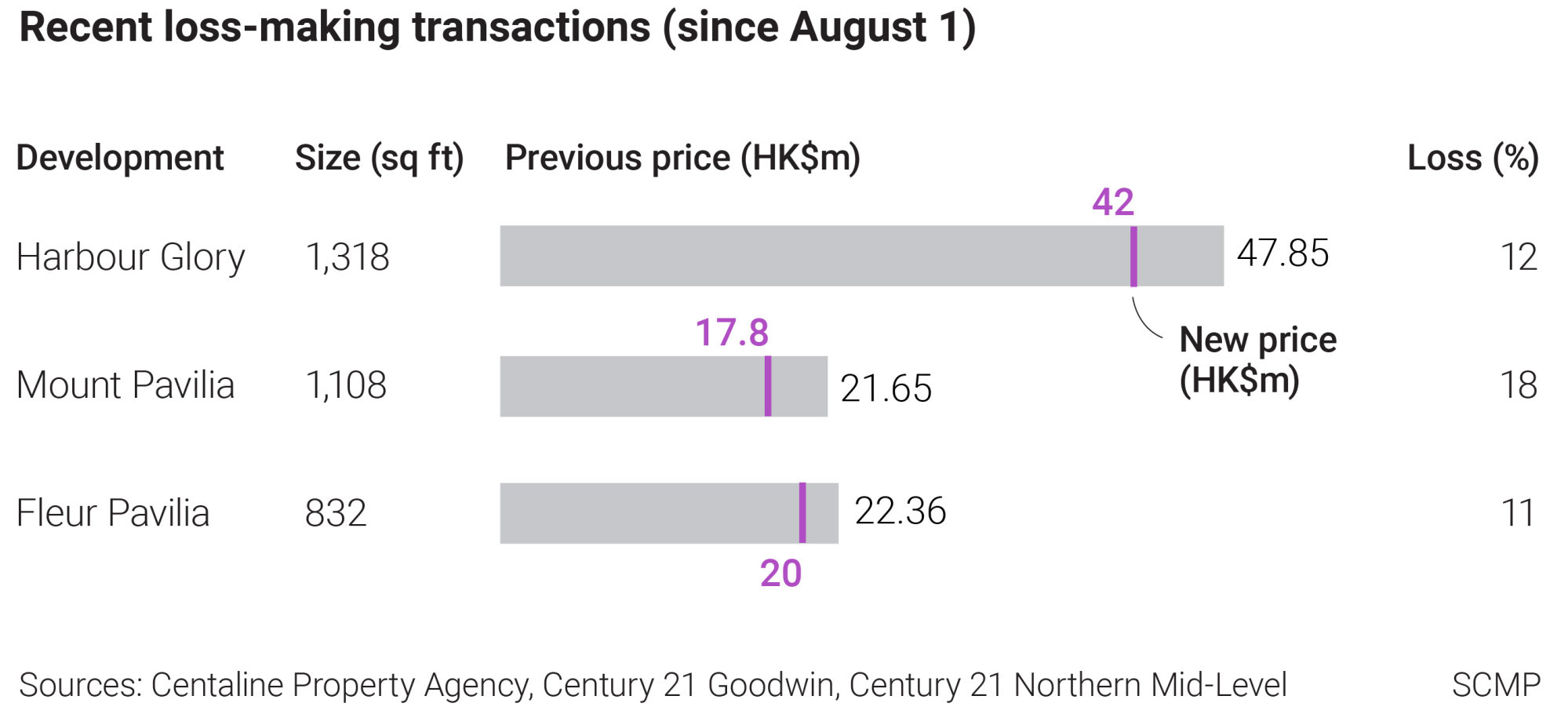 Among 144 new projects that launched since 2018, 42 of them, or about 30 per cent, have seen flats sell recently for less than the average price per square foot for all sales, according to data from Dataelements, a data provider that tracks new residential properties in Hong Kong.
Part of the reason may be the different sizes of the units sold, according to Dataelements.
Phase one of Emerald Bay, developed by debt-laden developer China Evergrande Group, recorded the biggest drop at 16.7 per cent.
The city's homeowners and potential buyers are braced for higher mortgage rates since the US Federal Reserve embarked on a rapid succession of interest rate hikes in March to tame the fastest inflation in America in four decades.
The Hong Kong Monetary Authority, the de facto central bank, has increased its base rate in lockstep under its linked exchange rate system with the US dollar.
The US central bank raised its benchmark rate for two consecutive months in June and July, and the market widely expects US interest rates to increase for a fifth time this year by another 50 to 75 basis points in September.
"The downward trend of home prices in Hong Kong has not stopped," said Sammy Po, CEO of Midland Realty's residential division for Hong Kong and Macau. "With the loss of market confidence, the decline tends to widen."
Buyers in Hong Kong tend to hold onto their properties for at least three years, until they are no longer liable to pay the Special Stamp Duty. Therefore buyers who made their purchases in 2018 account for the majority of buyers facing potential losses right now, Chan said. Later, more 2019 buyers will gradually begin facing the predicament.
At The Pacifica in Cheung Sha Wan, a homeowner in a rush to emigrate sold a 441 sq ft flat for HK$7.6 million – the lowest price for a flat of that size there in one-and-a-half-years – losing HK$480,000 compared with the May 2019 buying price of HK$8.08 million, according to Hong Kong Property Services (Agency).
At The Visionary in Tung Chung, a foreign pilot who left Hong Kong early this year lost HK$1 million selling a three-bedroom, 1,033 sq ft flat for HK$11.5 million in late August, absorbing an 8 per cent loss on his August 2019 purchase.
Po of Midland attributed the widening decline to the city's higher Covid-19 infection numbers, deterioration in the overall investment sentiment with the plunging Hang Seng Index and interest rate increases, which may dampen investment sentiment and developers' recent property launches at low prices.
If there is no good news this month, the decline in property prices will not stop, and home prices will fall by about 8 per cent this year, Po said.