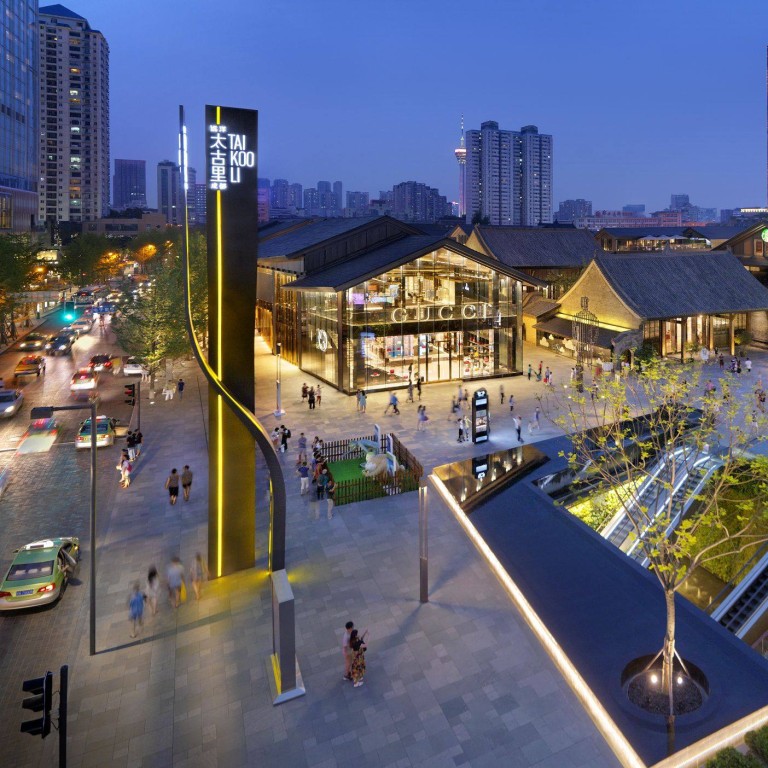 State-owned home builder Sino-Ocean Group has credit rating cut to junk by Fitch, following Moody's downgrade in August
Fitch said that the downgrade reflected tightened liquidity at a Sino-Ocean finance unit
The company jointly developed the Sino-Ocean Taikoo Li Chengdu shopping centre with Swire Pacific in southwestern Sichuan Province
State-owned home builder Sino-Ocean Group Holding has had its credit rating cut to junk by two major rating agencies as the embattled Chinese property sector continues to look for a bailout by the central government.
Fitch Ratings on Thursday downgraded Sino-Ocean Group Holding long-term foreign-currency issuer to "BB", a rating which means the company's bonds are speculative to invest in – commonly referred to as junk – from a previous investment grade rating of "BBB".
Fitch said that the downgrade reflected tightened liquidity at a Sino-Ocean finance unit and the consequent negative impact on Sino-Ocean.
The company jointly developed the Sino-Ocean Taikoo Li Chengdu shopping centre with Swire Pacific in southwestern Sichuan Province, one of the country's top 10 shopping malls by sales. It was also dropped by Moody's Investors Service to Ba1 from Baa3 on August 1.
Meanwhile, S&P Global Ratings withdrew its ratings for Sino-Ocean in 2017 after it dropped the developer to junk territory.
Sino-Ocean Capital Management, 49 per cent owned by Sino-Ocean Group Holding, extended a 1 billion yuan onshore bond puttable in September, for one year while it addresses a US-dollar bond and bank loans maturing in October.
The recent debt extensions mean its liquidity "may be tighter than we had previously expected," Fitch said.
Dollar bonds from the state-backed Chinese builder maturing in July 2024 fell to around 50 cents on the dollar on Thursday, from 108.4 cents on the dollar a year ago as investors fretted that even state-backed property firms may not survive the country's current real estate crisis.
According to Chinese media reports in July, the company is in discussions to sell its 50 per cent stake in Sino-Ocean Taikoo Li Chengdu to China Life Insurance, its largest shareholder.
Moody's said in its August downgrade report that support from China Life Insurance "will reduce over time as the deterioration in China's property market would reduce Sino-Ocean's economic and strategic importance to China Life".
More than 20 major developers have defaulted on unmanageable debts in the past year, while a public mortgage boycott that started in mid July has not helped the bruised sector.
Contracted sales by the top 100 China property developers were down by about one-third in August year-on-year, according to industry researcher China Real Estate Information Corp.
Cities have rolled out a series of measures to support the cash-strapped sector. Guangzhou started to allow developers to raise new-home prices by a wider margin on Thursday, while Suzhou has scrapped restrictions on home purchases by non-local residents in six districts.
In Zhengzhou city in Henan province, the government has ordered that all stalled developments must resume by October 6. But investors and local officials are looking to Beijing to offer more support.
"We believe only the [central] government has the means to shore up confidence and that measures to turn this sector around are becoming broader and more sweeping, and are increasingly likely to come from Beijing," said S&P Global Ratings credit analyst Edward Chan.