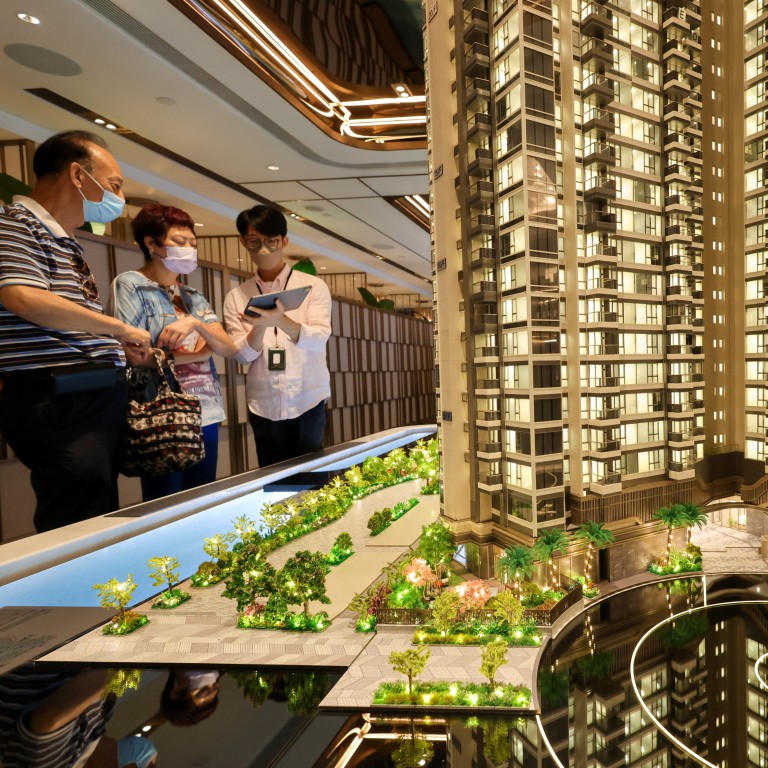 Hongkongers snub new homes at Miami Quay, Kai Tak, as rising interest rates, slow economy kill demand
As of 7pm only two out of 139 units on offer at the development on the site of Hong Kong's former airport had been sold, according to Midland Realty
'Higher interest rates are weighing on sentiment,' said Victoria Allan, founder and managing director of Habitat Property
Hongkongers continued to snub
new home sales
on Sunday as sentiment in the property market remained weak and potential buyers stuck with a
wait-and-see attitude
brought on by rising interest rates and a sluggish economy.
As of 7pm, only two out of 139 units on offer at Miami Quay, a new development at the site of Hong Kong's former airport, had been sold, according to Sammy Po, CEO of Midland Realty's residential division for Hong Kong and Macau. Among the 139 units on offer on Sunday, 65 were new, while the rest was left unsold last week.
The project at Kai Tak was jointly developed by Wheelock Properties, Henderson Land Development, New World Development and Empire Group.
Analysts cited the rising costs of home loans as a major factor for the current slump in appetite for residential property.
After increasing its benchmark rate for two consecutive months in June and July, another round of increases is likely this month, with analysts estimating as much as a 75-basis points hike.
With US inflation still likely to surge, rate rises are forecast to continue until next year when consumer prices could be brought under control, Allan said.
Hong Kong's economic slump is further dampening demand. In August, the government further cut its forecast for the city's economy to between 0.5 per cent growth and 0.5 per cent contraction. It previously estimated that the economy was likely to see a 1 to 2 per cent growth.
More than 113,000 residents left the city in the 12 months to June, with the population shrinking by 1.6 per cent, the latest figures from the Census and Statistics Department showed. In the same period of the previous year, the population decline was 1.2 per cent.
The local property market is also influenced by the performance of the Hong Kong stock exchange, and with the bellwether Hang Seng Index losing nearly a fifth of its value so far this year, buyers' sentiment is downbeat, Allan said.
"The Hong Kong property market is very correlated to the equities market. Its poor performance in the last few months has dampened sentiment," she said.
"This combined with other macro factors such as rampant inflation, the war in Ukraine and Hong Kong not opening up [its borders in the wake of the pandemic] is impacting the market and damaging many businesses. These factors will continue to impact sentiment well into 2023."
The units on offer on Sunday had sizes between 250 and 716 square feet and were priced between HK$5.24 million (US$668,000) and HK$18.73 million, after discounts of as much as 12 per cent.