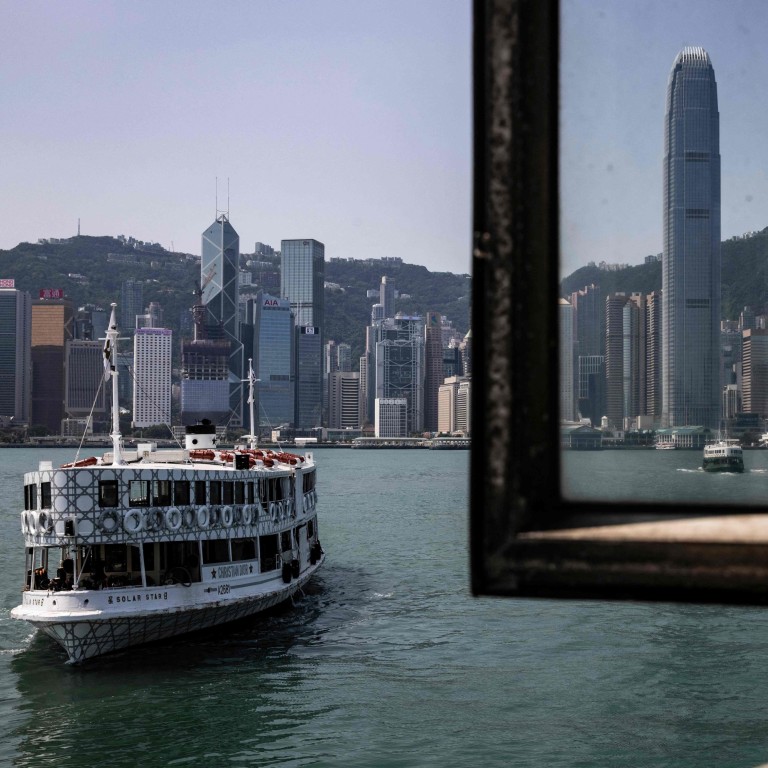 Home prices poised to fall in Hong Kong, Australia, Canada, France and the US as global central banks raise interest rates
Home prices may decline by 12 per cent in Canada, 9 per cent in France and 3 per cent in the United States over the next two years, Goldman Sachs said
Hong Kong home prices will fall by as much as 8 per cent, while transactions are likely to slump by 35 per cent for the whole year, said Cushman & Wakefield
Farrah Gutierrez, a 45-year-old working mother of two, and her husband Angelo Gutierrez wanted to purchase a home in Vancouver, after moving from Winnipeg.
The Philippine native and her family settled in
Canada
in 2018, but initially lived in Winnipeg for three years before deciding that Vancouver was a better fit for the family. Their timing, however, was not ideal.
"In Winnipeg, we could buy a decent home for C$300,000 (US$227,406), but here in Vancouver a similar property would cost us C$1.7 million. With mortgage rates rising plus inflation, we need time to realise our dream of owning a home," she said.
Gutierrez is not alone. Across the world, monetary authorities are confronting rising consumer prices by raising interest rates, constricting consumers' ability to make purchases, including those involving homes, to cool prices.
While the effects have been uneven so far, that is unlikely to last as monetary policies continue to tighten. It is just a matter of time before more housing markets start to see declining prices, agents and analysts said.
"Looking ahead, economic headwinds are set to persist. Interest rates are forecast to continue to rise to a peak in 2023, putting further pressure on mortgage affordability and, in turn, on housing markets into next year," said Paul Tostevin, head of Savills world research. The impact, so far, has mainly been felt in terms of the number of transactions, he added.
Lower transaction numbers do not bode well for home prices, as a 10 percentage-point slowdown in sales tends to be followed by a 2 percentage-point decline in home prices in around six months, according to a report released in June by Goldman Sachs.
In the second half of the year, the investment bank said prime residential capital values across 30 cities it monitors in major markets are likely to grow 2.2 per cent, slower than the 2.4 per cent recorded in the first half. But a peak-to-trough decline of 12 per cent in Canada, 9 per cent in France and 3 per cent in the United States is likely over the next two years, it added.
Indeed, prices in some countries have started to cool as central banks step up the pace of rate increases.
The Bank of
Canada
this month raised interest rates by 0.75 percentage points to 3.25 per cent, making it one of the developed markets' with the highest rates.
From spring to the end of summer, prices have declined in the Greater Vancouver area, according to Kevin Skipworth, partner at Dexter Realty and Leading Real Estate Companies of the World.
"Since April, prices are down around 7 per cent overall, with detached homes seeing a greater decline as their price growth in the previous two years was the greatest," he said. "At this point, we are at the mercy of the government and future interest rate decisions and whether we see any accumulation of listings in the market. Activity levels will be lower in 2023 than 2022 to start the year," Skipworth added.
Australia
and New Zealand have also seen prices decline. Median home prices in New Zealand fell 5.9 per cent in August from a year ago, according to government data released last week.
Meanwhile, the preliminary estimate of the total value of homes in Australia in the June quarter was down by 1.6 per cent from the previous quarter. It was the first quarterly fall in two years, according to the Australian Bureau of Statistics.
The price declines came after rate increases. The Reserve Bank of Australia began raising interest rates in the first half of 2022, with the latest being a half-point increase this month to 2.35 per cent. The Reserve Bank of New Zealand has also raised interest rates five times this year, bringing the official cash rate to 3 per cent.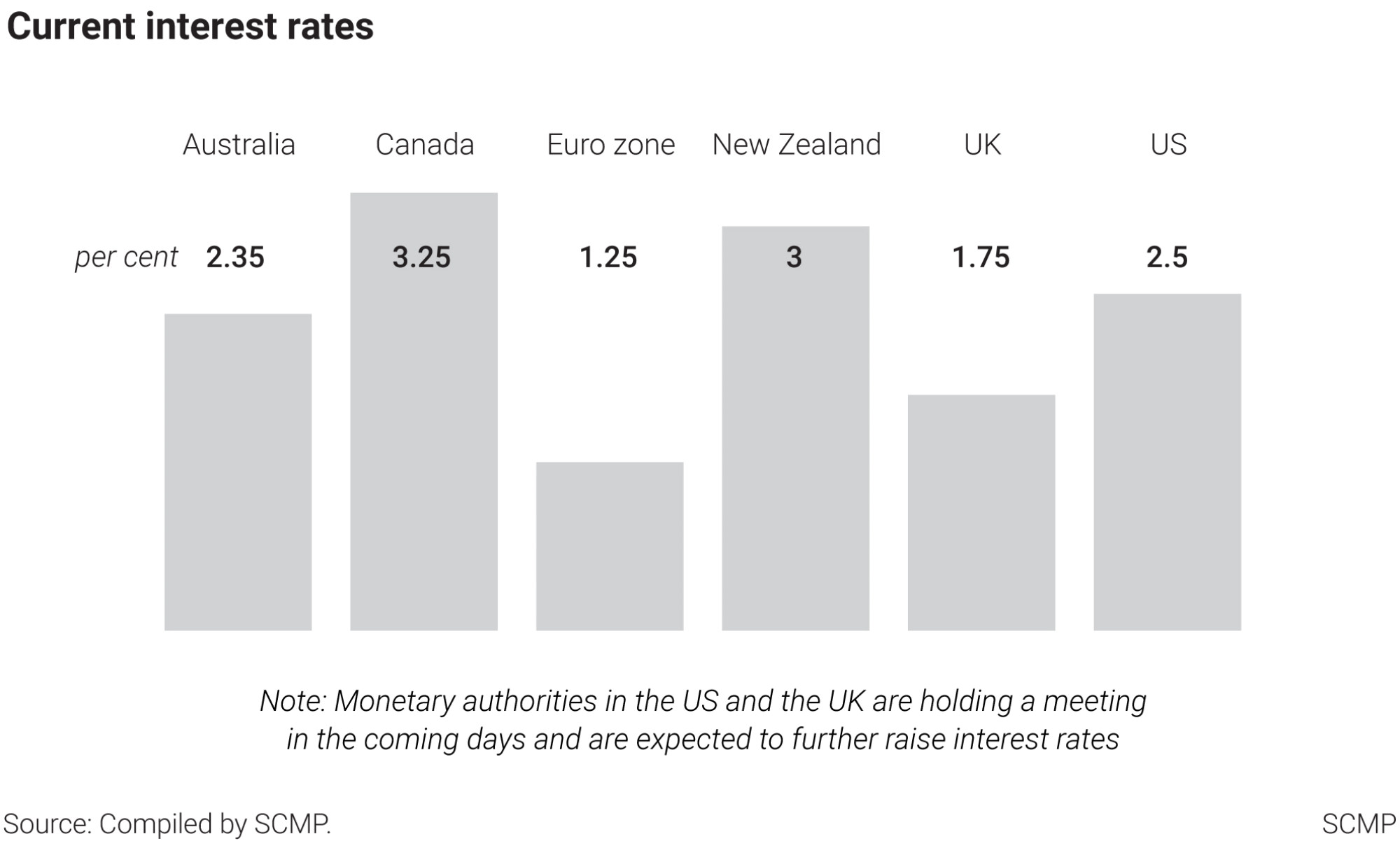 In
France
, anecdotal evidence points to slowing demand for homes as the European Central Bank has become aggressive in tackling inflation in the euro zone by increasing rates by 75 basis points this month, the largest since the monetary union was formed in 1990.
"The mortgage rate now is 2 per cent from 1 per cent at the end of 2021," said Herve Guinebert, the managing director at Paris-based Banque Transatlantique's Hong Kong representative office. "It's still a good rate, but potential homebuyers are comparing it with the previous one, because many lack a historical view of interest rates."
Mortgage applications
have declined by between 5 per cent and 10 per cent so far this year, Guinebert said.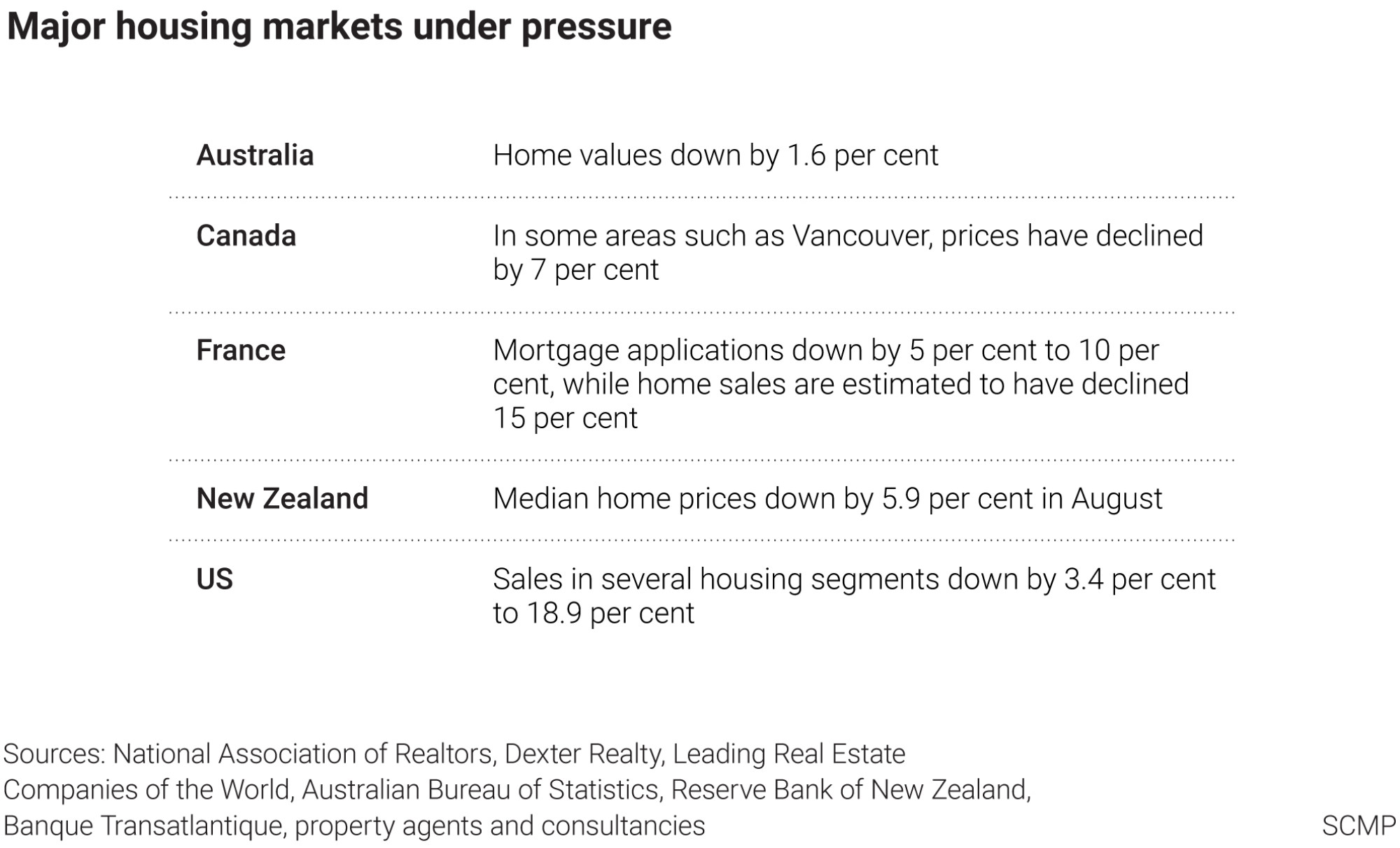 The US and UK housing markets are still showing resilience but interest rates in both markets have also risen, potentially cooling home prices in the months ahead.
The Federal Reserve is tipped to further raise interest rates by as much as 75 basis points on September 22 after increasing its benchmark interest rate for two consecutive months in June and July.
In the US, median home prices for new and existing homes increased by 14.2 per cent in the second quarter of the year on an annual basis, although segments of the housing market saw sales decline between 3.4 per cent and 18.9 per cent, according to the latest data from the National Association of Realtors.
With the Hong Kong dollar's peg to the US dollar, the Fed rate hike is expected to push the city's commercial banks to increase their prime rates this month, the first time in four years. Home prices in Hong Kong have declined by about 5 per cent as of August, according to Cushman & Wakefield. The consultancy believes that for the entire year home prices will fall by as much as 8 per cent, while transactions are likely to slump by 35 per cent.
Meanwhile, the Bank of England is also likely to announce another round of hikes with estimates of between 50 basis points and 75 basis points, taking the bank rate to as much as 2.5 per cent.
"Interest rates are a major topic of conversation and further rate hikes will certainly dampen the mood," said Roarie Scarisbrick, partner at Property Vision, a UK buying adviser.
"The changing economic landscape, rising cost of living, higher interest rates and recessionary fears are now tempering buyer sentiment, although to date this has resulted in slower rates of growth rather than falling prices year on year in most markets," said Kate Everett-Allen, head of international residential research at Knight Frank.