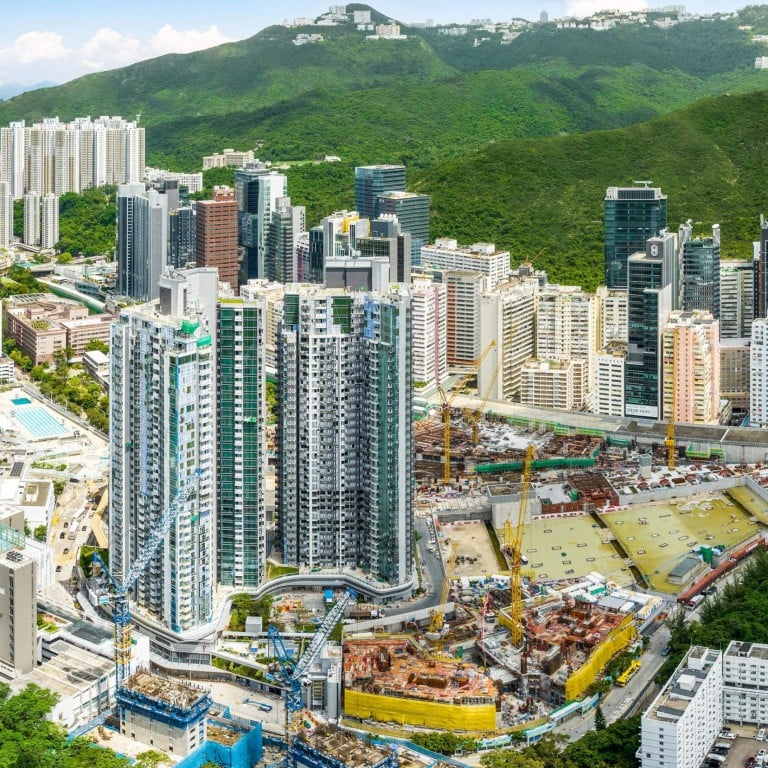 Hongkongers snub second property sale in as many days, as MTR's South Land becomes looming Fed rate hike's latest victim
South Land, a project developed by RK Properties and MTR Corporation in Wong Chuk Hang, fails to sell a single unit two days before expected Fed rate hike
Only two out of 139 units were sold at Miami Quay in Kai Tak on Sunday
Hongkongers appeared to have been spooked by a looming increase in interest rates, as they snubbed another property sale in the space of two days.
As of 8pm on Tuesday, not a single unit had been sold out of the 139 flats on sale at
South Land
, a project developed by RK Properties and
MTR Corporation
in Wong Chuk Hang in Aberdeen, according to agents.
The sale came two days before a meeting of the US Federal Reserve, which is likely to
increase interest rates
by a further 75 basis points. With the Hong Kong dollar pegged to the US dollar, the Fed rate increase is expected to push Hong Kong's commercial banks to
increase their prime rates
this month for the first time in four years.
"Everyone is waiting to see by how much the Fed is going to increase its interest rates. People are more cautious and are taking a wait-and-see approach," said Sammy Po, CEO of Midland Realty's residential division for Hong Kong and Macau. "Many homebuyers are still undecided, which is why transaction volumes are relatively poor."
This is the second time in two days that Hong Kong developers have seen poor sales amid rising interest rates and an economy hobbled by coronavirus restrictions. On Sunday, only two units had sold out of the 139 on sale
at Miami Quay in Kai Tak
, the site of Hong Kong's former airport.
Moreover, an announcement by John Lee Ka-chiu, Hong Kong's leader, on Tuesday that his administration would create "maximum room" to reconnect the city with the world – which is being viewed as the strongest sign yet that hotel quarantine requirements for international arrivals will be scrapped soon – appeared to have done little to
boost optimism among buyers
.
The flats on offer at South Land have an average price of HK$35,804 (US$4,561) per square foot, with the most expensive unit priced at about HK$62 million and the cheapest at about HK$11 million, according to the property's price list. The flats range in size from 290 sq ft to 2,083 sq ft and in layouts from studios to four-bedroom units.
South Land is the first project to sit atop a major subway station in about three decades. It was first launched in May last year, when its initial three rounds of sales were sold out.
The latest round of sales at the development comes amid a less accommodating economic landscape.
Home prices in Hong Kong have declined by about 5 per cent as of August, according to Cushman & Wakefield. The consultancy said that for the entire year, home prices will fall by as much as 8 per cent, while transactions are likely to slump by 35 per cent.
The city's economy
shrank 1.4 per cent
in the second quarter of this year, following a 3.9 per cent contraction in the first three months of the year, confirming fears that stringent social distancing curbs had affected economic activity far more adversely than initially estimated. Last month, the government
further cut its annual forecast
for the city's economy to between 0.5 per cent growth and 0.5 per cent contraction. It previously estimated that the economy was likely to see a growth of 1 to 2 per cent.
A potential full reopening of Hong Kong's borders might have drawn a muted response from buyers, but it can only benefit the property industry, as it would expand the pool of tenants and investors in the local market, said Martin Wong, director and head of research and consultancy, Greater China, at Knight Frank.
"This will potentially lead to a rebound in property prices."