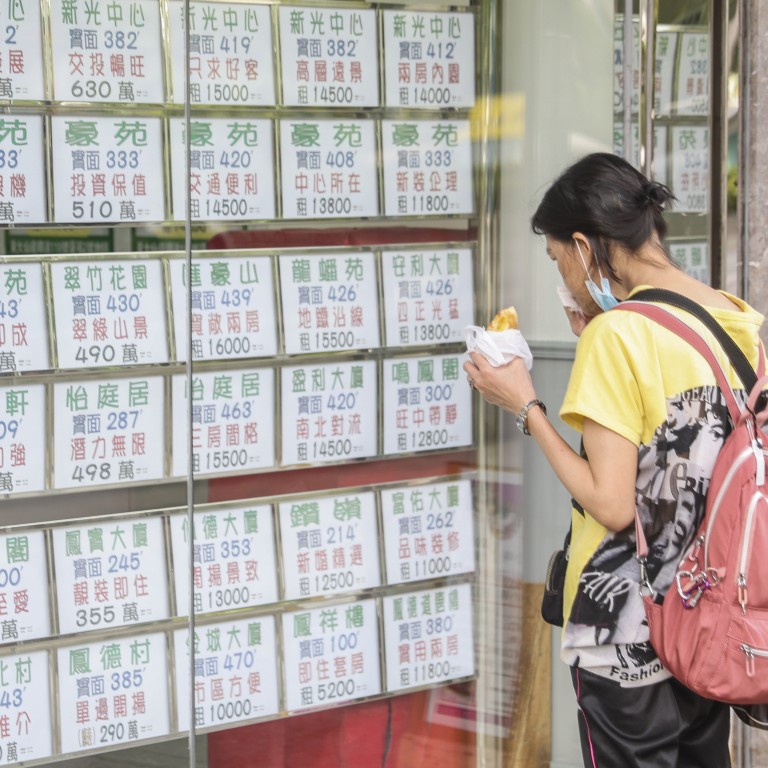 Hong Kong's lived-in home prices to revisit 2017 levels as more rate increases prolong housing market correction
Prices of lived-in homes have retreated 6.1 per cent in a 10-week losing streak, and by 11.2 per cent since the market peaked in August 2021: Centaline data
Recent transactions in popular housing estates in Taikoo Shing, Shau Kei Wan and Tseung Kwan O show ongoing bearish sentiment
Property investors thinking of getting ahead of the full reopening of Hong Kong's economy may have to rein in their enthusiasm. Further interest-rate increases are likely to depress
home prices
in the coming months to levels last seen in 2017, some analysts said.
While local authorities have scrapped mandatory quarantine for incoming travellers and lowered the bar on mortgage stress tests, the pressure from policy tightening in the US will mount amid attempts to cool runaway inflation. A steady decline in the local housing market over the past 14 months will play out for longer, Midland Realty said.
Lived-in home prices in Hong Kong fell by 0.8 per cent in the most recent week to September 18, according to the Centa-City Leading Index compiled by Centaline Property Agency. They have retreated by a cumulative 6.1 per cent in 10 straight losing weeks, and by 11.2 per cent from the record-high in August 2021.
Recent transactions in major estates on Hong Kong Island, such as Taikoo Shing, indicate prices have reached a five-year low, while one flat in Shau Kei Wan changed hands for a HK$3 million loss.
"The pandemic has not yet subsided and the timing of the full border reopening has not yet been determined," said Sammy Po Siu-ming, CEO of Midland Realty's residential division for Hong Kong and Macau. "Some buyers and owners are still waiting to see the effectiveness of the new Covid-19 measures. Home prices will continue to be under pressure."
The outlook for the market may improve when the government unveils its plans during the annual policy address on October 19, Po added. Lived-in home prices could fall by as much as 6 per cent by year-end to the lowest since October 2017 without policy support.
The Hong Kong Monetary Authority (HKMA) has lifted its base rate five times this year to 3.5 per cent, a 14-year high, in lockstep with the hawkish Federal Reserve hikes. Commercial banks including HSBC and Bank of China (Hong Kong) raised their prime rates last week to a four-year high, making it costlier to fund big-ticket purchases like housing.
"Rising rates, and thus mortgage rates, result in lower affordability," Morgan Stanley said in a report dated September 22. "Property prices are down 8 per cent year-to-date and we expect another 5 per cent decline in 2023. Thus we have not reached the bottom and the risk of mortgage rate caps going up is still there."
The HKMA on Friday asked banks to lower the threshold on interest-rate stress testing for property mortgage lending to 200 basis points from 300. While the relaxation is seen as a boost for the housing market, prices are not likely to rebound soon, said Dave Ma, chief operating officer and director for Kowloon at Hong Kong Property Services (Agency.
Since the market peaked in August last year, prices at Metro City, a housing development in Tseung Kwan O, have fallen 23.2 per cent to HK$14,669 per square foot, the lowest since February 2019. In Taikoo Shing, prices fell 19.4 per cent to HK$17,159 per sq ft, the lowest since July 2017. They are the two biggest losers among 133 estates tracked by Centaline in that period.
At Lime Gala in Shau Kei Wan, a flat measuring 491 sq ft changed hands at a loss of HK$3.1 million last week, according to Centaline. The owner had decided against living with the city's pandemic curbs and widened the discount because of concerns rate increases will sap demand.
"Buyers are hesitant about entering the market given the rate outlook," said Alex Lai, principal district sales manager at Centaline. Generally, the counter-offer is more than 10 per cent less, and not all owners are willing to lower their asking price by that steep, he added.
"Hong Kong property prices are under pressure in the short term because of the overall market sentiment globally in stock markets," said Raymond Cheng, managing director at CGS-CIMB Securities. "It may not be surprising to see home prices fall a further 5 to 10 per cent" with short-term rate and emigration pressures, he added.
The number of lived-in home transactions is likely to shrink this quarter to about 6,800 deals, the least since the 5,159 recorded in the fourth quarter of 2018, Centaline predicted.
Banks remained cautious on the outlook for prices of lived-in homes, according to a separate gauge compiled by Centaline, based on their assessment of second-hand properties in the 133 housing estates. The index fell to 11.47 in the September 18 week. A reading below 40 is deemed bearish.